Hello everybody! I'm nearly completed with a side project, which is nearly complete.
I'd love to share the results with you all!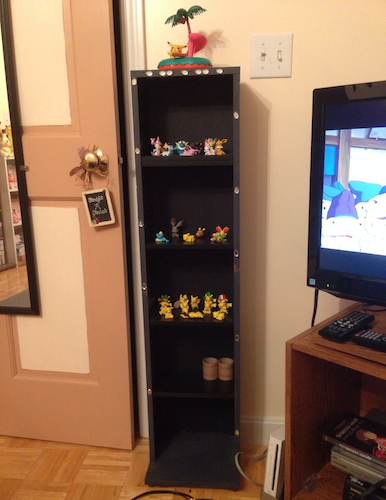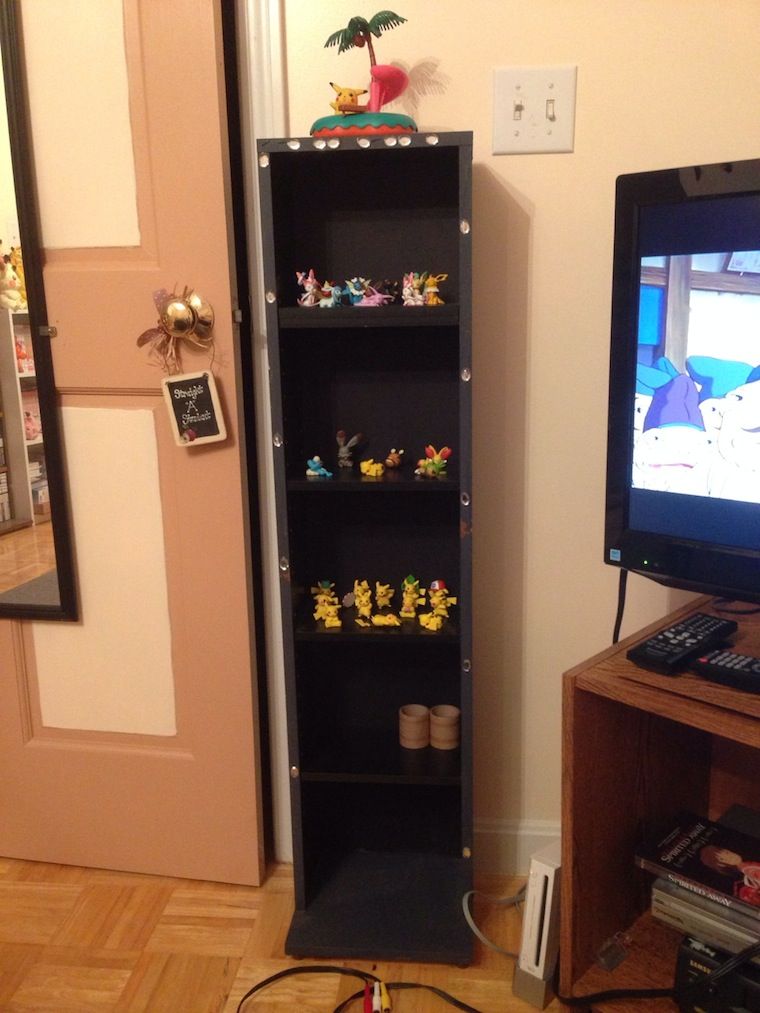 I really should start explaining this project. Well, I bought this shelf from work, when I was working on the secret base. I wanted it to display my ippai figures, but with themes for them like a diorama. My friend Sarah and I thought of some concepts for shelves. Now this is just the before shot.... Here comes after:
TA-DAH!! The only one that hasn't been done is the Pikachu set, because we have no idea what to do for a theme. Suggestions are nice ;_; I'm thinking circus related.
But, now let's have some close up shots of each diorama shelf!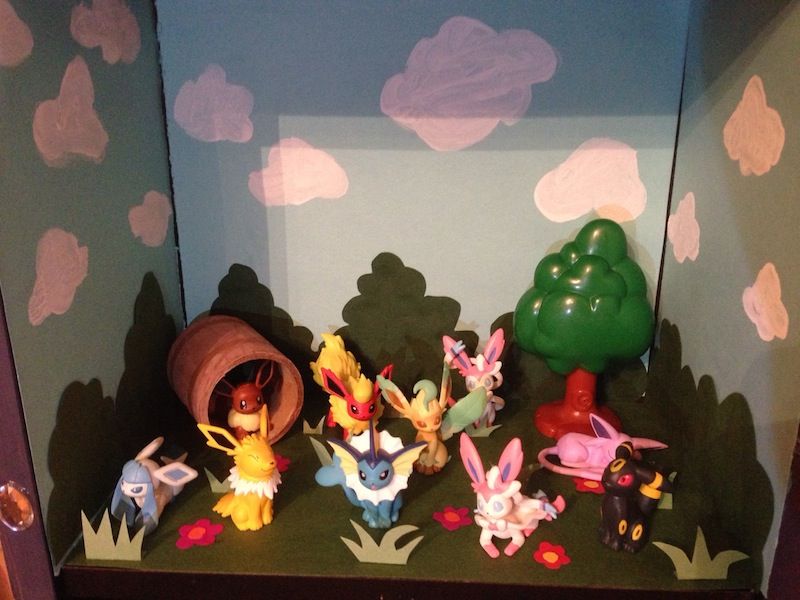 This is the Eeveelution Ippai set theme. It was a park setting with grass, a log made from a cardboard roll from work, and a plastic tree which was also from work. It's really colorful <3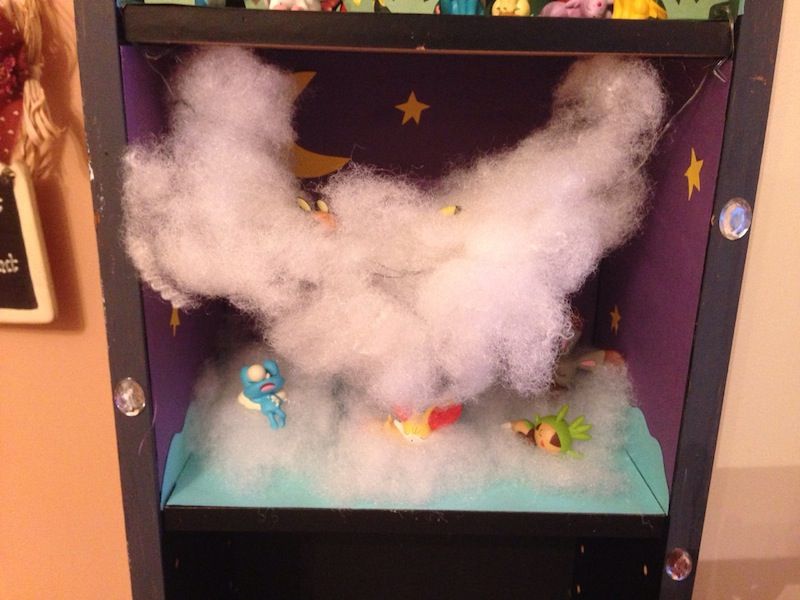 The second shelf is where the Sleepy Time Ippai set goes. When set #2 comes out, they'll be combined with these. Sarah suggested a cloud theme in the daytime for it, but I though nightfall was better. I added a moon and stars and stuff. Sarah suggested clouds made of leftover stuffing, and it fits so well! You can barely see Pikachu and dedenne hanging on the top. A hammok cloud of sorts.
Since the pikachu set doesn't have a theme yet... we move on to shelf #4, which is my personnal favorite.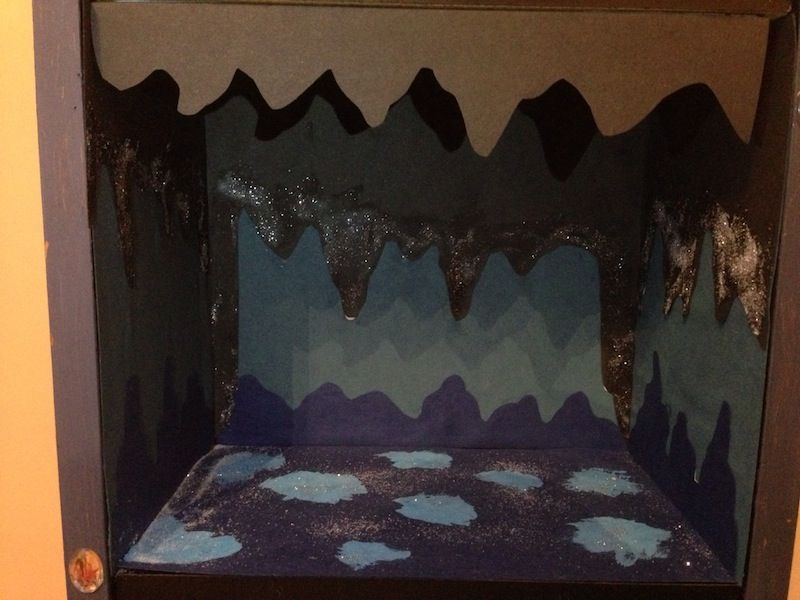 It's empty. There's a reason for that: it's for the fairy ippai set that I preordered with
poliwhirl and they have yet to arrive. The theme for this was inspired my the movie Fern Gully: The Last Rainforest. Ever since the fairy ippai set was announced, this was the theme I wanted. SPARKLE OVERKILL!
Sarah suggested to put stalagtites on the top of the shelf, and man unintentionally it added shadows making it all more realistic <3333
I BLAME THIS SCENE FROM THE MOVIE FOR THIS: https://www.youtube.com/watch?v=PgzWAOU_RwI (Of course I was watching the english version, but you get the idea XP)
Now we move on to other gets!!
My package from sunyshore came in a couple of weeks ago. It included my stuff from the Pokemon Little Tales promo and stuff that sarah wanted. The Pumpkaboo and charm set are hers. XD
I love the couple set here. They look so peaceful, and toooooo cute!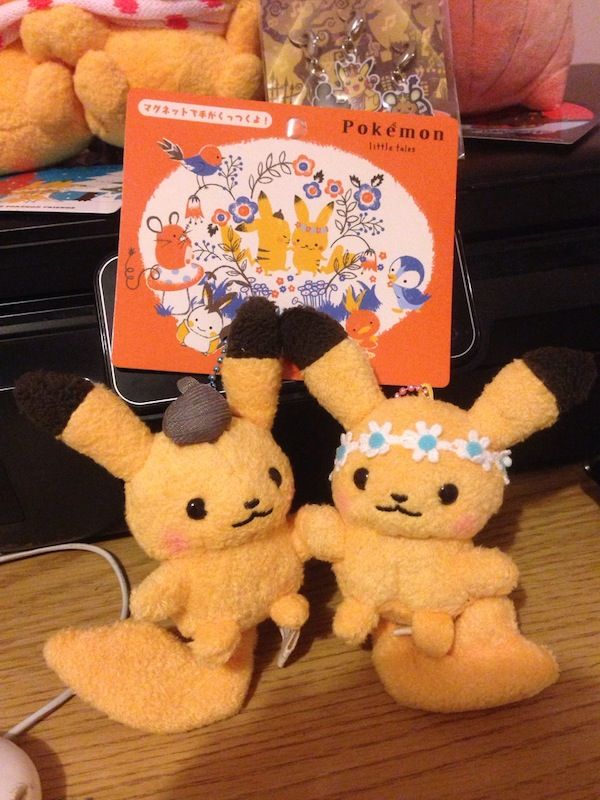 No set is complete without the tiny version of the pair.
THEIR HANDS ARE MAGNETIC!!! It was a huge shock for me when I opened the box to discover that!
I also got the blanket, cause I'm a blanket hoarder >_>;;
It's like there's a Christmas theme with it.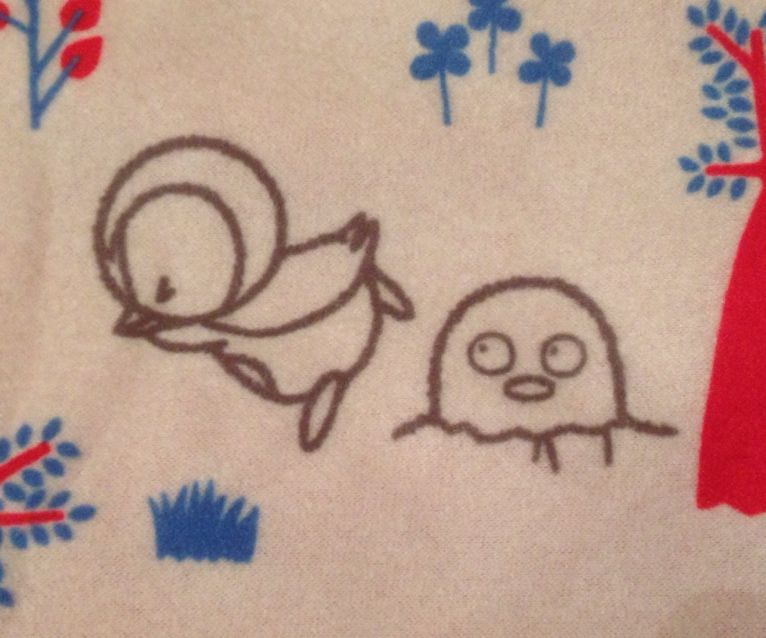 This is my fav pattern on the blanket XD;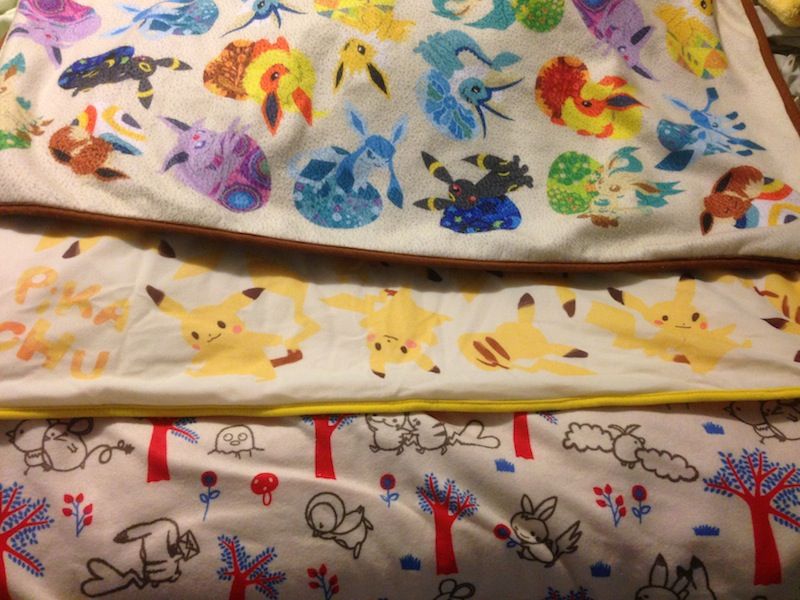 All three of my pokemon blankets together. All the same size too. (My eeveelu one is very loved. I use it often.)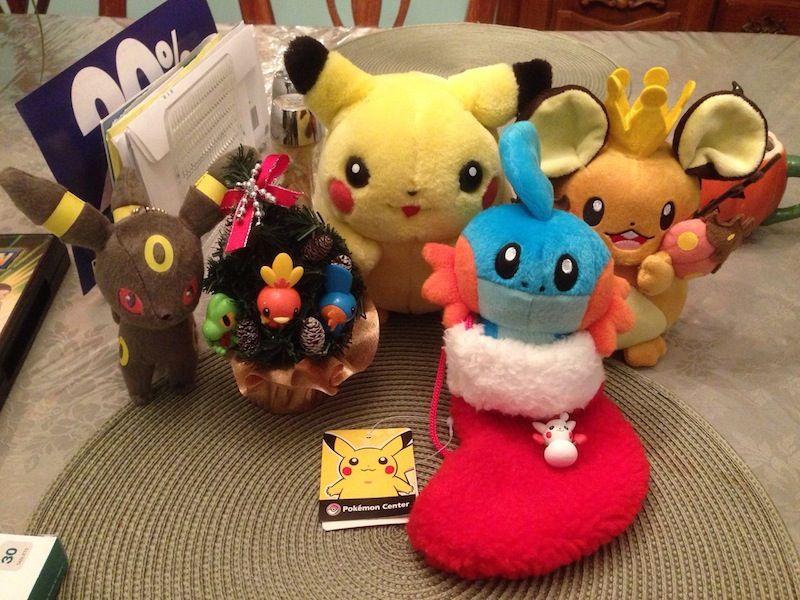 Stuff from
areica96 and
tyltalis which included things from my wants list.
I'VE BEEN LOOKING FOR THE MINI MUDKIP POKEDOLL FOR YEARS! LIKE HE'S SO CUTE AND TINY!!! GAAAHHHHH!! HE'S PERFECT WITH MY MUDKIP POKEDOLL FAMILY!! Now all that's left is the DX variant of it.
I LOVE THE TINY TREE CAUSE OF THE MUDKIP, AND THE OTHERS ON IT ARE SO ADORBS!
The talking Pikachu was from work, and he stiill works too!
Dedenne and Umbreon were from
areica96 <333 I needed an umbreon for my Eeveelu corner!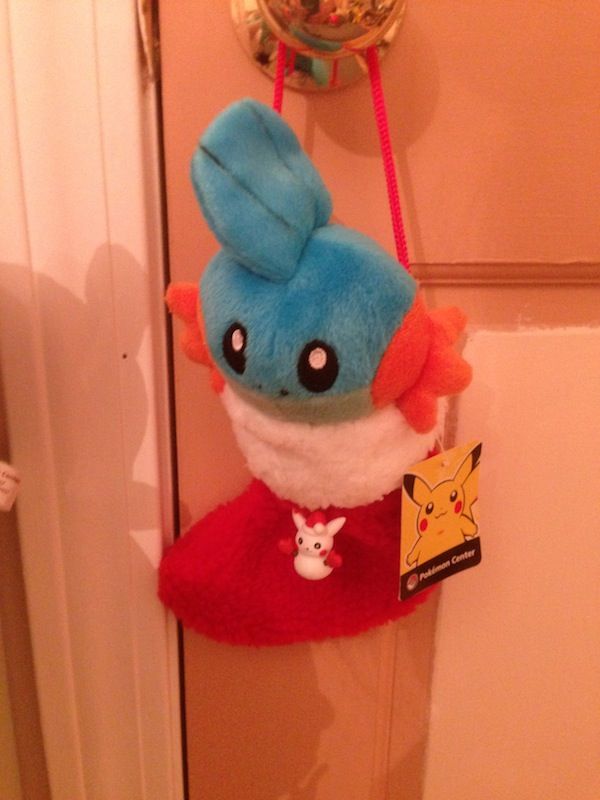 ITTY BITTY MUDKIP HANING AROUND!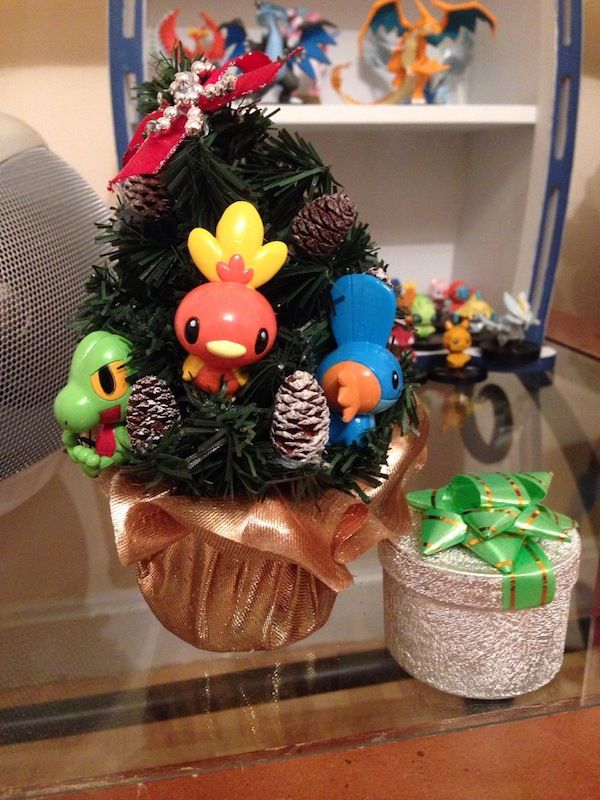 The tiny tree is displayed on my music table. I even had a tiny present ring box and decided to put it next to the tree :3
(uggghhhh bad pic w/poor lighting) Buneary canvas from
polahbear. I forgot to include her from my last update X)
Pokeball plush from work XD Like the most unusual plush in my collection!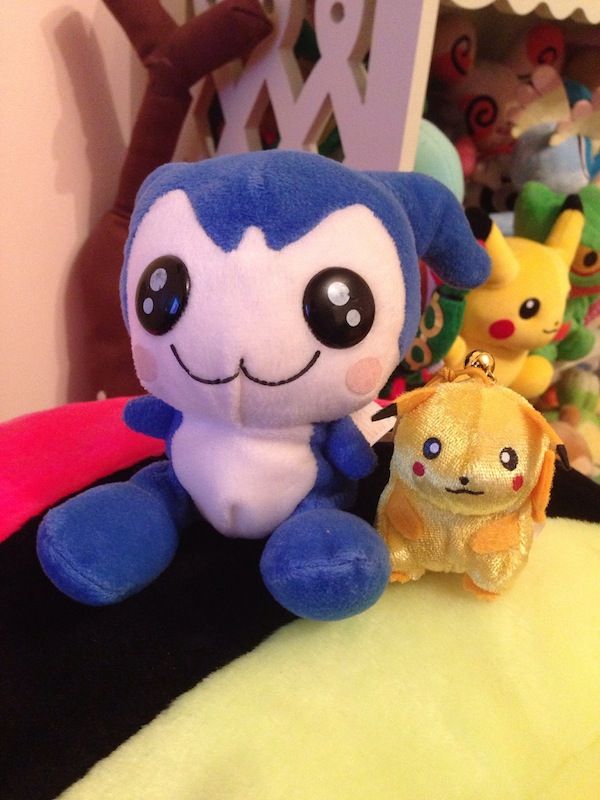 Pikachu bell plush from
poke_zula. Of all the bell plush I saw, I only wanted pikachu XD
DemiVeemon beanie was from ebay, but I beleive it was from
neeko48? It's been my Digimon grail for YEARS! Like when I was a kid I had Veemon, and I loved his in-training form. I'd go to Toys R Us every week to see if they had this guy, they never did X( They reconized me, knwoing exactly what i was looking for, then tell me "We don't have it kid." XD totally went off topic.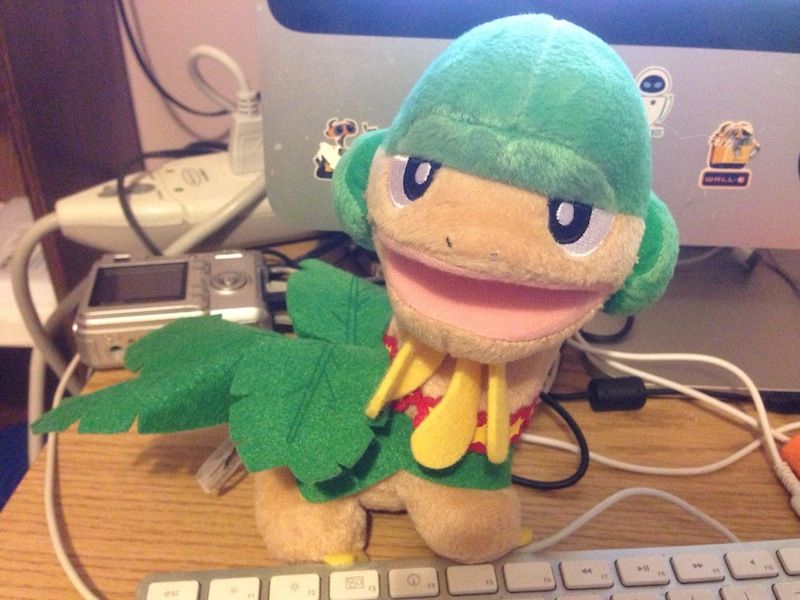 DUR HURR HURR!
Tropius is from the GA hosted by
latias_latios_7 and
starpurrloin! I lost this guy on Y!J 3 times a week before this popped up!
I've secretly loved tropius! I also secretly love this guys face xD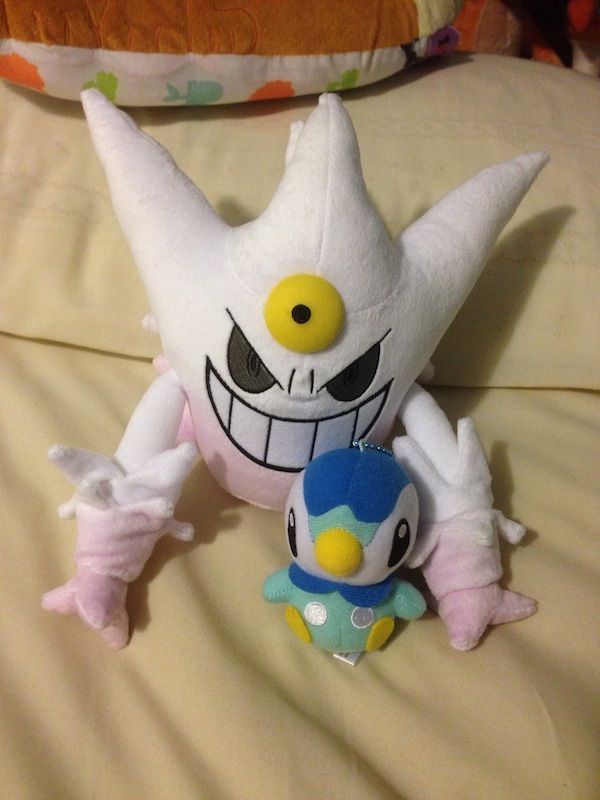 I got these two in the mail today!
Shiny gengar plush from
areica96 and he's absolutely beautiful!!
Mini Piplup pokedoll is from
kurukimi. I'm on a secret mission to obtain the recent pokedoll keychain plush.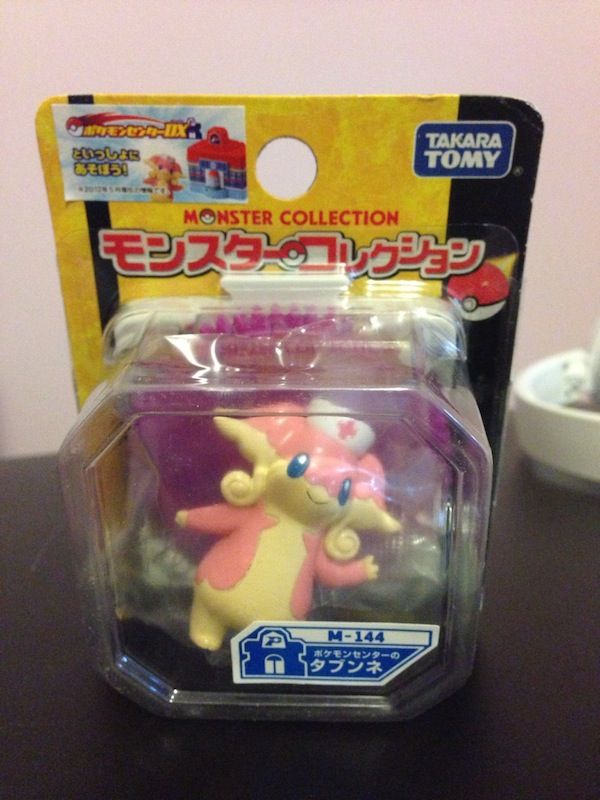 Audino Tomy figure from japanvideogames.com.
The game for this one was let's put this tiny figure in a huge box 6 times its size. Why?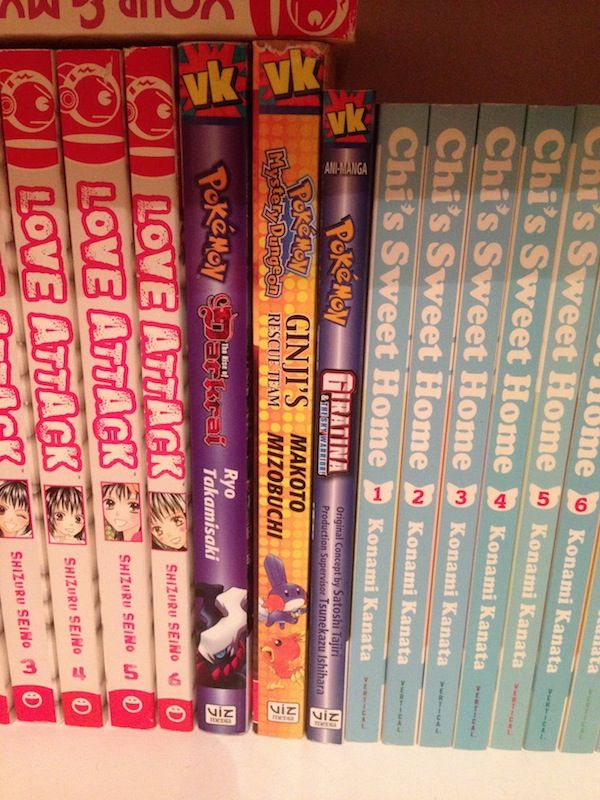 Darkrai manga which I found at work too. I have not found the time to sit down and read it yet.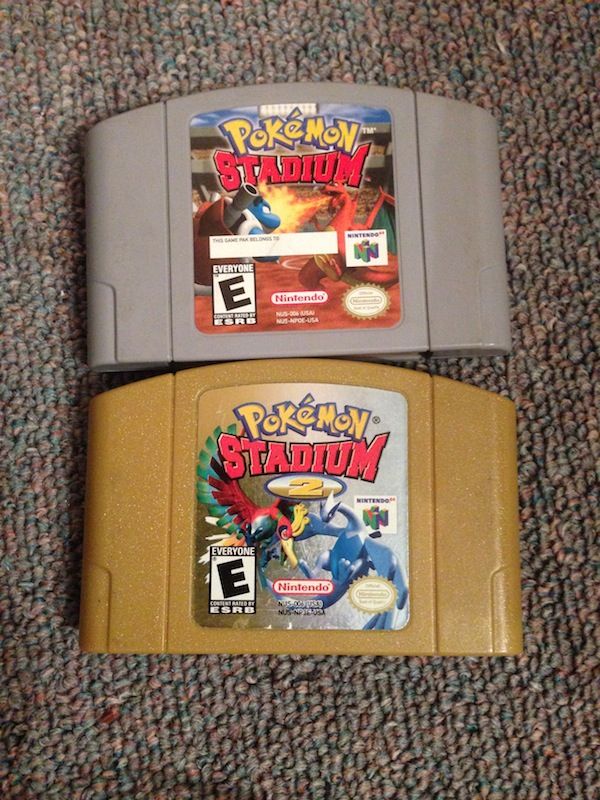 After getting myself an n64 from ebay, I manged to get these two games together on ebay. I'm glad that my Yellow and Gold version still work for these! (the batteries haven't died just yet.)
I also rearranged this boat display shelf, because I didn't like how the Rumble U figures were apart. The bottom row is dedicated to them.
The middle shelf is for figures from games and TCG. Xerneas is my newest addition. I got some good pulls from the box it came from, such as a Yveltal EX and White Kyurem EX. The top shelf is more for pokedoll figures and random Garbodor figure.
Rearranged my Eeveelution shelf, with the addition of Umbreon. He was the last Eeveelution that I needed for the corner.
Last, but not least, my bullitain board. I added a couple of things there too XP
Well, that concludes this collection update, thanks for reding everyone!
If you're curious, this is just a preview of the next update: http://laspider.tumblr.com/post/100288779753/update-on-the-stuff-from-my-middleman-im-just
(Of course this is not including things from GA's and others XP)
NOW FOR THE WANTS!
WANTS WANTS WANTS!
Other Wants: http://yellowmudkip.livejournal.com/16615.html (Just to note, I'm looking for the ones posted above)
Extended Version on my collection site: http://mypokedolls.weebly.com/wanted.html
I'm looking for these guys in particular. I know I can find the Male Unfezant and clear Mudkip kids from yahoo!Japan, but I want to avoid the commission fees/use it as a last resort.
As for Jigglypuff Applause: I'm looking for one in perfect condition with a tush tag on it.
Hasbro Pidgeotto Beanie dodges me all of the time XD and Clear Mudkip kids, yeaaahhh dodge me.
If anybody have these for sale, I'd love to buy them from you. They'd be going into a great home <33