Will start out with my recent gets. WalMart recently stocked some new Pokemon items. They had two different Eeveelution packs, but only had one with Glaceon/Sylveon/Leafeon, so I bought it. I really like the matte color instead of the shiny paint.

Then the kids arrived in the mail earlier in the week as well. Really happy about nabbing the Houndour and Growlithe because I feel like they normally go very fast. Of course happy with the Suicune because Suicune. =3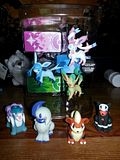 -----

Today, while digging out my boxes to prepare to move soon(hopefully), I found my box of old Pokemon stuff. I had to open it. I wanted to see just what all I had, but I pretty much knew.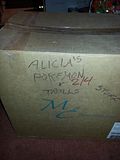 Oh look.. you know my name now!

(WARNING: A LOT OF PICTURES UNDER CUT) - Lots of old stuff from 1998-200?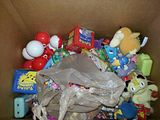 Well, this is a bit messy. Let's start with the bag.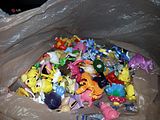 My old TOMY figures! I picked them out one by one and lined them all up.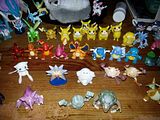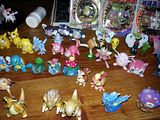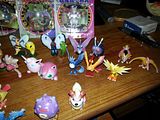 For being stored in a bag they are still all in really good condition. Not to mention being carried around in my pockets long ago. Only Beedril is "broken", but I remember that happened before being packed away for so long. His stinger came off the base.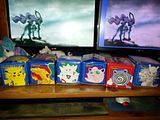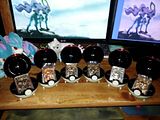 BK Gold Cards. Boxes are in meh shape, most probably just need to be flattened and put under something heavy for a bit. Charizard is missing one of the stands, which I didn't see in the box anywhere after emptying most of it.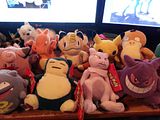 Hasbro Plush! Most of the tags are just curled and a lot still have the price tags on them. Didn't realize I had so many.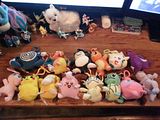 Not sure who produced these. Tush tag says An Accessory Network Product. Plushy keychains. Mew has a poseable tail.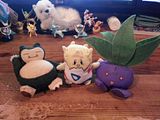 BK Beanies. Surprised I only have three of these. Togepi has some dirt on his cheek. It was coming off a bit with my nail, so not sure if I can get it off.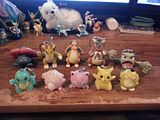 BK Keychains in the back row, light up keychains in front. None of them light up anymore, probably just need batteries.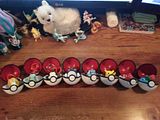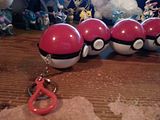 Pokeball keychains. They pop open by pushing the button on the front. There is a little hole in the side for the keychain to come out. Pokemon inside can be removed.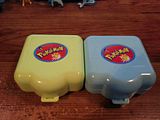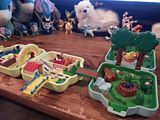 Polly Pocket meets Pokemon. These were always a pain to shut again because you had to put the pieces just right or else it wouldn't shut.



Roller stamps. Some had some leakage issues probably from the temperature changes in the garage. I tried to clean them up the best I could. They all still work despite leaking.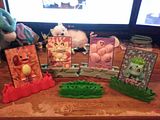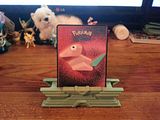 BK 3D cards. Charmander still lights up! Bulbasaur doesn't though. The eggs get stuck on Exeggcute. Porygon was found later.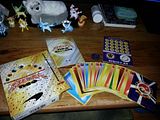 Old premade deck boxes. Mostly just have energy in them. Jungle one had counters.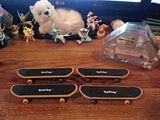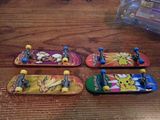 Back when these were popular they made some Pokemon themed ones. Still have all the wheels to change them up.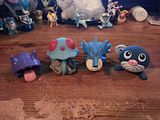 BK Shelder water squirter, then some squishy rubber ones.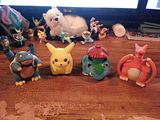 Possibly bootie rubber squeak toys. I don't remember where I got them anymore.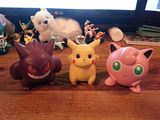 "Stress ball" squishies. They've seen better days. Gengar has cat teeth marks in him, Pika's ears completely came off when my niece used him.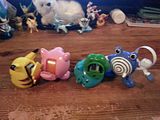 Accessory set! Pikachu is a stapler, Jigglypuff is tape dispenser, Bulbasaur is a pencil sharpener, and Poliwhirl is a tape measure.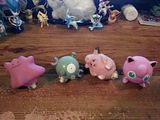 BK tops. Clefairy is a little scuffed up.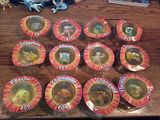 Rubber balls that are.. very cloudy. Anyone know how to clean these up?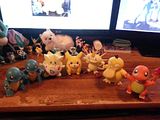 Electronic talking figures. Some still work, others need batteries. Togepi came with the paint mishap when I got it.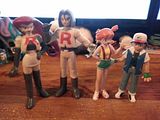 Team Rocket! With Misty and Ash.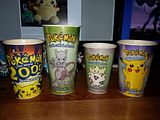 Yes, I even saved the cups. Only the movie one has some soda staining inside.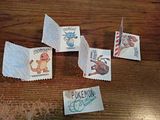 Cracker Jack tattoos and my movie ticket for the first? movie.



Last of the random stuff left. Mewtwo candy, Raichu that doesn't light up anymore, pokedex shooters, and an Ekans and Beedril stamp.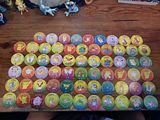 Scattered all over the bottom of the box were the coins that came with the TOMY figures back when.



Well, we made it to the bottom of the box. All that is left if pokeball halves and various bits. Yes, that is a giant pokeball cluster from BK? I think.

BUT WAIT THERE'S MORE!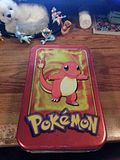 I bought this at a Goodwill long ago. It was in this condition when I got it. It was empty, but I stored stuff in it.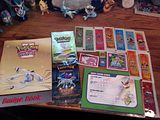 My old badge book, promo tracker, empty card packs, and a bunch of stickers. The long ones were wrapped around lollipops.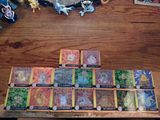 Little changer cards.

I also found my old TCG collection. Here are a few pages from it.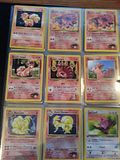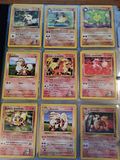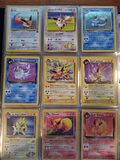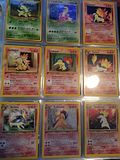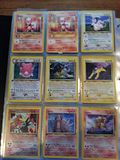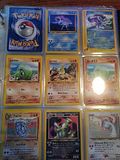 The blank spot in my Suicunes really upsets me. My favorite legendary and I'm missing the NEO card...

Collector Sets.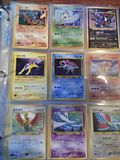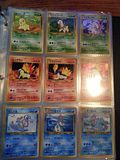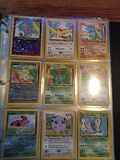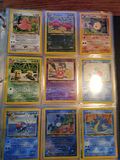 TOPPS Cards first page. Don't have many. (More not pictured)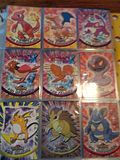 BK Cards and sheets. (More not pictured)