Hello again everyone! I have finally obtained my monthly big box from SMJ with new arrivals! Which means that it's time for a collection post <3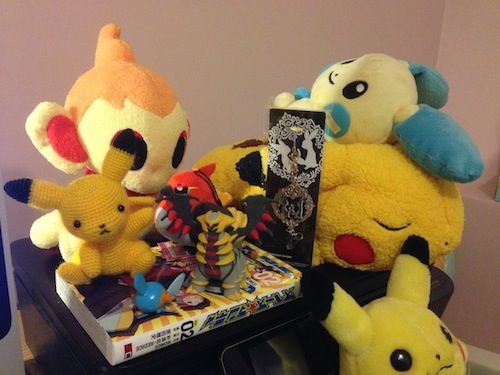 Minor update on my collection site too. (The new stuff from this post needs to be added. I'm waiting for a bright sunny day.)
Collection Site: http://mypokedolls.weebly.com/index.html
So today I saw this huge box on my doorstep after I got home from work. I just had to open it up and spill the contents!
Styrofoam!!
Everything all wrapped up in plastic.
Now everything is free from their plastic prisons.
Ignore the space dandy manga.
The Espeon/Umbreon phone charm from 2009. I remember when this first came out too. It's made of metal and not cheap plastic!
Giratina Zukan. He's got a scuff on him, but it's not that bad. It's very beautiful!
Side view!
Sleepy Mudkip Tomy figure from 2004! I've wanted this guy for a long time <33 My cute little mud babyyyyy!!
I'm so excited for the one coming out in december too!!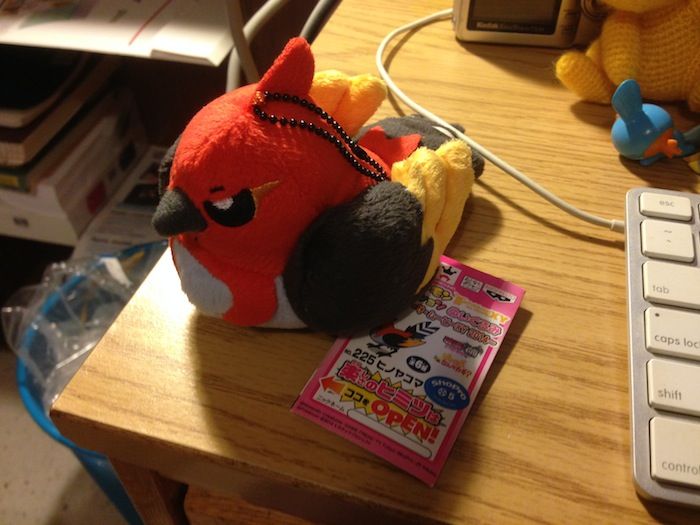 fletchinder MPC. I fell in love with the way the plush is designed.
MWT Christmas Oversized Chimchar Pokedoll. I can't get over how soft he is. :)
Oversized Minun Pokedoll! I have Oversized Plusle, so I had to get its blue counterpart, so that he won't be so lonely.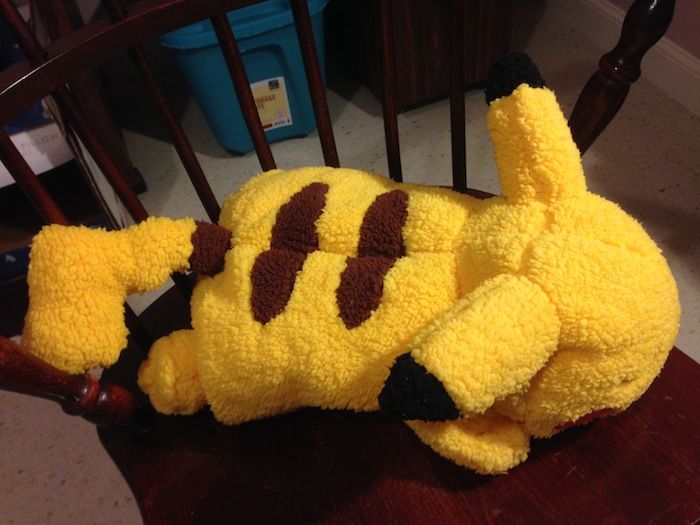 Gyutto Sleeping Pikachu tissue cover. After getting the eevee variant I had to get this one too. it's so soft!
Now this guy was a chance find when browsing Y!J and I saw this ADORABLE custom amigurumi Pikachu listing! I won the listing.
I've never seen custom pokemon plush on Y!J before so this was a unique and exciting experience for me. I love how its style is so similar to Pokemon Little Tales!
It's just so well made and Eeeeee!
Oh cute backshot!
Angled view. He's about the same size as the MPC, but his ears make him taller.
Now for other gets!
I saved this guy from the trash at work today. My 3rd hasbro pikachu.
I foud him in a bag and made out his outline and pulled him out just in time.
Gets from yesterday. My friends and I went to Toys R Us. It was love at first giggle with the pikachu.I wanted to feel how soft it was and it giggled. Instalove <3 When my friends and I walked home, he giggled and cried his name all the way home!
Mega mucario figure from the megacario box. the card pulls were pretty bad :/ Got the Xerneas coin from a promo deck with a beautiful holo salamence.
My fairy ippai figures from
poliwhirl came in yesteray, and so did my friends. She loves hers.
This set is just awesome. I love Gardeviour more then I expected too.
Only complaint is Mawile. She's standing intolerent. :P haha.
Now here they are in their fairy diorama! I thought this day would never come too! <3
Well that concludes this collection update! Thanks for reading everybody!!