Hello collectors!

I got quite a few things recently and since a lot of them are shinies I thought they would make an interesting post. Click the cut to see the items in the preview!




So first of all I have this absolute beauty from serenitysamaa, a shiny Helioptile Pokedoll! I wanted a custom shiny Pokedoll for so long and I needed this little guy in my life - it's perfect and now wears a blue bow <3




I had to have a hang tag for the gorgeous plush too, so I did an art trade with hawlucha and this is what I got! It's incredible quality and adorable, just what I needed. ;u;




Helio Pokedolls all together <3




And here is everything else I got! These are lovely little charms - Suicune is definitely my favourite shiny Pokemon and one of my favourites overall, I would love the Pokedoll but for now this will do. Shiny Suicune came in a small lot with the other Suicune charm and a Stunfisk sticker - I gave the sticker to my sister and will probably add the spare charm to my sales at some point. It's nice to have both shiny Rayquaza charms too! ;w;




I bought the Heliolisk card shortly before it was confirmed to be released in English, but it's still a nice card so I'll hold onto it - it's in pristine condition and has lovely artwork. Two sheets of stickers (only one pictured) and the clearfile came with the charm as a shiny Rayquaza lottery set which was cool!




And this is the shiny Garchomp Tomy with the new PKMNCollectors pathtag and a 'Great Britain ball' pin badge.




A pic of both my Garchomp Tomy together! I don't know much about the shiny figure, but he was cheap so I decided not to pass it up.




Lastly, the 2012 Pokemon Center Umbreon plush! I regretted not buying it during release, and his little smile and fine detail swayed me into getting one years later. I am hoping it's legit since I know there are a lot of bootlegs around - I'm usually fine at spotting fakes but I'm not sure on this one, though he was from FromJapan! so I'm hopeful.




A photo of everything from this post all together:




One final note: I have updated my sales and added a post to my journal for you to check out, as well as pretty much completing my collection website at last - the links can be found below, and thanks for looking! ;v;/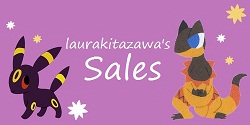 laurakitazawa's sales!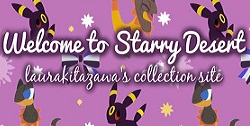 laurakitazawa's collection website!