Hi all! Everyone should have their totals now from the Mega Eeveelution Claims Post. If I missed you for whatever reason, please message me and I'll get you a total straight away. Most paid items have already been shipped out, too! :) So expect your Eevees in the mail very soon.

I'm so thrilled with my own gets! <3 I'm a light Umbreon and Flareon collector, so I mostly kept their items. I have everything except the Umbreon T-shirt and the Flareon candy tin. If anyone has those and is looking to trade for something on my post, please let me know! <3 Also, for those who have un-bedazzled their tins, did you just peel the rubbery part off easily? I feel like it will come off without a problem, but want to be sure before I try. XD;




<3 That Secret Strap!

And since I ended up with a few extra Eeveelu items, including T-shirts and Candy Tins, I've made a new post for these! Can be combined with anything from my sales post or from my recent new item claims post. (I also have new items available on the claims post.) Sorry, but pre-existing Eeveelu orders have already been shipped and/or packed for the post part, so they cannot be combined! ;.;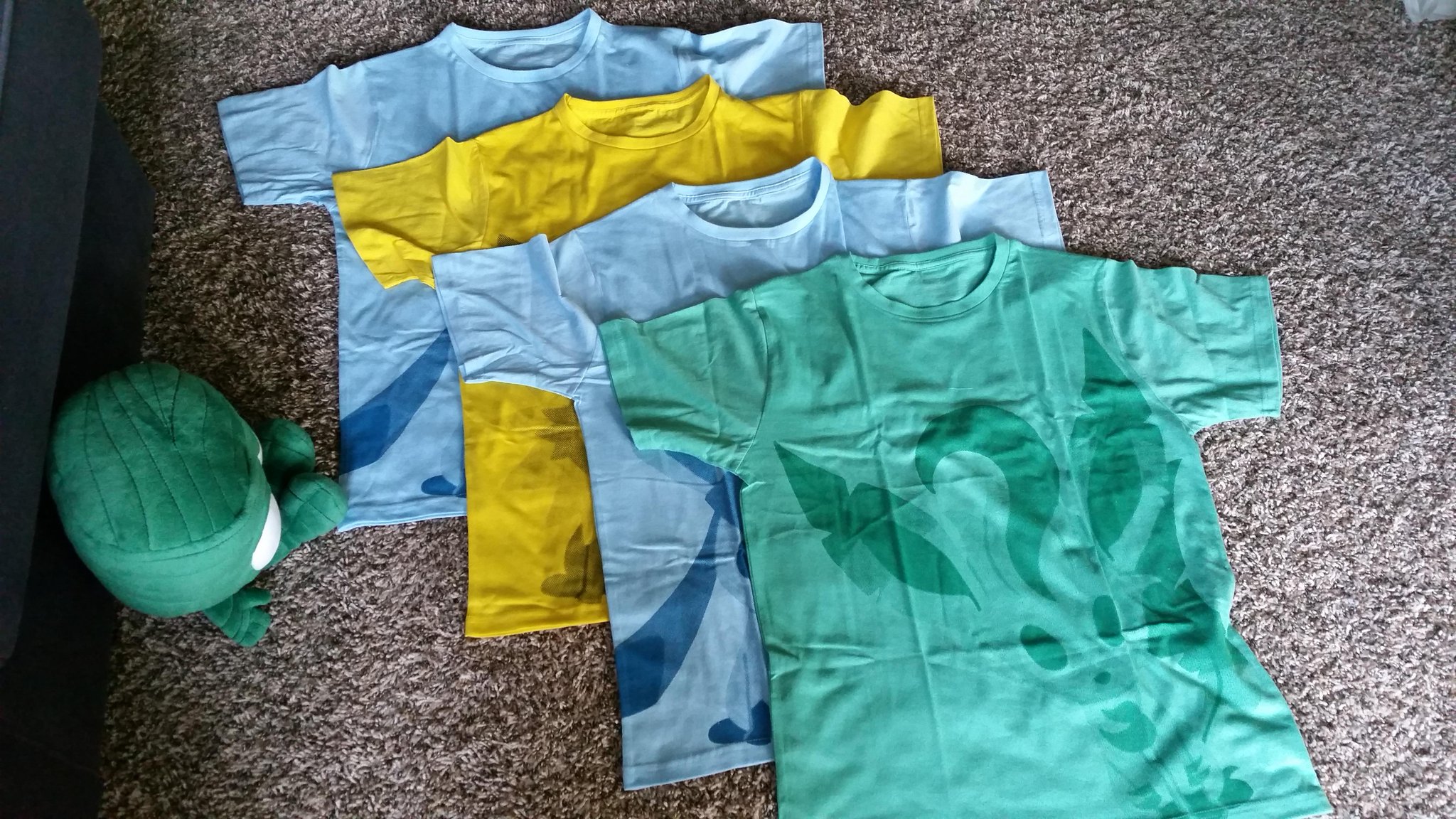 RULES
(*) Feedback here, sales permission granted in 2009 by lineaalba.
(*) I am a slow shipper. Items can take 1-2 weeks to ship out.
(*) SHIPPING POLICY
. I am charging exact shipping as estimated by
USPS website
, plus fees. But on the bright side, you don't have to pay anything for packing products! (And trust me, I spend a lot of money in tape, haha.) Quotes are obviously allowed, but please feel free to ballpark it yourself. $2.54 + fees is the lowest shipping will ever be for domestic, just FYI, so please don't ask for a quote and then be surprised. International is obviously going to be more.
(*) If you are buying only items from this post, payment is due upfront and they will ship right away. If you're combining with a claims item, then you will receive your full total + shipping/fees when the claims items arrive. :)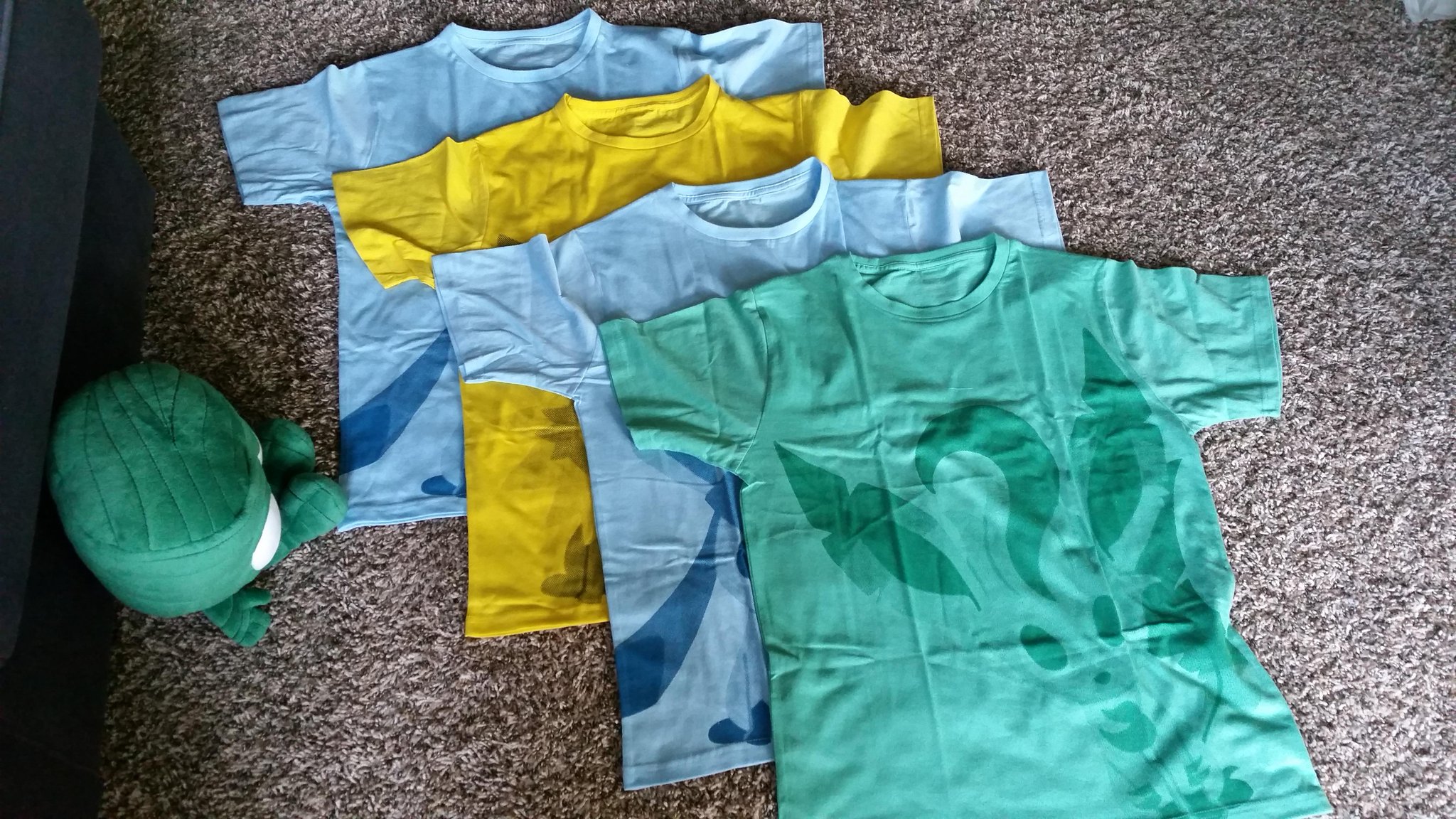 Glaceon x1, Jolteon x1, Leafeon x1 - $18 each

Amumu is sad because the shirts don't fit him! (They actually fit me very well. I'm 5'1" and around 150 lb, and although it's a little baggy/not form-fitting at all, it fits fine!) My boyfriend who is 5'11" and 156-160ish lbs was also able to wear one of the shirts fine.




Ignore everything about this photo except how the shirt fits. x_x I had to balance my camera on my window sill to take it since I was the only one home.




Mascots - $14 each

Available: Sylveon x1, Espeon x1, Leafeon x1, Flareon x1, Glaceon x1


Pokemon Time Eeveelution Figure Straps
- $10 each
Available
: Umbreon x3,
Flareon x3,
Espeon x2,
Jolteon x4,
Vaporeon x1,
Eevee x4,
Sylveon x1
Pokemon Time Eeveelution Clearfiles
- $6 each

Available: Group x1, Espeon x1, Jolteon x1, Glaceon x1, Leafeon x2
Sparkly Candy Tins
- $10 each. I have one pack of candy left, so first come first serve.

Available: Glaceon, Leafeon
Rubber Straps - $12 each

Available: Leafeon x1, Glaceon x1
Pokemon Time Eeveelution Deco Stickers - $11 per pack (if available) OR $6 for a single sticker.

Available: Glaceon, Leafeon, Flareon, Eevee, Eevee sleeping.



Also! I got a TON of mini models again. If you're a 151 collector, let me know and I can sort out the ones you may be looking for. :)

Thanks for looking! <3