Hi pokemon collectors! It's time for another collection update! 8D






My Shaymins and grass types! I finally got the Leafeon resting pose plush, and it's so adorable! The DX Kid and Friends plush were from goku_the_saru.




A better view of my Shaymin figures (and Leafy keshi, because I couldn't find anywhere else for him!)




Mega Blok from heerosferret!! It's much more adorable than I thought it would be. Awwwwww!!! <3




Closer views of the tin, also from heerosferret.




Espeon/Umbreon zukan from miss_fuu_chan!! Absolutely amazing!! I did almost lose the eevee, though ;.;




FLOOOOOOOON Settei from juumou. I really need to get a frame for this... ;.;



And now, time for Skymins!!




Glacidea Flower Bracelet from lineaalba. Words cannot describe how much I love this. I promise I'll take good care of it! Thank you!!




Lotto Skymin Figure. This thing is HHHYYOOOGGGEE. 8D




Pez Dispensers. The bigger one was from goku_the_saru! :3 I love the candy that comes with these! (well, the bigger one. The little one doesn't come with any ;.;). Grabby-min! <3




Skymin card from callyfin. So sparkly!! *u*




Pokedoll charm! This was from the same auction as the landmin one. I got lucky :3.




PLUSH!!! <3



My Skymins as they are now: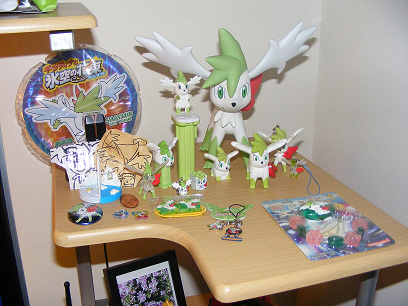 And now for the package art!! <3 These always make me smile. The one on the right is from goku_the_saru, and the left is, of course, from heerosferret.



Also, I have updated my sales with a bunch of Full Color Stadium 15 figures, which include: Lugia, Blastoise, Charizard, Venusaur, Bulbasaur,Pikachu,Geodude,Golbat,Clefable,Bulba-ditto, Clear Golduck, and Clear Omastar. I have also added a Combee Throw Pokeball Plush.
Have a look!