THIS IS A BORING POST.

1) I believe as of today all my packages owed to people are out! They've been trickling out slowly, I know some of you have gotten them and some haven't and as for the three foreign buyers I had, yours all went out today. Sorry for the wait, getting to the post office is kind of hard right now. Everyone should be getting their stuff in the next week or two!

2) I paid two members earlier for items I had on hold, do I owe anyone else money? I have a feeling there was one more of you...

3) HEY NEW PLUSHIES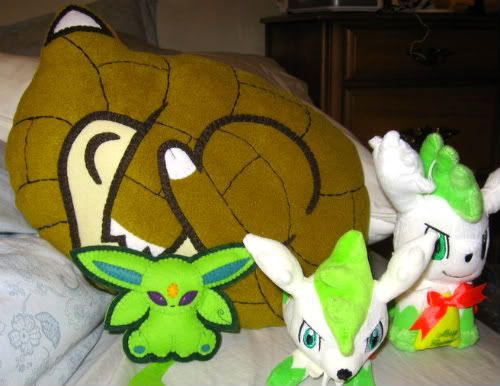 Marki-san's plush are even more incredible in person. Sandshrew pillow is big and fluffy (he's probably about a foot long) and shiny Espeon is perfect down to the shiny stitched reflection in her eye. The two new Skymins are so cute, no matter what anyone says about the Merry Christmas UFO being lame.

4) Here's a lot of Pikachu items I am selling up on eBay.