Hello PKMNcollectors! Today I'm bringing you a custom Goodra plush up for grabs. HOW EXCITING! :D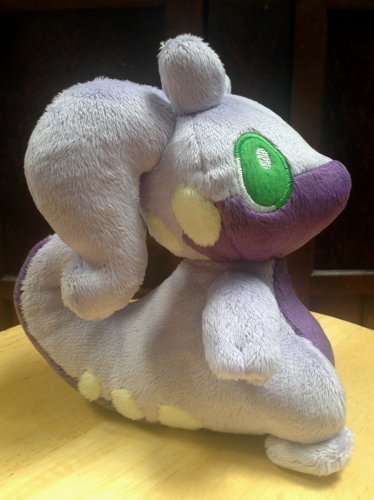 ** GENERAL RULES **

- Sales permission granted by
entirelycliched July 2013

- Feedback link here

- All community rules apply

- I accept payment through PayPal. Payment needs to be sent within 24 hours of being notified of winning the auction, or the item will be offered to the next highest bidder.
- If you are not sure you can meet this requirement, please contact me before placing a bid! I am open to payment plans, but only if we work out the details beforehand.

- No returns

** SHIPPING INFO **

- I ship from the USA. International shipping is totally fine. Shipping + fees is usually around $5/US and $10/International, please ask for a quote if you'd like to know exactly. US shipping automatically comes with delivery confirmation, if you would like any kind of insurance on an international package let me know and I can give you a quote.

- I usually ship within a week of receiving payment

- Once items have been sent, I am no longer responsible for their well-being

- I live in a smoke-free, pet-friendly house. I keep the animals away from my sewing room, but pet hair is indominable, so let me know if you need me to wipe down your plushie before sending it.

** AUCTION RULES **

Please don't bid or comment until this line is crossed out :)

- Auction ends Thursday, September 10th, 11 PM MST (Mountain Standard Time). Countdown here

- Again, all community rules apply

- All bids must be placed in USD

- Please bid in increments of $1 or more

- Reply to the previous comment to bid, no editing comments or backing out of a bid.

Baby Goodra stands about 6.5 inches tall and is made with shannon minky. The eyes are machine appliqued on anti-pill fleece for durability and a professional finish. This plushie has been stuffed with cluster stuff for maximum squishiness and quality! The majority of the stitching has been done by machine, and the smaller details were carefully hand-stitched in place.

Everything about this plush was designed and crafted by me, making it one-of-a-kind and very special. Don't miss your chance to catch this super rare Pokemon for your collection!