[last edited on 7/28/2017]

i do NOT care about hang tags, but tush tags are a must if applicable!

watch out, as a wants post, its pretty lengthy and image heavy! bolded items are of high priority, strikethrough means i've recently bought it!

i'm looking for literally ANY shinx line merch. even if its stickers or small flats or not listed here, please show me what you have!
and also feel free to show me your collection if you collect these guys too!! i love to meet other thunder lion collectors! <3

.:2007 USA release/2007 JPN release/2009 release shinx pokedoll:.



.:2007/2009 shinx canvas plush:.



.:2014 banpresto mpc shinx plush:.

.:2008 jakks throw pokeball shinx:.
(doesnt need to have the pokeball)

.:2016 all-star shinx plush:.





.:2015 luxray/luxio kid figures:.




.:2007 clear shinx+luxio+luxray kids:.



- A WILD GRAIL APPEARED! -
.:2008 shinx bobble head:.
THIS HAS THE HIGHEST PRIORITY OF ANY OTHER ITEM HERE!




- A WILD GRAIL APPEARED! -
.:2009 bandai marble attack luxray:.
(if you have only the luxray and not the marble shooter itself, i'll still be interested!)

.:shinx megablok:.



.:2009 metal collection shinx figures:.



.:2016 shinx pokemon time strap:.



.:2007 shinx line chou gets:.
|shinx+luxio+luxray|




.:2016 pokemon time rubber strap:.




.:2007-2009 retsuden stamps:.



.:2014-2015 luxray trettas:.



.:2007-2011 battrio pucks:.



.:coins!:.



.:2009 pmd shinx poster:.



.:luxio baseball cap:.



.:shinx stamps:.



.:2007 bandaids!:.



.:shinx ds game holder:.



EVERYTHING PAST HERE ARE THINGS I FIND ON YAHOO JAPAN! theres a lot of shinx stuff out there that i have only spotted on y!j. names of things may not be correct!

.:constellation star series pudding badge?:.



.:gaore records cards?:.


TYRUNT + TYRANTRUM:
AS OF 3/15/18, I AM NOT ADDING TO THIS COLLECTION! I'M CURRENTLY ONLY WANTING TO EXPAND MY SHINX LINE COLLECTION!
i recently made the decision to start collecting another of my favorite pokemon lines! little known fact about me; i LOVE dinosaurs! especially tyrannosaurids! you can imagine how in love i fell with these guys! i feel like i needed another much littler collection, and with a limited amount of merch, these guys were a perfect fit!



.:2014 tyrunt pokedoll:.



.:2014 tyrunt pc plush:.





.:2014 tomy plush:.





.:2014 kid figure:.



.:17th movie figure strap:.





.:2014 banpresto keyring:.



.:2014 metal charms:.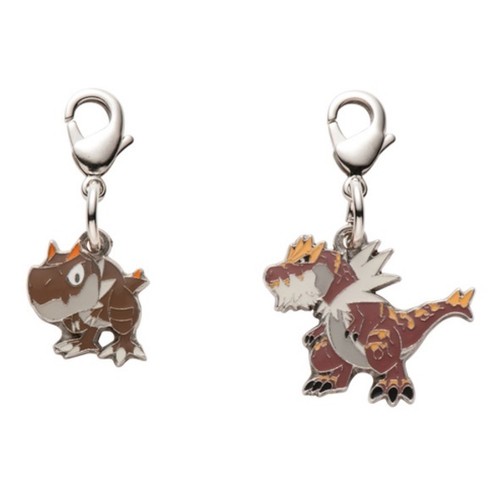 .:2014 clear file folder:.



.:2014 pokemon with you badge:.




more stuff i've come across only on y!j !

.:vinyl tote bag:.




and this figure? its only on pokemonzone. cant even really call it bootleg since no official figure of tyrantrum exists. i want one or two to properly repaint them!




also looking for customs/flats/trettas/battrio pucks of these guys!




thank you for taking a look!!!

also be sure to look at my sales for a possible trade!