Hi there,

So I don't post very often, but I'm looking for any information on Groudon pokedolls. I currently already have all three of the Banpresto Groudon plushies and I have two of the supposed five three Groudon pokedolls. I have the normal sized 2003 Japanese release pokedoll and two "oversized" Groudon pokedolls. All I need is the U.S. release normal sized Groudon and the DX Groudon. But that is where things get tricky.

From the information I was given the DX Groudon Pokedoll is 7in tall. And I'm looking for other information on the DX groudon. Is this height correct? Are there any other indicators or ways to tell the difference between the DX and the oversized?

Here is a pic of the Groudon Pokedolls I already have:
From left to right it goes the 2003 release (which is slightly bigger and fatter), then the 2004 release, and lastly the 2003 normal sized Japanese release. (And these aren't any of the Banpresto one because they don't have white pupils). The oversized ones are roughly 9in tall.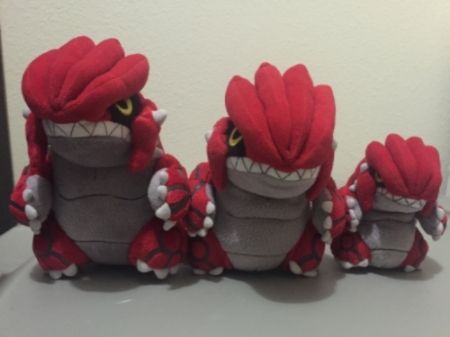 Also I am wondering what years the normal sized groudon was released for both the Japanese release and the U.S. release. Were there any rereleases?

Thanks for the help and info.