So I decided to show you with crappily taken cellphone pictures! Rock on! Maybe one day I will get a digital camera 8,,,,dDD<,DD
My shelf that holds my collection: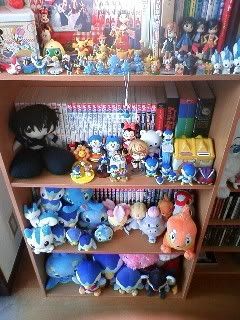 Funny thing is, I could've sworn this thing was pretty empty around the beginning of November...huh. 8,D
On the top shelf, we have: (left to right) Bupig kids which didn't make it into the picture (but I assure you he's amazing 8,D) Latias kids, Empoleon Chou getto, Vaporeon re-released TOMY Monster collection, Uxie chou getto, Pikachu Mystery dungeon figure, Luxio chou getto omg gsdkal;fs <333, tiny tiny Buizel capsule figure, Zigzagoon TOMY Monster collection figure and Ziggy/Massuguma zukan <3 (towards the back) Kadabra collection (also towards the back), Manaphy collection, Spinda collection, Rentoraa and Luxio kids, Banebu and Kadabra blocks, and Pachirisu figures.
If you squint you can ALMOST SEE THEM! 8,D
(
Collapse
)
EDIT: GIN GAVE ME MOST OF THE THINGS MENTIONED ABOVE <333333333333333333333333333333333333333
33333333333 there are you happy now no tosses teh Sannimaru ;-;