A few days ago, I bought myself the newest complete set of Bobble Head figures, and they've arrived in the mail today <3~
There's only one problem...I really only wanted Lucario. So I'm going to try and give these guys good homes within the community.
They're all very cute, but you have to remember they're a tad bit...small. If you don't mind the size, I'd say they're a really neat little add on to a collection.
I'm going to sell them each for $7 and an additional $2 for Shipping ($3 for outside of the US). These guys are for sale on a first come, first serve basis.
I was going to sell them for $10 each, but I realized that's a bit much for something so small, so I've lowered the price
OR, if you'd rather Trade me for them, I'm always open to the idea :3 I collect the following Pokemon:
Arcanine/Growlithe
Luxray/Shinx
Lucario
Houndoom/Hourdour
Feraligatr/Totodile
Eevee/ eeveevolutions
Lugia
Ho-Oh
Typhlosion/Cyndaquil

If you have something you think you'd be willing to trade, feel free to run it by me :3 I'm surprisingly easy to please XDDD
As for the Bobble Heads: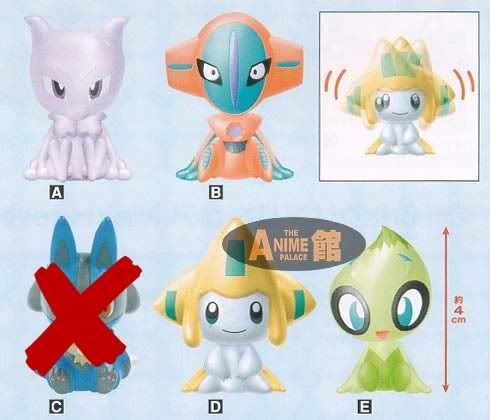 -
Image Borrowed from "The Anime Palace"
-
Mewtwo
: Available
Deoxys
: Available
Jirachi
: Available
Celebi
: Available
Payment
Sorry guys, I can
only
take
paypal
at the moment :< I hope that's not too much of a damper in your day ;A;
FAVOR:
If you have EVER traded/bought something from me
, could you do me a favor and leave me a bit of feedback on my new feedback page? I'd really appreciate it <3
My Feedback Page:
->
http://anuvia.livejournal.com/35241.html
<-