Hi! I haven't had much luck with adding to my collection so no collection updates yet. However, I have been working on my shop these past few weeks. I went for a 'catalog feel', which I hope you will find both functional and aesthetically pleasing. :D When you visit, please remember to read the shop's policies at the top of the page. Without further ado: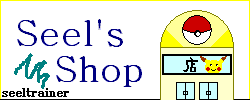 Click to visit my shop!
...or skip to my auctions!
Customer Satisfaction
Please ask questions about any item, I'd be glad to tell you more. I will respond to all messages asap. I can hold items if you are very sure you want to buy. Please contact me with your status when you're ready- reasonable, right?
Also. if anything seems too expensive, please make offers/haggle. I will consider all offers.
You can find feedback on my journal.
Profits fund my sporadic collecting fund and camera fund, so I don't have to keep borrowing my friend's cam. XD Edit: Opps, forgot to include this. This post was approved by badgerr_ftw - thank you again!
Also, Auction End Time is Tuesday July 1st at 9:00 AM EST.