Hey everyone,
so this is kind of a weird/multi-purpose post. First of all, I was wondering if anyone here could
A. tell me where and/or how I can calculate shipping for small items?
B. Help me price some cards.. I stopped collecting Pokemon cards ages ago, since I'm not too fond of flat items. I'd like to have an idea as to how much to ask for certain cards before offering them up for sale. The two cards that I am most curious about for right now are below: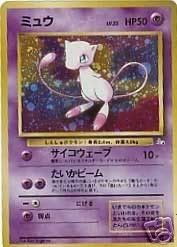 I looked these up on eBay, but I kind of get the feeling that they might be a little bit over priced (correct me if I'm wrong!)..
I got permission to make a sales post (weeeeeee)! To start, I can barely walk through my room. It's so full of plushies and stuff I really don't need anymore, and even though I love to collect cutsey things.. I admit that at 20 years old, it's a little more than ridiculous. I have SO much stuff I need to go through, and I've been running across a lot of old Pokemon stuff that I honestly hate to see go. Still yet, I need to quit being such a greedy bastard and pass it on to other collectors who actually have the shelf space. I came across one item, however, that I seem to be having a really hard time letting go of. Funny thing is, I forgot I had it up until a few hours ago. It's been sitting in a box unopened for quite some time, and I was curious as to whether or not anyone else has seen this around?
(
Collapse
)
I honestly don't remember how much I paid for this. Several times I had been tempted to take the dispensers out of the package to try them out, but even as a 11-13 year old kid I guess I was an anal collector. Besides, I bought it solely for the Raichu (even though Charizard and Snorlax are awesome in their own right), and apparently I was afraid I might lose one of them or something. o_0 The reality of the situation is, I know I should probably let this one go.. but I hate to give up the Raichu, and I honestly don't even know how much to ask for it, especially considering it's still in the package and I haven't been able to find another one like it online as of yet. I might give in and sell the Charizard and Snorlax individually.. If it turns out to catch enough attention the way it is, I'll trade it for select TOMY figures (since again, I really don't know how much to ask for it D:):
Caterpie
Ponyta
Rapidash
Gastly
Haunter
Voltorb
Electrode
Golbat
I know that might be pushing it, though.. even though there appear to be lots of other Raichu fans around here, I'm still not really sure how many people have the above mentioned figures, and would be willing to trade them off for a couple of candy dispensers. Please feel free to burst my bubble if anyone thinks a trade like that is a far stretch. you can't blame a girl for trying, though.. right? =/
...
..ANYWAYS, onto the stuff that I'm actually selling.
(
Collapse
)
These are just a few things I was able to find.. I'm a little sad to see most of it go (providing any of it does), but I have a lot more clearing out to do. I'll have some plush, BK figures, TOMY doubles and some cards up for grabs soon, but that will be later on in the week, probably after Christmas is over and I'm finished going through my random collection.