Alright people, even though we didn't raise enough money for this lot,
tortoises
was so kind to take the money we raised! <333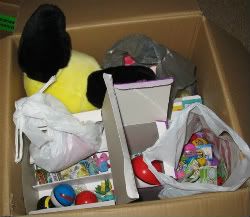 Overall, we have raised 540$, almost the goal. However, the shipping from Australia is a killer, which is 127$! For safety and insurance reasons, me and
elisha1288
have decided to take it, so please no complains. The shipping was divided up fairly and even for everybody, thank you for understanding!
Before you pay:
- On the spreadsheet, you have to pay the amount on the BLUE column.
- When you pay, ADD in the note
Jedi's GA - [ your username]
, so that
tortoises
can look if you have paid!
- PLEASE EDIT the spreadsheet and add "yes" that you have paid and ADD your zip code in the USA or your country, so that
elisha1288
can calculate shipping to you once the items arrive to her home!
If you have read all the rules, here is the spreadsheet:
https://spreadsheets.google.com/spreadsheet/ccc?key=0Aue7Lg8F5RBQdHJLUnU1dDRTWkZUa0ktVno3eTVJNlE&hl=en_US&authkey=CJfYp5sB
Please send all the payments to: paypal(@)ryux.net
Thank you for participating guys! <3