I finally got all of the packages I needed to make this post! I'm so excited. I love the things I've gotten from the people here. <3 I've gotten things that I truly love and know I'd never be able to part with. I have more things coming in the mail that I'm super excited for but they'll take another couple of weeks, and then there'll be a large custom get closer to my birthday which will deserve its own post. <3 Prepare for a picspam underneath the cuts!
Right now I'm going to show off what's probably 80% of my collection to date (the other 20% being MIA -- either in my closet, or in the basement, most likely. I haven't been able to find all of my old things yet), which is also mainly toys from my childhood. But the ones I've gotten recently from the comm are my favourites. ;w; The new additions revolve mostly around one main Pokemon... but what is it?
I'll give you a hint: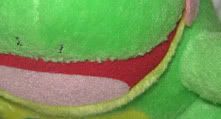 (
Collapse
)
Now, that's pretty much it for the collection update. Sorry I'm so wordy, haha. I hope it was entertaining enough to read through! Oh, but wait... You say I forgot a closeup of something? Why, I think you're right! There was a big-eyed orange head peeking through the corner of that group photo, wasn't there? Is it a mystery plush?
(
Collapse
)
And one last question before I go: To anyone more experienced in plush cleaning than I, do you have any tips on how to get that basement smell out of toys? XD You know, that damp, musty smell... Is it okay to use a light spritzing of fabric refresher such as Febreeze?