This'll be a bit of an odd one today. c:
I'm going to be seeking the hang tags for both the Jakks Politoed and UFO Politoed plushes. Yep, just the tags. My plush don't have them and I need them for my tag wall since they have Politoed on them, of course! I can't purchase them at the moment (not that I'm expecting anyone to actually have these things right now... XD), but I'm here to request some photos and ask a question.
First, my question: I think I read it on an eBay page so I'm not taking much stock in it, but from the wording it sounded like there was a D/P/Pt tag for the Jakks Politoed plush. It sounds strange to me, but I wanted to make sure. I assume the Johto tag, if there is any other kind, would be this: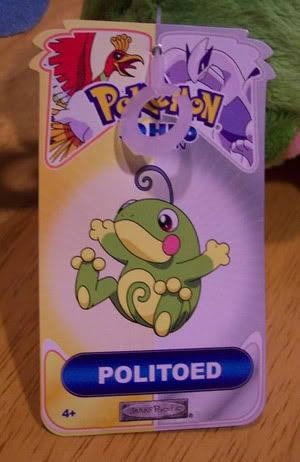 So... is this the only Politoed Jakks hang tag?
- Answered, thank you! :)
Secondly, the photo requests! This is the only photo I have of a Politoed UFO's hang tag:
And yeah, it's from PokePlushProject. You can barely see the tag, obviously, so if anyone has a photo of either just the hang tag or a better photo of a UFO with the tag more visible, do you mind sharing with me? <3
The other photos I'd like to request is Politoed Kid stuff. I'm not sure if every Kid was available individually packaged or if some were only available in sets, but if Politoed had its own box and card (I think they come with a card inside?) could anyone share a photo of them? I'm also looking for a photo of the Politoed Topps card (or cards? I don't know how many there are) if anyone has one! I need these photos for my wants list. :)
Here's a couple bonus photos as thanks for reading. :D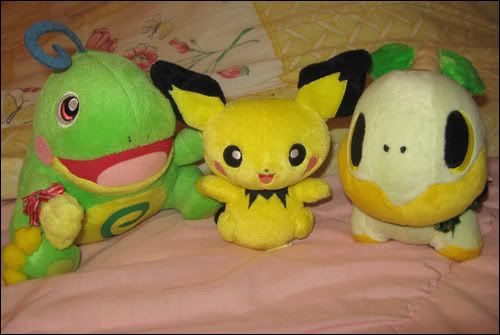 A recent newcomer Pichu plush from
breethezebra
! I had a bit of a scare with this one since it took about a month and a half to arrive. I didn't want it to get lost! :c But it's here now, and look at that ridiculous cutie. It's with the usual welcoming committee! Pichu's cute and all, but I'm not crazy over it. This plush, however. Gah. One of the cutest things ever. Turns out it's a Banpresto magnet plush! Never heard of them before until I was snipping loose threads on its tush tag and my scissors were suddenly stuck to its butt. XD I got it for my boyfriend but I'm going to have a seriously tough time giving it up, haha.
And I shared this previously in a comment but thought others might enjoy it, since Nathaniel Cutetwig seems so loved. XD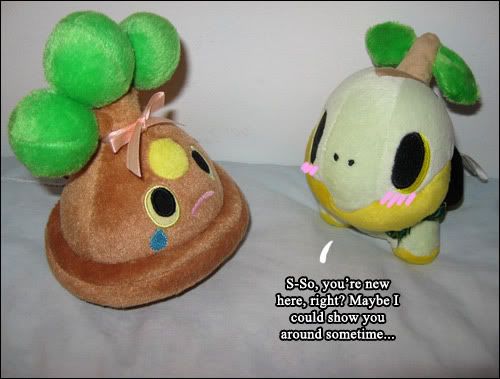 Someone's got a crush on Camellia ♥