Hellos everyone.
My name is Alexandra or Alex for short, which tends to be easier to remember.I am 26 years old and I live in Cali. I have been around the comm for I want to say a year and a half give or take. I discovered the comm while browsing around. I like the fact everyone is really friendly and I have met a lot of new friends because of the comm. Never really got around to to making an intro post,busy with work and what not; or even showing the smallish collection thus far. I have been a fan of Pokemon since it first arrived in the the US. I have played almost every one of the Pokemon games with the exception of gen 3's games XD. I really fell back in love with Pokemon after playing Pokemon Diamond and became really attached to Luxray, which I nickname Lionheart and then later Leon as a Gijinka. One of my all time favorites is Charmander(now Charizard), and Vaporeon which I still have in my Pokemon White game from Fire Red. My collection consist of what I keep in my party most of the time.
Sooner or later I am going to get a shelf or something to display my plushies more properly.
My favorite pokemon are in order Charmander(Fang), Luxray (Leon-Lionheart), Vaporeon (Vap), Darkrai (Takeshi), Snivy (Feng), Zoroark ( Angela), Zekrom (Tron), and Latios. I normally nickname the pokemon i favor and use most often.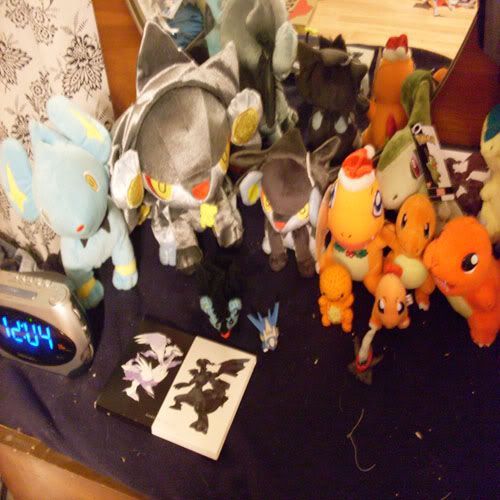 (
Collapse
)