HELLO MY POKEFRIENDS! I have MANY PICTURES because I've been lazy and stuff has piled up as a result. I was going to include a photostory in this entry as well, but this ended up so long I decided I'll post that in a separate entry in a couple days. It will feature a newbie named Prescott, who you get to meet in this entry.
I figure it's been a while since I made a large post and there's been lots of new members since then, so perhaps a little re-intro is in order!
So, hi. 8D My name's Megan, but the majority of the internet calls me Toady or Toedy. I'm a 22-year-old girl living in Canada who aspires to be a published author of YA and fantasy novels. Maybe it's the writer blood, but I talk way too much. Sorry. |D; My favourite Pokemon for ever and for always is POLITOED. <3 I've loved frogs ever since I was alive so that explains a lot. My second favourites are Palpitoad and Bonsly, and my tertiary loves include Turtwig, Stunky, Gible, Bulbasaur/Venusaur, and Wobbuffet. My childhood loves were Raichu and Marill, so I've still got a soft spot for them as well.
I've been a Pokefan since the first gen and I still remember the joy when my parents surprised me with Yellow. I've got fond memories of
Pokemon Snap
and
Hey, You! Pikachu!
, which induced my 12-year-old self to sleepwalk out of my bedroom one night, where my dad caught and scolded me for being awake and I complained in my sleep that I just wanted to play the game. I sort of fell out of the craze with everyone else but still played the games. Diamond/Pearl are the only ones I've never played (but will soon!).
Other than Pokemon, I collect
Frog Style
, and everyone gives me frog stuff which = MASSIVE FROG COLLECTION that I have hardly added to myself. XD It's pretty awesome.
If you read all of that, thank you. C: And now... let's get to the rest of this stupidly massive post! WITH PICTURES. I'm so sorry dial-up users and my Aussie friends. Please still love me when it's over? <3 I did make sure all of the photos are around 50~70KB, though I think there's one or two that snuck into the 80s and low 90s.
---
FIRST ORDER OF BUSINESS. Everyone loves charms, right?! That's what I thought. I guess mail carriers think otherwise after so many deliveries. :C
TYMPOLE, WHAT DID THEY DO TO YOU?
(
Collapse
)
---
(
Collapse
)
---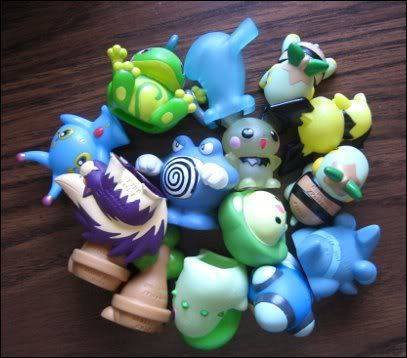 I'VE GOT KIIIIIIIIDS, THEY'RE MULTIPLYIN'!
(
Collapse
)
---
I couldn't resist this little fellow who had been living in
shiny_vulpix
's sales post for a very long time. He's seen much better days and has a (very manly) battle scar. I thought I could give him some TLC and make him feel loved again.
(
Collapse
)
---
QUESTION!
Does anyone know the exact release date for the March batch of MPCs? I've been prowling a little for the Palpitoad but I don't see any sign of it yet.
I (finally) leave you off here with the knowledge that my boyfriend's 7-year-old brother recently pulled a MEWTWO EX and FULL ART RESHIRAM card. Kid's only been playing the TCG a couple weeks. My jaw dropped. XD