April 13th, 2012 - PKMNCollectors
Happy friday the 13th everyone! I just wanted to see if anyone had any third gen metal figures for sale or trade? It is my favorite generation and I'm striving to collect them all. So if you have any for sale please let me know :) I just compiled some pics that I found on google, I apologize in advance if any of these are yours ^^;
Also I have some rare metal collection trainer figures and pokemon that I'm willing to trade for some of these. Especially rayquaza or the lati twins! They are grails to me :)
If anyone wants one of those black/white pokemon center pixel figures, this ebay
seller
had a couple of them for sale: only 12 dollars new. (I got pikachu)
also made some progress on my kaiyodo tfg want list: Knocked a couple names of the list but i'm still looking for any of these figures at normal prices:
clickie here to see http://i.imgur.com/8btiK.jpg
(apparently someone said they had a Koffing that I was searching for but they have to dig it out from somewhere in their room)
I've decided to weed out a few things that I'm no longer interested in collecting!
A 2005 Mudkip Pokedoll(that comes with extras)
, a Jakks Pidove figure, and some unused stamps.
Please read the info under the cut for the descriptions for the items.
All items are from a
smoke-free
home. I do have a cat, but she is unable to reach my collection. Please note, the prices
do not include
shipping or PayPal fees.
Sales permission granted by
entirelycliched
on 10/29/11
Mudkip Pokedoll - $15 OBO
SOLD!
Jakks Pidove figure - $5
OBOOBO (Or Best Offer
) - I really want these to go to a good home so feel free to make me an offer if you feel the price is too high. Serious offers only please. I have the right to refuse or accept any offer.
Munna - $3
Lilligant - $3
Pansage - $3
(
Rules and Shipping Info
Collapse
)
(
Mudkip, Pidove, and Stamps Info
Collapse
)
Also, I'm plugging
my permanent sales post
. I've lowered a few prices! I still have a lot of Korean stickers and erasers left.
Happy Friday the 13th, everyone! :D I just have a reminder for my sales and auctions going on. The auctions end tonight at
7pm
8pm CDT! I've got a double-sided Slowpoke keychain, a winter themed Mudkip strap, and a clear red Arcanine mini model. The rest of my sales that don't sell will be going into a large eBay lot, so please take a look! C:
Click the banner to be transported~
I also have a couple of wants for the comm... The first being the shiny Infernape kid!
I've already failed three times at getting this guy, and I'm starting to lose hope. :C
The Deerling Takara Tomy stamper
I haven't seen it anywhere until recently. Does anyone have any info on it?
Nevermind, found it! XD
Annnd Smeargle tin!
I've seen many tins from this set on Y!J, but not Smeargle. This is one of the last pieces I need for my Smeargle collection, so any help would be greatly appreciated! <3
Found! A HUGE thank you to the wonderful
akapahua
! <3<3<3
Citizens of the PKMNCollectors Community,

Pokemon plushies around the world are unsafe! Why? The reason is because 3 particular plushies have been running loose and committing unspeakable crimes. And what are these crimes? Simply put these plushies are guilty of being too plain adorable - and I must apprehend them! I need to take the following 3 into custody:


I have scoured eBay for years and have been unlucky in finding these remaining 3 with their hang tags. I'm starting to think they've gone extinct :< My last hope is that someone here will be able to help me.

I would like to find them MWT (hang and tush tag; ok if tags are a little damaged) and would be willing to pay handsomely for them. You can rest assured they will be going to a good home! If anyone can help me out or point me in the right direction as to the whereabouts of these fugitives, please contact me! :)
Current Mood:
amused
More plushes being offered for sale! Prices lowered! :)
(
come take a look under the cut!
Collapse
)
Hello! Just a tiny sales of the things I have. Thanks for looking =] Customs, figures, and plush. Oh and one thing :P I am trying to ship these out tomorrow, so prompt payment is recommended xD Thanks.
(
Click for rules
Collapse
)
(
Click for sales...
Collapse
)
Hello all,
Sorry to post again so soon, I promise it's the last one for a while. Well, two days ago, I received (or should have received) my Noppin package.
The postman said I had to pay for custom fees - a horrendous amount of money. So I have no choice but to sell some of my Pokedolls to help pay for that amount. I don't want to get into too much details as this is offtopic, so here's what I'm putting up for sale:
(
Info and prices here
Collapse
)
Thank you for your help
Hellllloooooo everyone! Long time no see! How are you all?
I've been meaning to post a collection update for the longest time but just never got around to it! So I'm finally making myself do it! Really, I only have one new item added for this post, but I took down all my Pokedolls and decided to take some pictures. I now have 17 total!
Onto the update!
(
Reshi is king of the mountain!
Collapse
)
Current Mood:
chipper
Hi again everyone!
Firstly, to those who bought from my
first
sales post: If your order has been shipped, I will be leaving you a message to let you know! If you don't receive a message, that means it is yet to be shipped; this is due to running out of packing materials and having to travel back to university today. You will receive a update when they are shipped, though.
The
second
sales (with the phone straps and PMD figures etc.) are yet to be shipped, but will be out within the week. I will let you know when your items have been shipped also!
Upon returning to my dorm, I now have some charms to sell!
Sales permission was granted by Dakajojo on 09/02/11.
Feedback here:
http://feedback.pkmncollectors.net/feedback/view/badshines/
.
I ship from the UK.
UK P&P is $2.80. International P&P is $3.70.
All are $5 each

Sold:
Shellos x2, Nidoran Male, Nidorino
BUT NOW! I'm hesitant to call this item a "grail" as I've seen it on Yahoo Japan and such a few times, so instead I'll just call it a major awesome fabulous GET. The motivation for finally getting my sales up and running was seeing him listed on eBay for a reasonable price! BUT WHAT IS IT?! Click the cut to find out. :)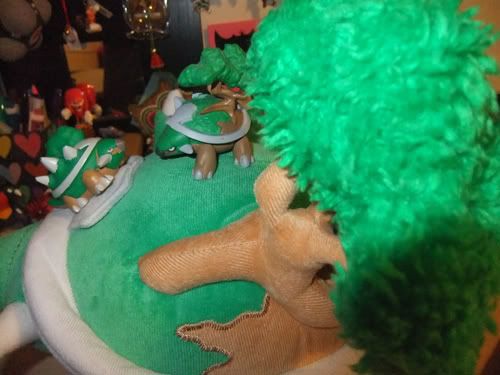 (
"This place sure looks familiar, huh?"
Collapse
)
Hey guys~!

I was just curious about something. I recently purchased a lot from Ebay that I am thrilled with (as it had a grail of mine! 8D), and it was a great price for what all that I got (14 plush total!) - it was a win-win! lol Anyway, as a result of that, I ended up with an Entei pokedoll that I'm not sure if I want to keep, so I was wondering if it would be a fair trade to ask for a Suicune pokedoll in exchange? Entei did not come with a hang tag, but he has his tush tag and is otherwise in good condition, so if the Suicune is lacking a hang tag, I'd be okay with that to make it fair. =) If anyone is interested or wants to discuss/ask questions about it, send me a message please!

Also, I am seeking some certain items:

- Vaporeon Canvas
- Flareon Canvas
- Reshiram Pokedoll (I'm not even sure how much this goes for lol)
- Furret Tomy Plush (yeah right ;o;)

I do not have a preference for tags, but I would like them to be somewhat nice at least and not beaten up or anything. :3 I am willing to pay for these (realizing how expensive they are), so if you have them and are willing to sell, let me know! Those two eeveelutions are the last two I need to complete my set, but they keep evading me (I did purchase a Flareon a while back, but that was for my friend, so alas, I am back at the beginning. @.@)

Is anyone going to Anime Central (Acen), by the way? I remember jujufox mentioning that she would be there, but I was wondering if anyone else would be there. It would be kind of fun to meet some fellow pokemon collectors there if anyone is interested since I will be going myself. :D

One last thing - if I have purchased from you recently, please leave me some feedback here: http://feedback.pkmncollectors.net/feedback/leave/?user=shinji_wolf. I of course will do the same in return, but I am waiting for items to come in first before I do. If I have missed anyone, feel free to remind me and I will get right on it. ^__^

Thanks so much and have a great weekend! 83