Or maybe a re-introduction, as I was an active member here yeeeaaarrrrs ago, haha.
Hi! I'm Emily and I've been collecting on and off ever since I was little :) I don't have a great deal of merch as I have little space to display it all properly, which is why I went to lurking a few years ago :c
But recently I decided to start collecting again! But instead of merch (tho I will buy the odd plush that I really like!) I've decided to start collecting
cards!
Much easier to store, and very satisfying to collect C:
So I've decided to start with the B/W sets as they're the easiest to find, haha. And today I bought a blister pack and a Zekrom tin, mainly for the promos with the boosters as an added bonus.
Now I've heard a few rumours that the blisters and tins don't have a very good pull-rate so I wasn't expecting anything great, but I managed to get a few pretty good ones!
Here's two: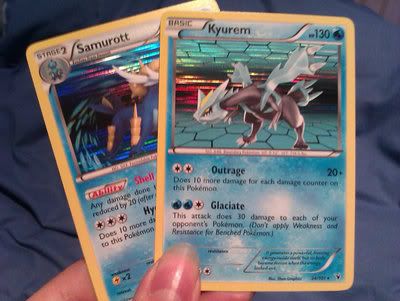 Not too shabby! The other two under the cut!
(
What's this? ... 115/114? That's a big picture!
Collapse
)
I'm still compiling a wants list, but I hope to be buying from you guys an expanding my collection and having fun soon! :D
Current Mood:
excited