I have a few, cheap things for sale! I mostly just need room for other collections (which I badly need to update) and gas money (traveling is a strain on the tank :b) I will accept trades, but right now, the only thing I'm interested in are Mass Effect figures.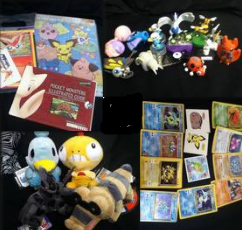 (
Collapse
)
Also, I have a few slots open for August if anyone is interested in commissioning me.
(
Collapse
)
I have two options at the moment since my tiny plush are all full.
Pokedoll/normal plush start at 150 and can go up/down in price depending on difficulty.
Lifesize starts at 300 for more basic Pokemon (starters and whatnot) and goes up depending on size or difficulty.
More info here as well as a few reviews (site needs an update, heh):
http://loneplushieinfo.webs.com/commissioninformation.htm