Want an HQ Eevee and live in the Bay Area? (Or planning to visit...)
Are you one of those people who was too late to pre-order an HQ Eevee? Or...wanted to buy it but was in debate and by the time you decided it's just a hassle now. >< Well today I visited Japantown (San Francisco) and inJPNtoys was a LOT of HQ I Love Eevees! :D They just came in and there is a huge batch as well as some of the smaller eeveeloutions. They have a bunch of unopened/still packaged HQ Eevees in the back as well.
They are selling them for $36...although for some reason when I was charged it was $38.99. I asked the lady for a discount though which was 15% though and got it for $35.96, I'm not complaining about the price mishap though about this since she gave me a discount and either way it shaved off tax and a tiny bit more.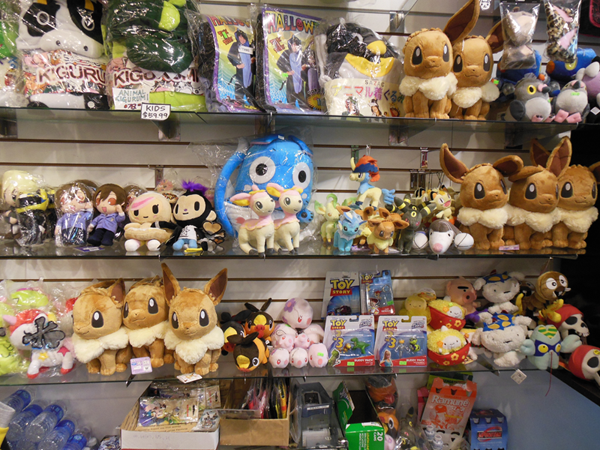 (Note they did change up their display better since when I decided to buy it later in the day they moved things around to be more presentable.)
The eeveeloution keychains were about $20~ (I can't remember) Although this Eevee is a little bit more than say JapanVideoGame's - when you add in their shipping this is much cheaper.
They DO have an ebay store, but I actually am reccomending this for bay area people / people who possibly plan to visit since they might still be here. Since there's no need to worry about any shipping costs.
;o; I absolutely am estatic that they had them since I was going to just order one online but managed to save almost $15. I heard from how everyone was saying how fluffy this eevee is and he really is *__* I love my talky eevee but this one is just so adorable.
Also still debating on if I should open commissions but re-vamped and have a better collective of past pokemon commissions. ^^ Click the pic to check out the albums~
Want!:
Also quick want but does anyone in the US happen to have a pokebox 2013 calander for sale? I know that they'll re-open but I'm thinking about getting one as a Christmas gift so if anyone has one up for sale let me know ^^