July 13th, 2015 - PKMNCollectors — LiveJournal
OKAY I AM BACK WITH MORE SALES I KNOW I HAVE BEEN AROUND A LOT BUT THIS IS MY LAST ONE FOR JUST A BIT SO BARE WITH ME HERE.
I bought a box of bromides from the lovely slothyshroom so i'm selling the extras since I just wanted my babies.
* Sales permission granted by dakajojo 7/2011
* I Ship from MI, USA.
* Feedback:
http://feedback.pkmncollectors.net/feedback/view/herar/
* FIRST COME, FIRST SERVE. HOWEVER, I only give a 3 hour grace period. If you do not respond to my payment total in this time, your item will be passed on with no warning!
* I will be shipping these in a REGULAR FLAT ENVELOPE WITH A STAMP. Stamps are $.49 cents in the US and $1.20 outside the US. If you buy more than 4+, it may require to be shipped first class. ($2.04)
ALL BROMIDES ARE $2 EACH.
I have multiples of most of these.
(
larger photos under cut
Collapse
)
I AM ALSO TAKING RESERVATIONS FOR VOL 1 SET OF THE LEGENDARY CRY CHARMS!
I bought a box and I've had a lot of people asking me for charms (since I am only keeping groudon for me.)
So I thought I would do reservations.
RULES:
* I will only allow up to 2 people to claim each charm. I bought a box, but I was told PC employees often mix up boxes SO THERE IS A CHANCE I COULD GET DOUBLES, and there is a chance I could not get a certain charm at ALL. Please bare this in mind. It is first come first serve, so first person on the list gets priority. It is highly likely second person in line will not get one.
* RESERVING MEANS COMMITMENT! If I manage to get a charm for you, this means you MUST pay for it.
* Charms will be
$9.00 each
. Shipping for these will start at $2.04 in the US, $4.50 outside the US (Plus paypal fees.)
* I have asked my items to be shipped with the monthly pikachu coming out this weekend, so I am assuming my items will be shipped after this weekend.
I WILL NOT BE TAKING PAYMENTS NOW, BUT WHEN THEY ARRIVE.
So expect payment in around 2 weeks.
Zapdos: ssjvap
Articuno: clicky797, chaos_21
Moltres: swan_sea
Mewtwo: kleine_teekanne
Mew: princess_snivy, flygons
Lugia: katielegends, xxlatiosxx
Ho-oh: Schenzi, chariflame
Kyogre: sharp_claw
Groudon: herar
Rayquaza: ivyaggron, guccishiny
OKAY THAT'S ALL FOR TODAY. Thanks for putting up with me. ;-;
Hello community!
I've gotten back (and still recovering) from an awesome weekend at Connecticon. It was so much fun this year and I found tons of Pokemon goodies that vendors and artists were selling! I picked up a few goodies for myself:
(
Con Gets!
Collapse
)
Aside from the con, I also got a few regular things the past few months:
(
HM08 in!
Collapse
)
That's the end of my recent gets. I also have updated my Lugia wants list with my grail + 5 most wanted items:
Holy Grail: Tomy Giant Lugia Plush (Either 1999 or 2001)
1. 2015 Banpresto Lugia plush
2. Clear Lugia attack kid figure
3. Lugia and/or Bird Trio stamp(s) (I really would just like Lugia, but I can take the rest of the birds if they are all in original package)
4. Lugia Minicot figure
5. 2002 Play-by-Play plush
In addition, I am also still on the lookout for anyone who is selling any extra footprint figure stands and/or zukan bases with two pegs.
Thank you all for reading!
My sales permission was granted on December 1st,2013 by entirelycliched
My feedback: http://feedback.pkmncollectors.net/feedback/view/ferix8/
I ship from Canada. I can usually ship within 48 hours of payment.
I will sell to the committed buyer first.

Custom Ninetails (around 6") made with minky.........$75


UFO charizard (no tush tag).................$45


DX Groudon pokedoll (TTO)................$80

Hello community :D I'm here with some new things I've gotten over the past few weeks! I've received most of my items (Except for two, a Mismagius kid and the Victini Jakks plush, and I'm also expecting 3 packages from YJ), so I've decided to make a gets post!!
(
Onto the gets!
Collapse
)
I also got a Glaceon kid from creampuffoholic but I forgot to take a picture of it I'm sorry ;-;
Also, I'm still on the lookout for my grail, the 1:1 Victini soothe bell plush:
I'm sorry if I'm being annoying about this, it's just that I really really want this Victini plush ;o; I was hoping to get one around the time of my birthday (The 6th) but I guess that didn't happen haha. Hopefully I'll fine one soon! I should be doing a collection post soon, but I want to see if I can get my grail before I make a post about my collection (I'll probably make a video of my collection too!)
Hello all! Its been like 2 months since i posted on here aha. I've updated my wants list over
here
Mostly looking for the cheaper stuff right now, like the clearfiles and charms but w/e. So! on to the fun stuff..
Offering commissions now! click the pic to be transported :)
Quick sales!
(
Rules
Collapse
)
(
Sales
Collapse
)
Today I received a very special Articuno item, one I never thought I'd be able to add to my collection...
(
Ooh the suspense...
Collapse
)
As I was taking these pictures, I realised that I've never actually shared my plush collection with the community. So here it is now! :) I've separated them into their generations, though post gen 3 plush have all been grouped together because the DP and BW generation tend to blur into one for me! XD So here they are! :)
(
Meet Mount Plushmore! :)
Collapse
)
Here's Mount Plusmore in all its glory! :) I really wish I had more space to display my plushes! :/ I like seeing them in a big pile like this, but it's a shame that so many are hidden! :/ I've kept my faves on the outside though! :)
Thanks for looking! :) I have some quick Articuno wants before you go!
The Articuno footprint figure
From this photo, looking for the Articuno battrio, the shiny Articuno figure on the right in front of the zukan, and the Articuno FCS figure shooting ice (with a base preferably!). I'm still not 100% sure what FCS figures are really! XD Does anyone have any info on them please (and maybe some pics of the four Articuno ones that exist! XD)?
A reasonably priced Articuno marble (doesn't have to be blue haha!)
If these are your photos and you want them taken down please let me know! :) Thanks! :)
Long time, no see! I just came back from my trip to Japan (about which I'll make a post soon). In Japan, I happened to come across a Pokémon donut and pancake. I only collect Raichu things, so at first I was going to throw the wrappings away after eating, but in the end I decided to save them just in case someone of you here would like to have them.
If you'd like to have these, just let me know and I'll send them to you for free. :)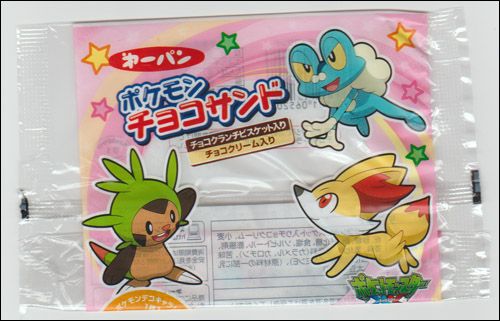 Current Mood:
lazy
Current Music: TLOZ Skyward Sword OST
As the summer quickly flies by, I've decided to help prepare your wallets for the upcoming card set! Legendary Shine Collection will be released on July 18, 2015 in Japan. Unlike standard sets, every card in this set will be holographic, similar to when Shiny Collection occured back in 2013. There are different styles of holographic, from the glossy star print to full arts, which I'm assuming will be a similar holo style to the ancient trait cards that we've all come to love. Following the irregularity of this set, there will be 4 cards per pack, instead of the usual 5 and there will be less packs in each box. There will be 27 cards in the main set, 12 commons, 3 uncommons, 10 rares, 2 double rares and then ??? ultra rares. I'm hoping to help everyone get the cards they are after! This is one set you won't want to miss! Thanks for looking, and as always feel free to ask me any questions you may have!