I mentioned in my Spring Secret Swap comment that I would make a collection post so whoever's assigned to me would have a better idea of what I collect and what I already have. Assignments for my group (thank you to
moonlightpkmn
for hosting!) were sent out a few days ago, so last night I got off my rear and took pictures of my collection!
My name is Ina and I've been a member of Pokemon Collectors since summer of 2009! I'm 27 years old (turning 28 in April @_@) and I live/work in Northern Virginia. I haven't been terribly active post-wise because it always seems to take forever to take/resize/upload pictures (honestly, it's so much easier and faster to just post to
my twitter
or
tumblr
when I get new things!), but I still check the community several times a day in hope of finding something new for my collections.
I've been madly in love with Pokemon ever since my friend gave me a Base Set Pidgey card back in 5th grade. Pokemon Silver Version was my first game (I've never played Red/Blue, but I did play Yellow after I was done with Silver), and Cyndaquil's been my favorite starter ever since I chose him in Silver. (I think the games I enjoyed the most were Black/White and Black2/White2 though! I really, really love 5th gen!) I have several main collections: Cyndaquil/Quilava/Typhlosion, Gastly/Haunter/Gengar, Litwick/Lampent/Chandelure, Zekrom, Slowpoke/Slowking, Pumpkaboo, and Yveltal. I also collect Joltik/Galvantula, Reuniclus, and Drifloon/Drifblim on the side. I collect human characters too! Red is my all-time favorite human character (I cannot describe how much I was freaking out when his first nendoroid figure was announced), and I am also rather fond of Steven and Professor Sycamore.

Aside from Pokemon, the other fandoms/franchises I enjoy are Harry Potter (ok, I REALLY like Harry Potter), Animal Crossing, Castlevania, Dota 2, Black Butler, Avatar, and Assassin's Creed. I got Fire Emblem Awakening for Christmas and couldn't put it down for weeks, so I guess it's safe to say that I like Fire Emblem too and I'm looking forward to playing Birthright and Conquest. X) Most of my interests outside of fandoms invlove food (cooking, baking, trying different resturants, being that one person who takes pictures of everything she eats), and I have a HUGE weakness for sweets.

Anyway, pictures!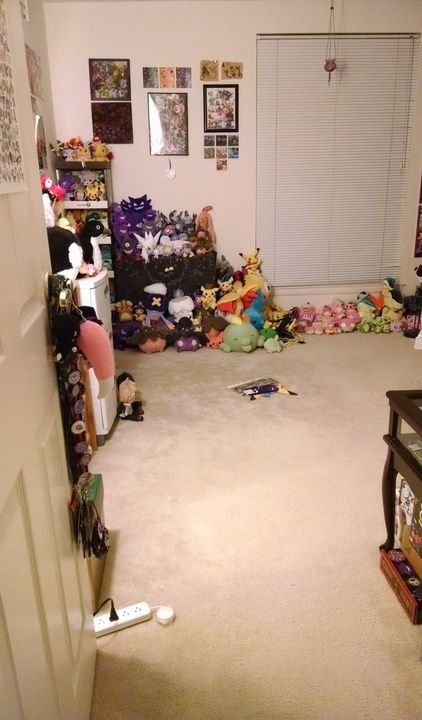 (
Collapse
)