Lets start with my lovely Keldeo box,I have been getting some really bad pulls on the monthly boxes most of the exs I had came from the first 3 boxes and the figure boxes.
Well this time I didn't pick it :P I let the excell stocker hand me a random one and it was lovely.
I opened this as soon as I got outside but the funny thing is I only saw the Flareon ex and the Sylveon ex I have no clue how I missed the full art I'm guessing it was stuck to another card,so imagine my surprise when I pulled the cards out of the sylveon pack to put away and Zapdos revealed himself.
My dad witnessed a where did this come from this wasn't here before freak out xD.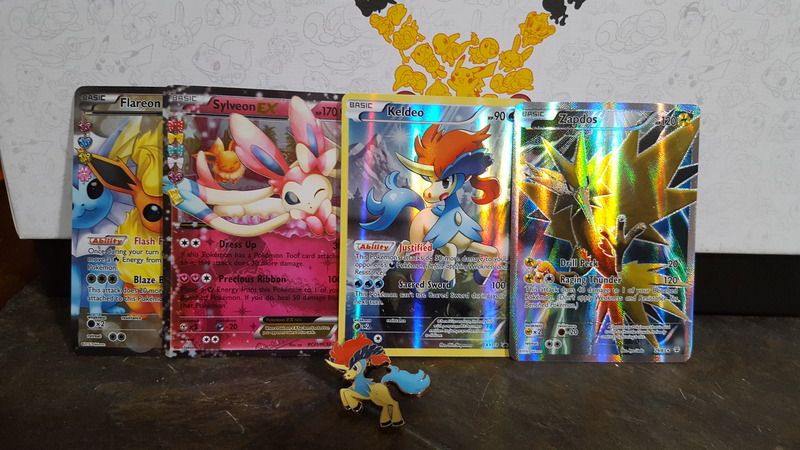 Now onto the super premium box I have been excited for this box to release to other stores since I knew target had to be getting it so I could use my discount.
Ups delivery was delayed but the stocker was nice enough to give me the tracking and letting some target employees know so they could retrieve it for me when it came in <3.
Now I am going to say one thing double check the figure as best as you can REALLLY look as far in as you can.
I was so distracted with making sure Mew was ok I forgot to look at Mewtwo the same way and by the time I noticed it the box was already open and I was not going to be able to exchange it ;-;.
(
Collapse
)
Seeking a good amount of card I have plenty of cards to trade with xD.
~Sales Permission Received from lineaalba August 31st 2010~
http://dezchu.livejournal.com/5906.html
~Most wanted Generations for personal collection~
Articuno Full art 25/83 (I have a manaphy textured full art I can trade C:)
~Most wanted Fates Collide~
Umbreon ex Full art 119/124
Umbreon ex 55/124
Alakazam Secret rare 125/124
Glaceon ex 20/124
(
Collapse
)
Don't have anything here no problem I have a whole other list of cards I don't have xD it is extensive.
(
Collapse
)