Hi guys! I finally have been able to find both wct gengar pieces!
Pics n stuff in cut:
(
Read more...
Collapse
)
That's really all I have to share! I've got a lot of things I know I haven't posted about and I really need to shift through that ><
Have a great Friday <3
I bought the Mofu Mofu Paradise Mareep Slippers from Pokevault for myself, but while they fit my foot, they didn't fit my ankle, so I'm selling them. To help you with sizing if you intend to buy them to wear, I measured my foot and it's ~9 inches long, while the circumference of my ankle is ~10 inches.
All PKMNCollectors rules apply.
For payments, I only take Paypal and/or fandom merch.
I ship from Detroit, MI to anywhere and will use any shipping method you prefer. If you don't specify, then I'll use USPS. Since I live in walking distance of a post office and work somewhere where they do postal services, so long as you pay on a weekday before 5pm EST, your order will be shipped the same day. Otherwise, it will ship the next day. If you use UPS or FedEx, it'll take a day longer for it to ship, since it takes longer for me to walk to UPS and FedEx is not in walking distance at all.
I recycle to save money. If you want all new packing materials, then tell me and I'll do that.
If you're in Detroit, MI, then I'll do local drop offs, but I don't do COD. You'll have to pay ahead of time and we'll arrange the drop off afterwards.
Commitments take priority over quotes. To commit, just post commit in your post when you're posting what you want to buy.
Unless you tell me you'll be late ahead of time, if you commit and take more than 24hr to pay after I quote your post and send you a note, then you'll get negative feedback.
I do holds, so you can save on shipping. Feel free to ask.
Haggling is welcome.
I don't do payment plans.
I can't believe I finally have this! It has been something I've been contemplating for a long time, but it was always at such a high price!

Oh Oshawott, how I wish your shiny was a bit different...

Yep! The shiny Oshawott lottery plush! It is the one on the left, its a subtle difference but I love it all the same! My only complaint is that the shiny does not have his purple nose! T~T
Same thing happened with the kid figure, I wonder why they decided not to change the nose much....but anyways! Now I have the shiny plush and kid figure to go with their regular counterparts!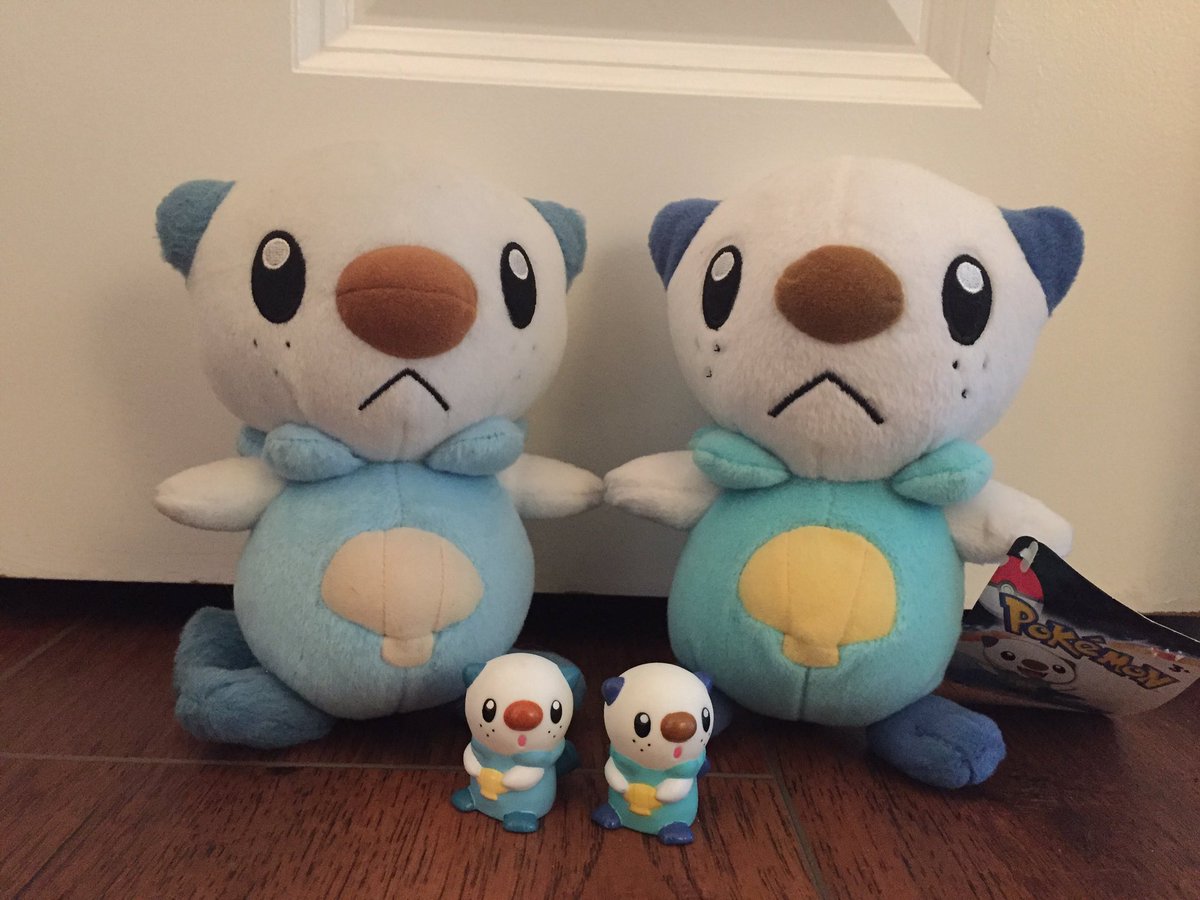 Is there any other shiny Oshawott official merch out there that I have not heard of? Let me know if there is!
HEYA !
one of my classmates makes plushies and i commissioned her for one of my trubbish ;v;
it's gonna join my collection and wanted to share that really cool work ;v;
here it is compared to the ditto trubbish plush
also some other gets :
a custom charm i found in an online shop ;v; and some figures ;v;
and finnally : a WIP of my pokemonsona (reuniclus) in clay , still needing some paint !
some stuff i bought here during the last month are still slowly arriving ;;; but i'll make sure to update on it asap
and soon a new collection update <3
Sooooooooooooooo... :D
I haven't posted "in a while" (besides the occasional iso post).
Long story short: a lot has gone on in my life, good and bad, and I spent the last half year in Boston where I also visited New York, Washington D.C. and Harlingen and Houston in Texas! Now I'm back in Germany, and I have tons of free time atm, so I thought to myself, why not make a post for a change?
This Charmander Build a Bear I got in NYC in January! It was one of the best experiences, so special! Def one of my all time favorite plush, love him so much <3
(
Reintroduction/tldr
Collapse
)
So, anyways, here are some of my most favorite gets from the whole last year.
First, this awesome fiery boi <333
(
See more gets!
Collapse
)
Well, I guess that was it for now!
I'm already looking forward to getting my SSS gift :) It's now the 5th year in a row that I am participating and I am really excited to see is my gifter this time around :>