I received my BREAKthrough Booster Box yesterday, and I uploaded a couple of videos of my box opening here:
Part 1
and
Part 2
if anyone is interested
. I'll make a proper list of the cards I have for trade (possibly sell) later. Right now I'm looking for the 4 Houndoom cards (and potentially Reverse Holo Haunter), so if there's anything you're interested from my pulls, I will probably be willing to trade for them. I surprisingly got everything else I wanted for my personal collection so I'm not really looking for anything else from the new sets. If you have something from the older sets from
my higher wants in my list here
, I would be interested though!
If you check the first video, you'll see this TCG Binder, but here's a couple of scans for anyone who's interested in Zoroark/Mega Houndoom art.
In other news, I got this lovely wall scroll of one of my favorite Sugimori art pieces. <3 I didn't really want to cover up the arrows on this wall, but it was the last empty space I had so there was no other option. XD It looks very lovely next to my Haunter and Morty plushes anyway.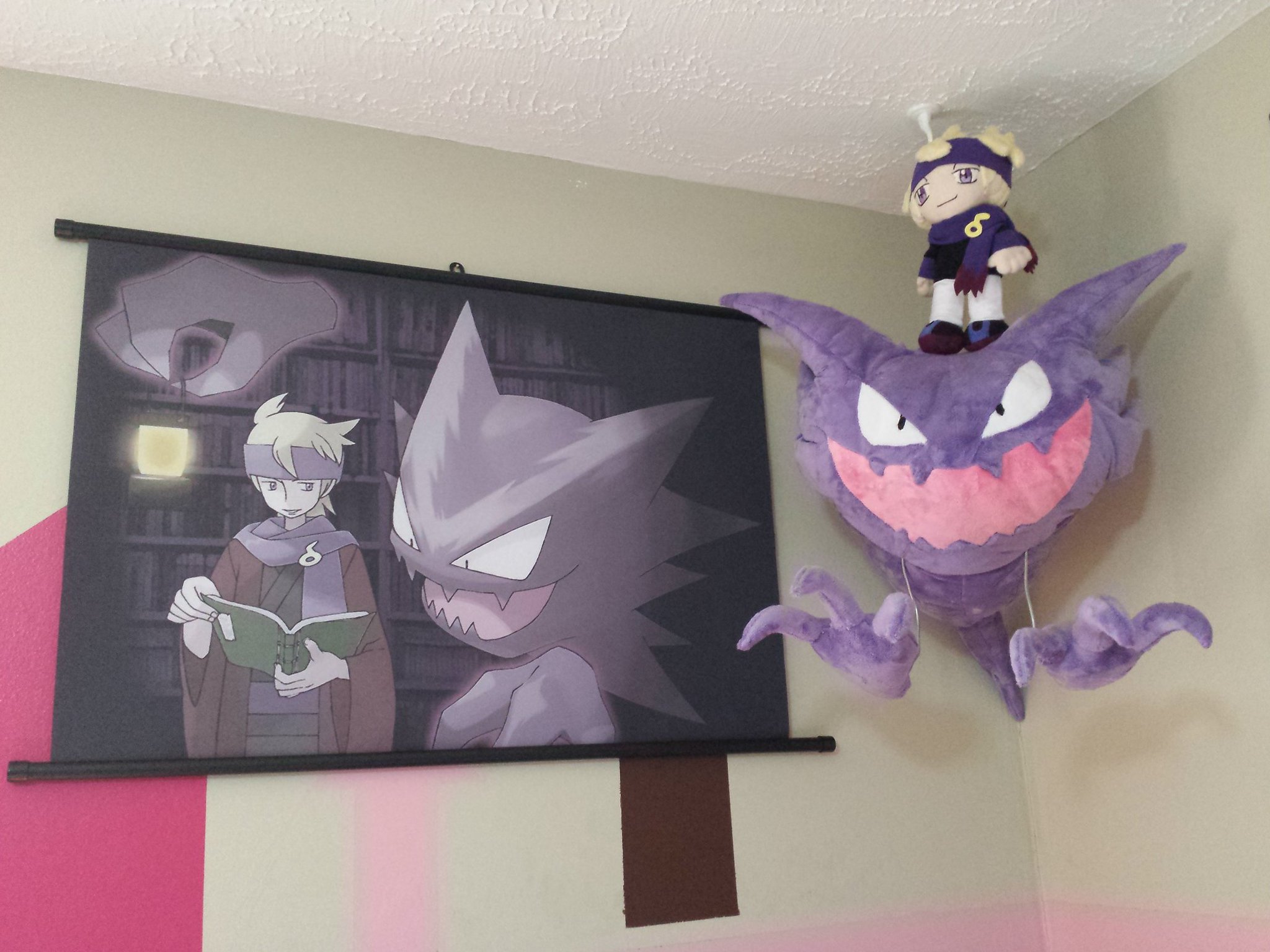 Also, a while back while I was unable to do anything else, I revived my old Tumblr blog and turned it into a Pokemon info blog for scans (mostly) and pictures of other Pokemon non-flats. I pick a lot of cool stuff on Y!J when I'm searching for stuff for my collection and usually put them in my sales, but I also find a lot of things that I'm reluctant to sell right away and would like other people to see because they're not very common items. And that's especially true for many books/other flats that I don't really rip the pages out of to sell individually, so I've decided to scan them all and make them available on my blog for others to see. I tag everything on there, so everyone's welcome to add things to their wants list if you find something you really want but haven't seen me put up for sale. I have a bunch of stuff loaded in the queue right now that I know several collectors here would be interested in actually.
If you want to keep it bookmarked for reference,
hantythehaunter
is the name of the blog. Also, if you happen to have a Pokemon Tumblr blog that's somewhat active, let me know and I'll probably follow you! (I can't follow from hantythehaunter because it's my secondary blog, but if hantsukihaunter follows you, that's me!)