AAAHHH!!

For SO. LONG. I have been looking for the official Magnemite and Magneton TOMY figures.. I've seen them on Yahoo! Japan, and they were even on eBay a few days ago.. I bid and thought I might have a shot, but I lost out because I was out of town and got home too late.. someone else had outbid me.. Y_Y

BUT I JUST DID THE OUTBIDDING! I kind of feel like a jerk.. but I'm shaking! I'm so exicted, I just had to share! They're still in the original package, even. Finally, finally, finally!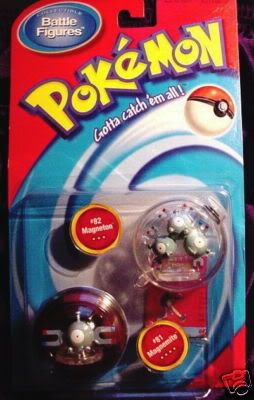 Next on the list.. Ponyta, Rapidash, Voltorb, Electrode..