Hi, everyone! Some of you might remember that I promised to write a post about my Raichu manga finds in Japan. Buuut... I just noticed that was about four months ago. xD I've been so busy with work and university, but now it's holiday, so without any further excuses, let's begin!


Oh, and because it's been such a long time, I included my other Raichu gets since August as well. Once again, thank you to all community members who helped me with my slowly-but-steady-growing Raichu collection!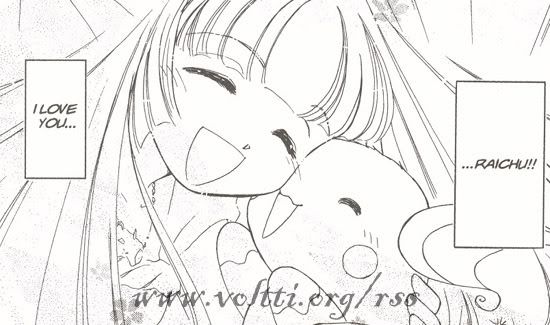 RAICHU IN MANGA


At first I was going to just list my most recent manga gets (i.e. the ones I found in Japan in summer), but as I think I haven't really posted about my earlier manga books featuring Raichu, I decided to include them as well.



However, this list is by no means final because there're still lots of books still missing from my collection (mostly because books can be quite heavy and international shipping to Finland as well...). But if you happen to be a Raichu collector who'd like to collect manga as well, this section might be useful to you. Perhaps.
POKÉMON ADVENTURES/SPECIAL


Volume 3


Japanese / English / Finnish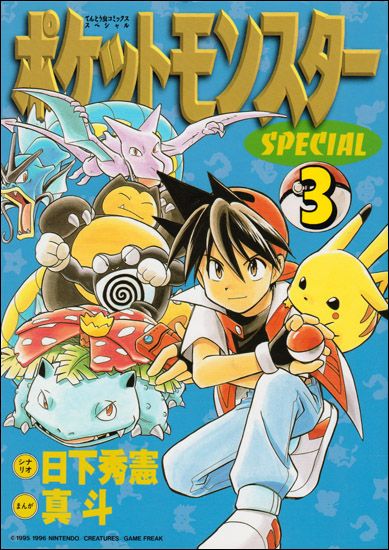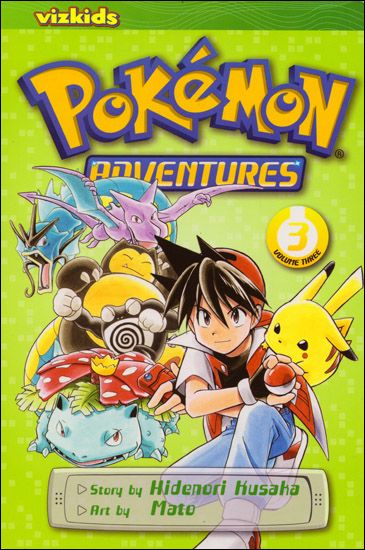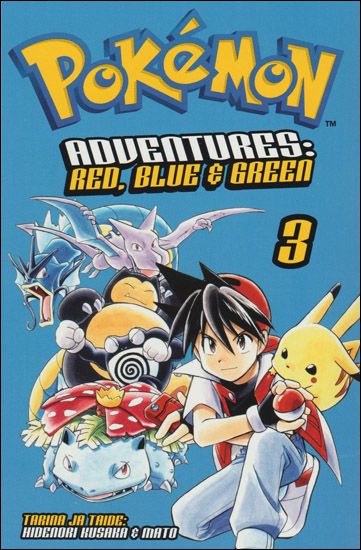 In this volume Raichu is featured for the first time in the Adventures/Special series (only in a couple of panels, though).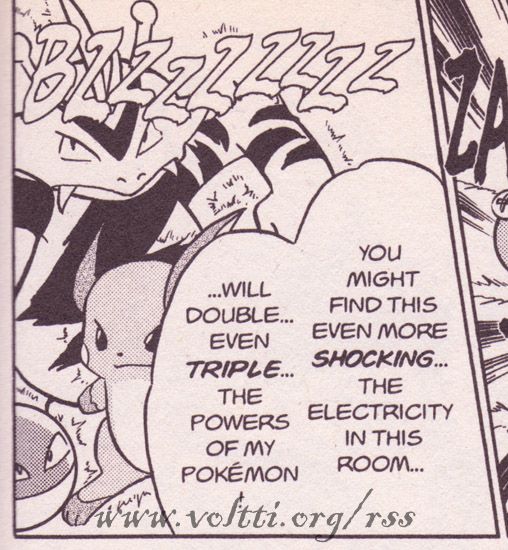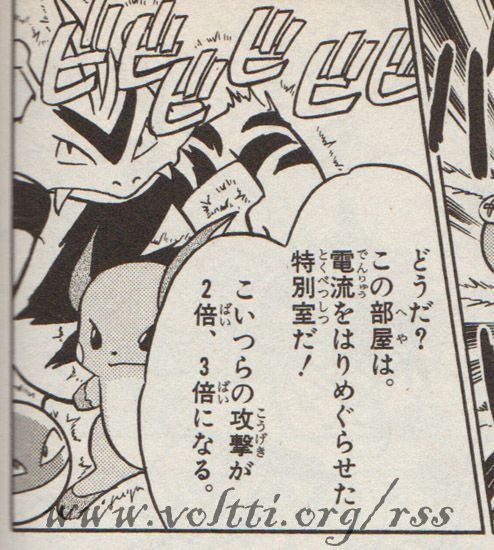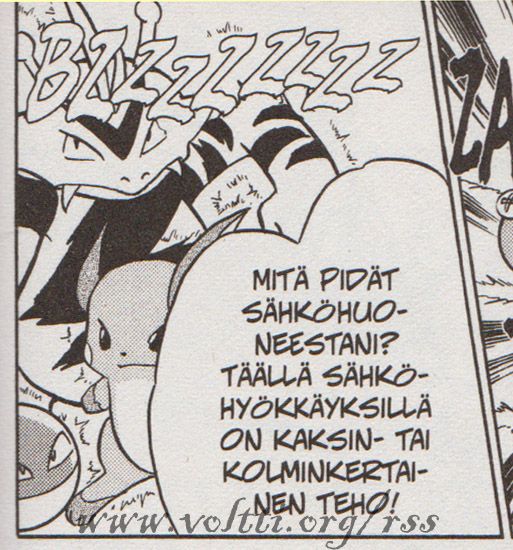 Volume 11

Japanese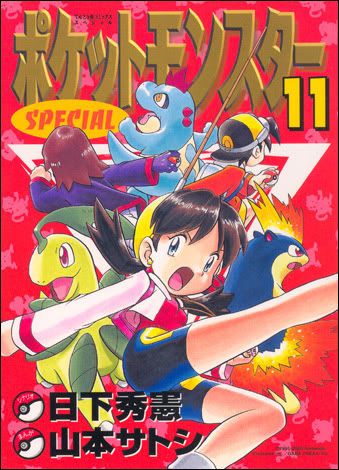 This one has the fight against Lt. Surge, so naturally it's the volume with the most Raichu content in it.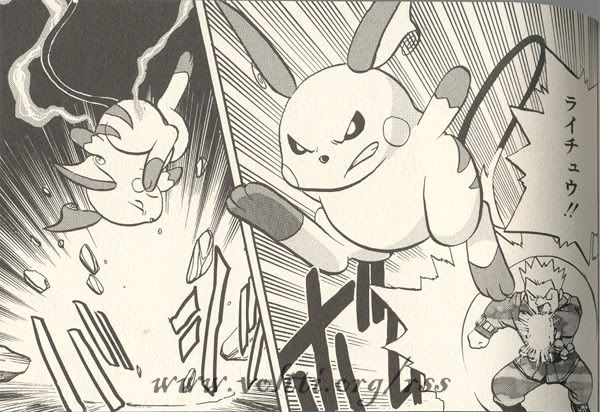 Volume 12

Japanese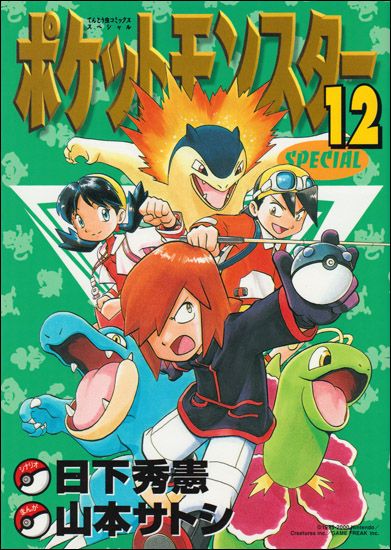 Raichu can be seen on this full-page artwork and in one tiny panel. In this page Raichu looks a bit like a teddybear to me...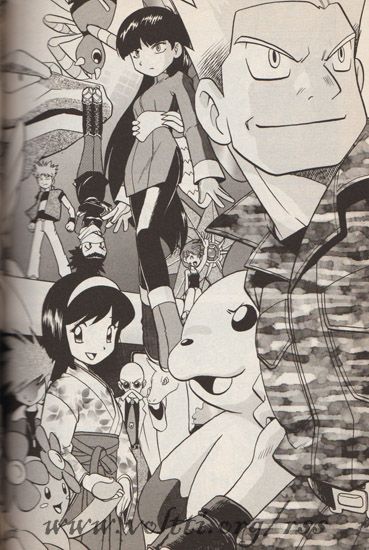 Volume 14

Japanese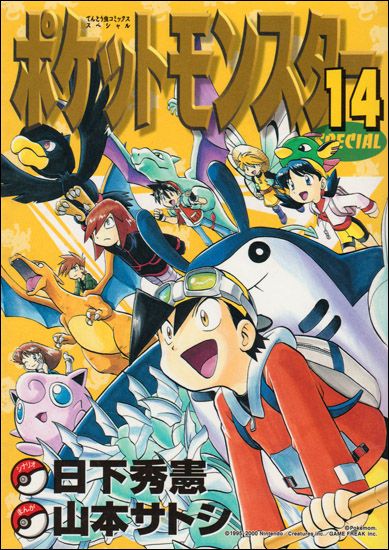 Again, Raichu's role in this book is more like a cameo. Can you find it?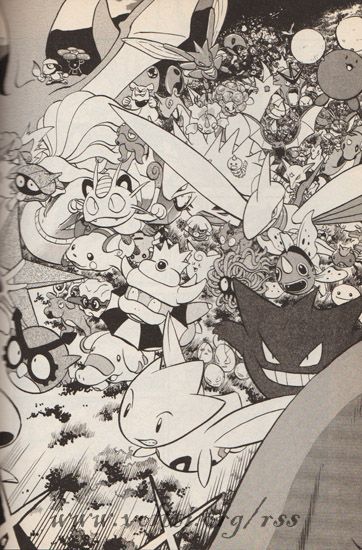 Volume 27

Japanese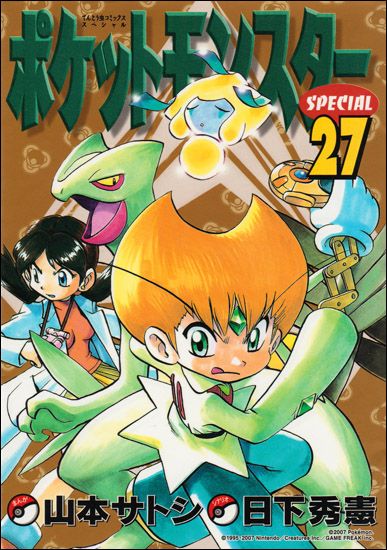 Raichu appears only in two panels (which are actually identical, as the second one is a flashback). But I think this pose looks quite dynamic after those random 'Raichu in a crowd' panels. ;D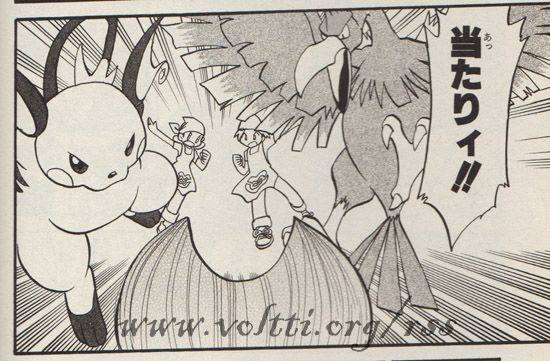 According to the splendid MangaDex by Serebii.net, Raichu can also be found in volumes 29, 36, 37, 38 and 41. Oh, and if you got a spark to try finding your favourite Pokémon in Adventures/Special manga as well, I really recommend using that 'dex.
MAGICAL POKÉMON JOURNEY


Volume 6

English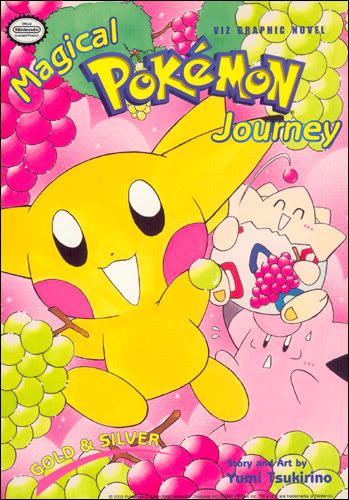 This one features quite a touching story about Raichu. Better keep some hankies ready while reading...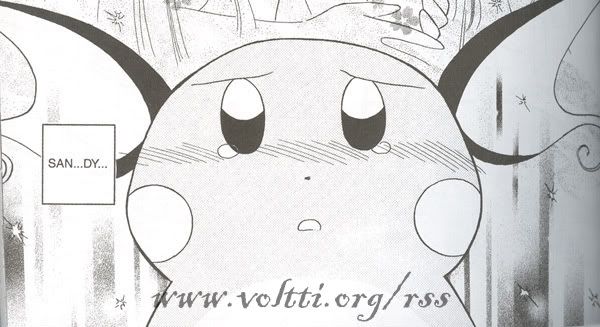 Apparently Raichu re-appears in volume 10, but as I haven't read that one yet I'm not 100 % sure. Can anyone confirm?
THE ELECTRIC TALE OF PIKACHU/DENGEKI PIKACHU


Volume 2

English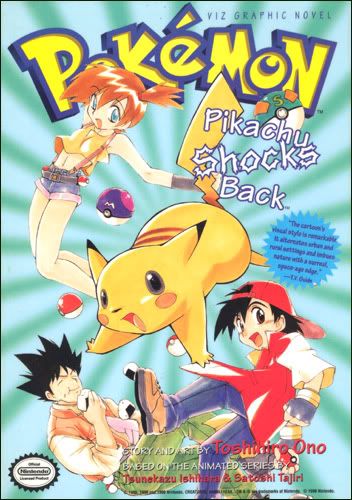 I adore the style in which Raichu is drawn in this volume, so it's such a shame it can be seen only in one single panel.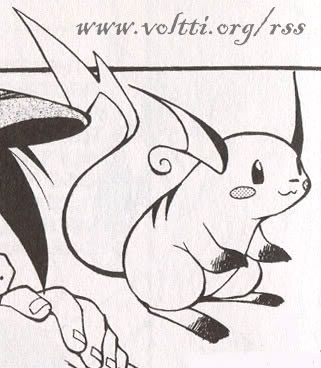 Volume 2: Magazine 2 (contains only one chapter from volume 2)

English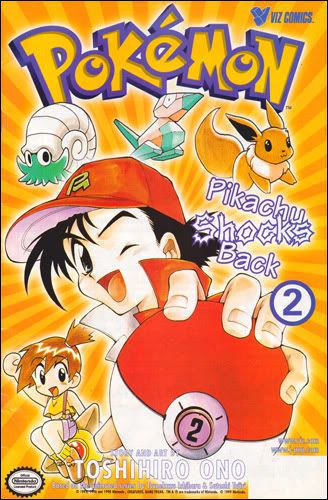 POCKET MONSTERS ('THE ONE WITH THE WEIRD CLEFAIRY')


Volume 4

Japanese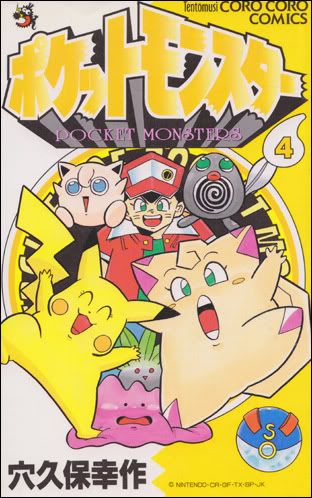 There's something quite Akira Toriyama-ish in the drawing style of this one. And something a bit creepy...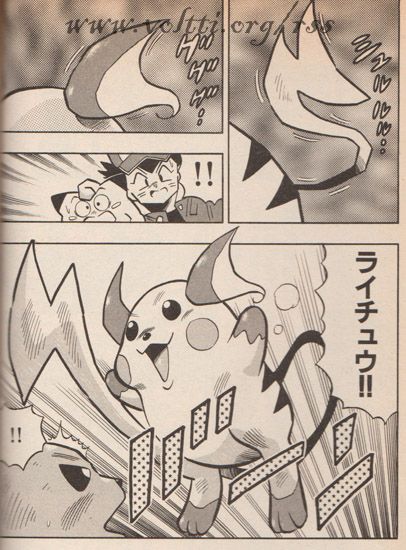 There seems to be some Raichu content in volume 8, but I haven't yet found information if Raichu is featured later on in this series (which seems to be quite a long one). If you happen to have some volumes and could check, I'd be more than grateful. :)
YONKOMA/MANGA GEKIJOO


Volume 2

Japanese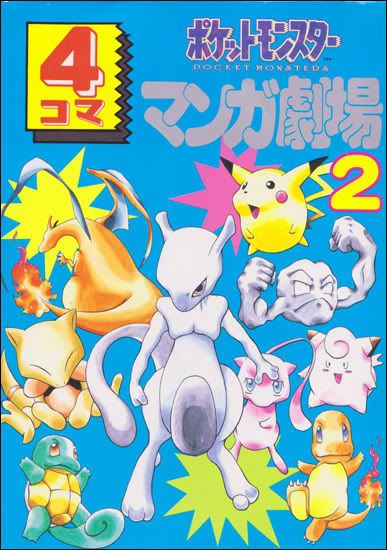 The expressions in this manga are priceless. Just look at that Pikachu!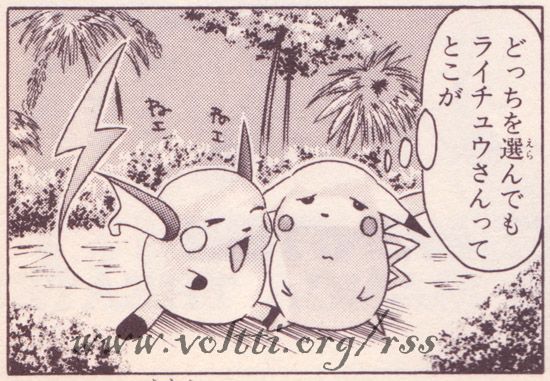 TENTOOMUSHI COMICS ANIMEHAN: POCKET MONSTERS


Volume 4

Japanese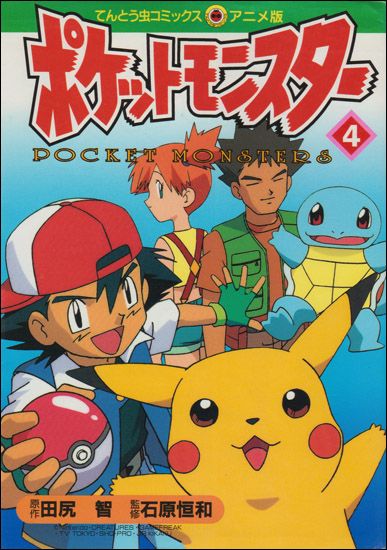 In a nutshell: screencaps from the tv series with added speech bubbles, sound effects and speed lines. Nothing too special.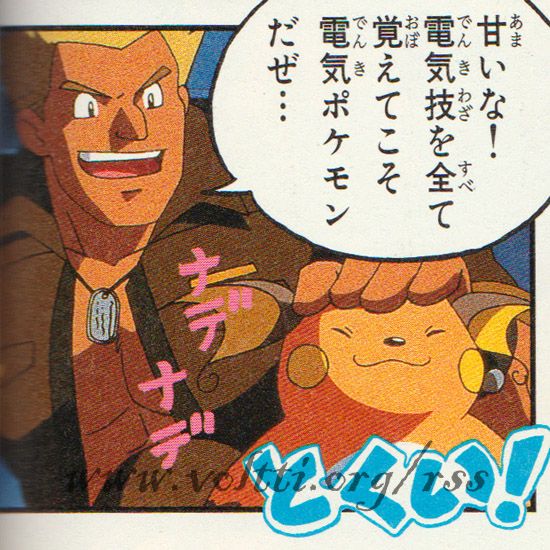 TENTOOMUSHI COMICS ANIMEHAN: POCKET MONSTERS


Gekijouban Pocket Monsters

Japanese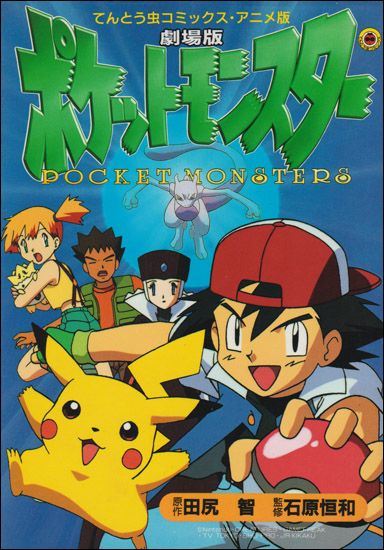 Glorified screencaps once again, but this time from the Pikachu's Vacation short film.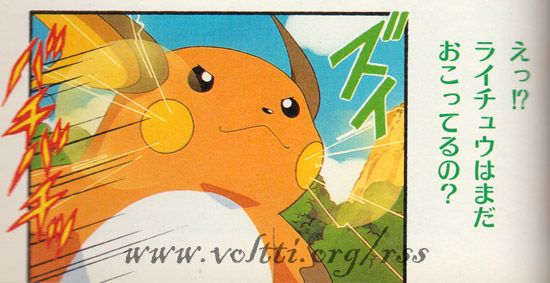 SHOGAKUKAN NO TEREBI EHON SERIES (POCKET MONSTERS)


Volume 8

Japanese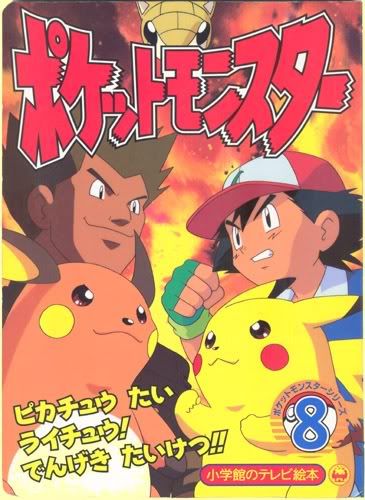 More of a picture book than a comic book, but wonderful illustrations all in all. Before opening this book I thought it'd just contain screencaps from the episode 14, so I was surprised to find it contained all-new original artwork - in the same style as the tv series!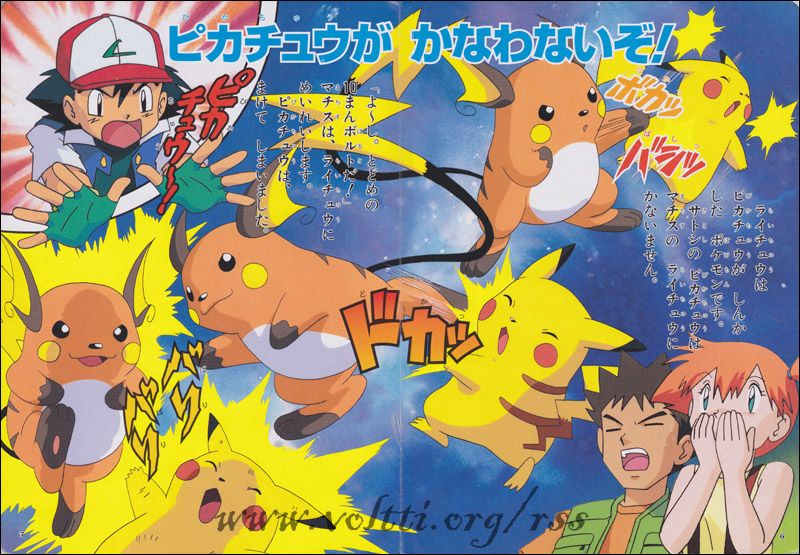 POKEMON WO SAGASE!


Crystal

Japanese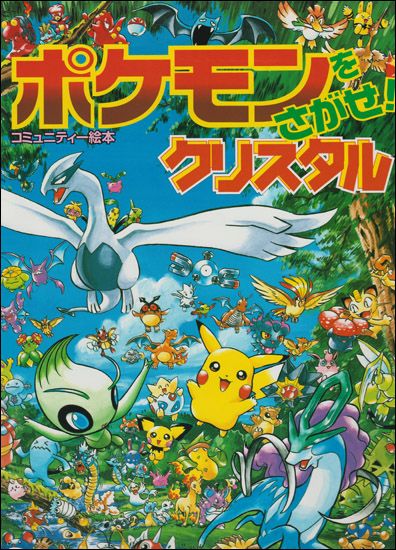 Not actually a manga, but the artwork is so adorable that I wanted to include this one also. ;)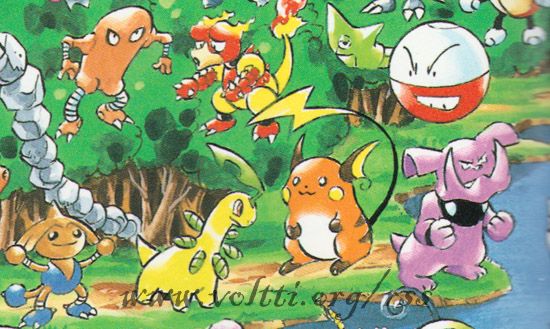 RAICHU FUNBOOK


Doujinshi

Japanese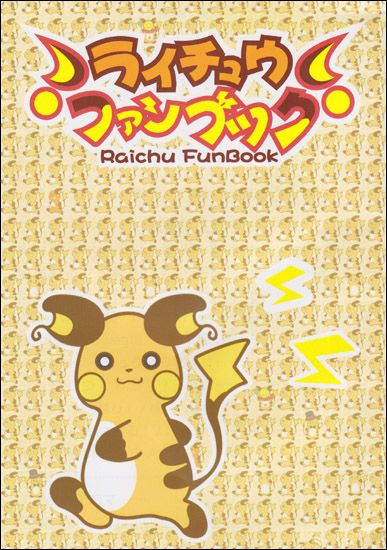 This also isn't really a manga but an illustration collection. Nevertheless, it's gorgeous!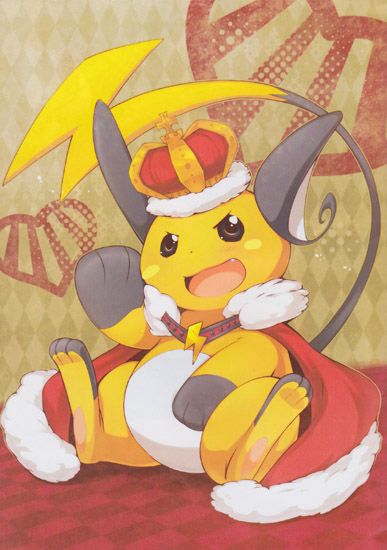 POKE x 2


Doujinshi

Japanese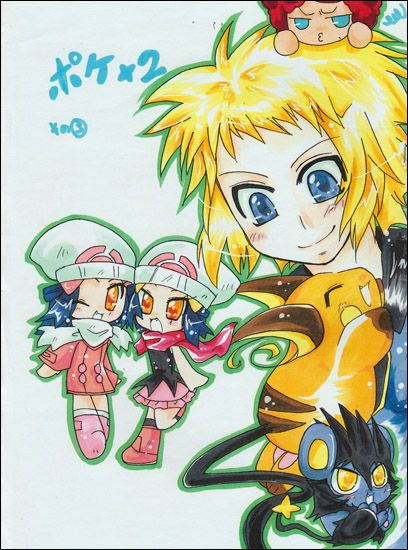 The drawing style is quite sketchy, but it's very cute all in all. :)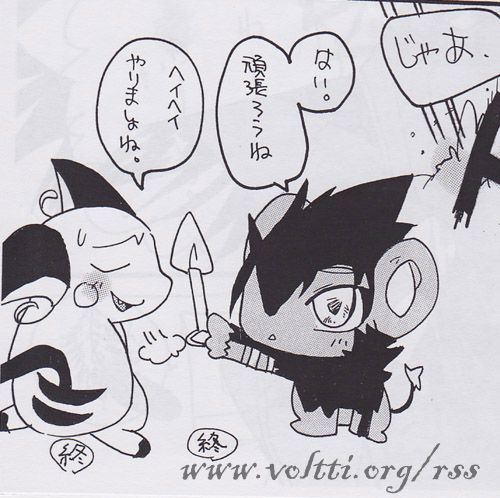 If you have happened to spot Raichu in any other manga/doujinshi not listed on this post, please let me know!
---
OTHER RAICHU GETS SINCE AUGUST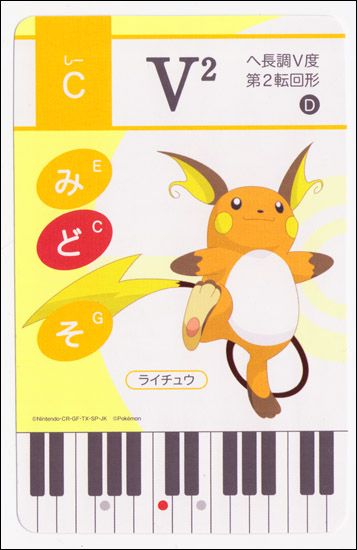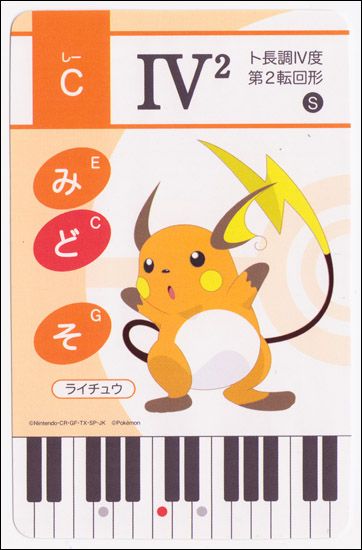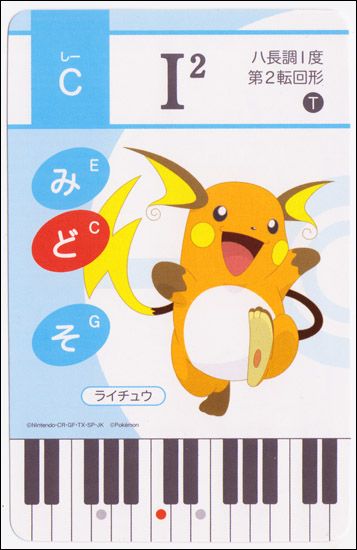 Three DoReMi cards from pkmnexcavation. I understand nothing about music but the cards themselves are nice. :D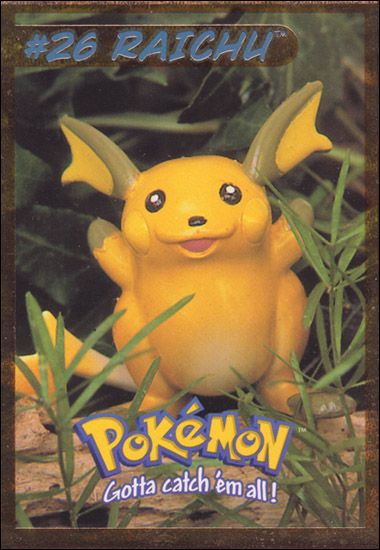 A rare Hasbro card from 1999. I had been looking for it for quite a time, so I was delighted to come upon it on eBay.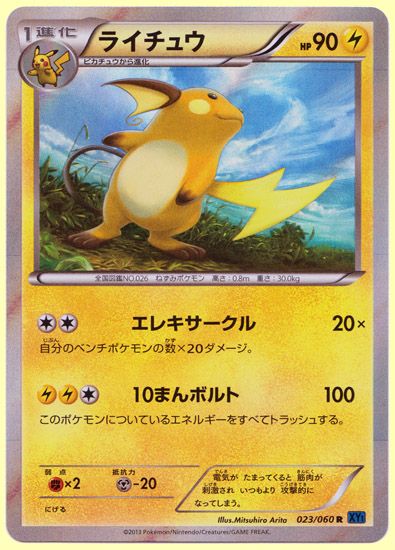 Japanese XY 1 TCG card from eBay. I think this is one of the most beautiful Raichu TCG cards this far.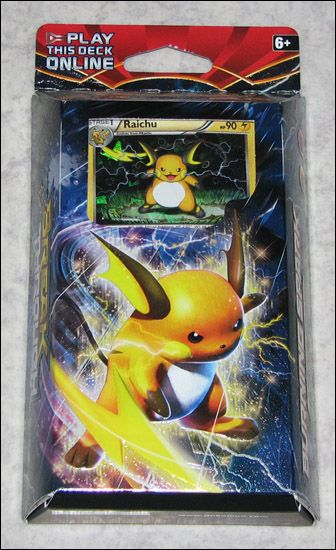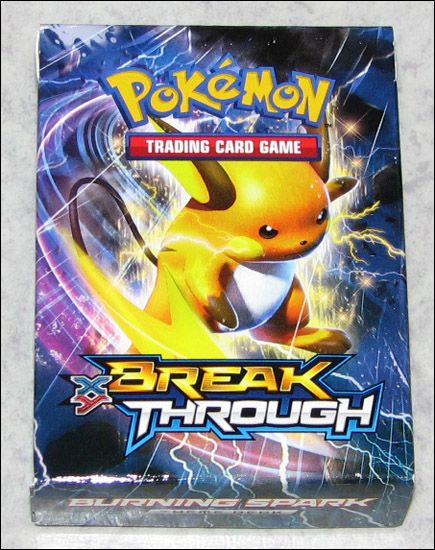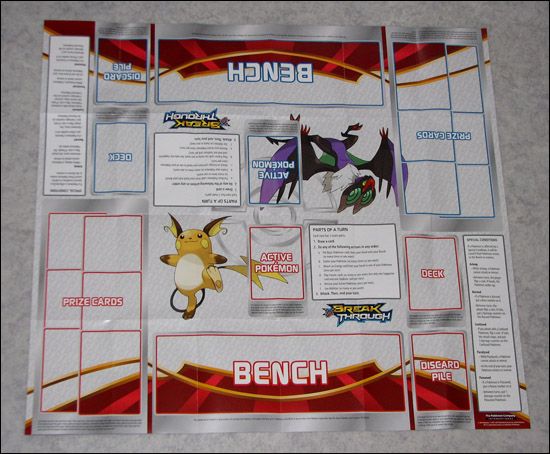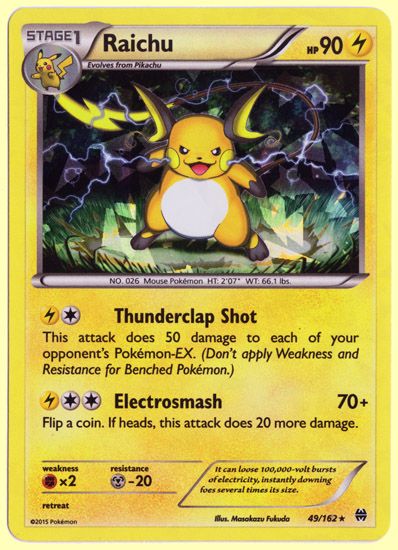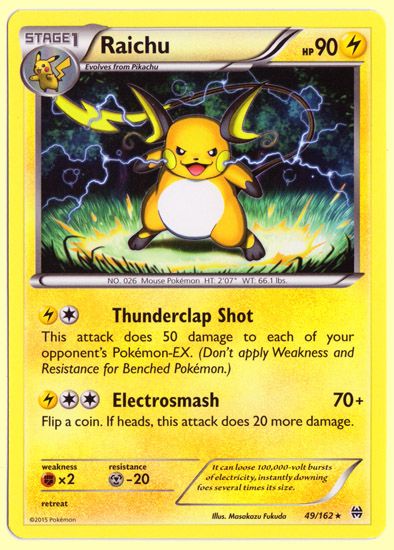 New BREAKthrough Raichu deck from GameStop. Among other things, it came with a deck box (or whatever those are called), playmat and two Raichu cards. I found it a bit confusing that the holo one had the same number as the non-holo one, even though it's not exactly a reverse holo. Is this some new convention or something?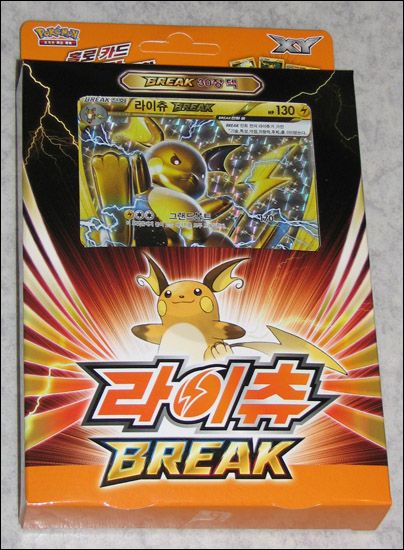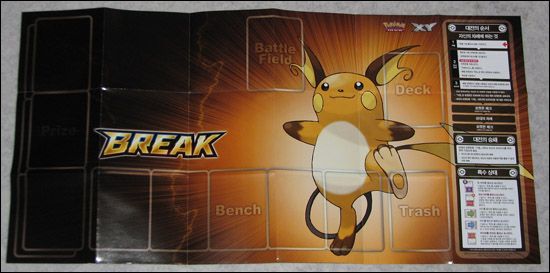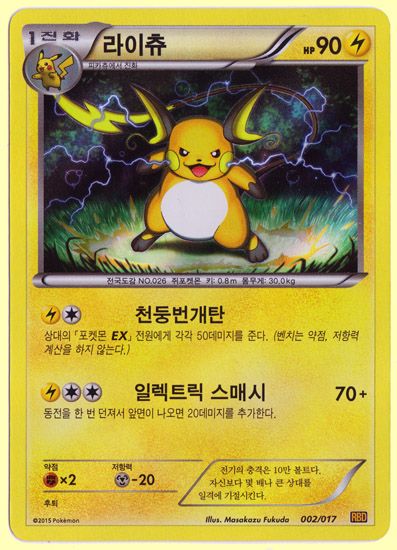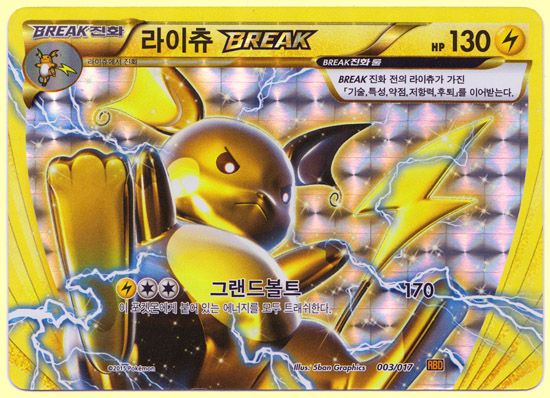 I had never bought Korean-language cards before, but as I saw this theme deck (which is, as you can guess, a Korean version of the one above) at a low price on eBay, I couldn't resist it. The packaging is a bit boring, but the playmat is a lot cooler than the English-language one. Also, I wonder why Raichu BREAK card isn't included in the English-language deck...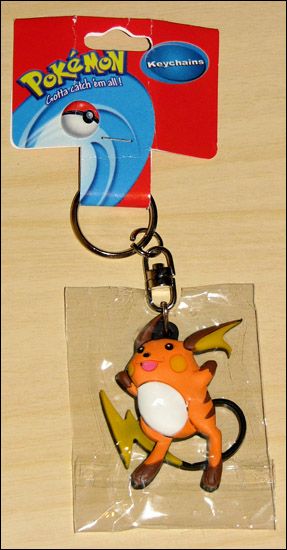 A keychain released in 2000 from eBay. That's quite an old keychain!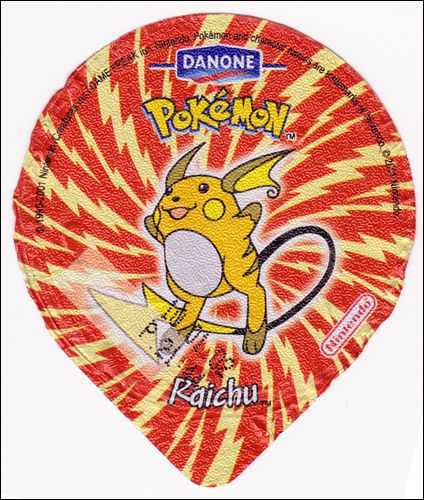 A yoghurt lid from ku_bek. One of the most, um, interesting gets for a while, but a really nice get nevertheless. It seems to be from this Pokémon Klub yoghurt by Danone.


A clear Amada sticker from eBay. I have the feeling that every time I think 'now I've finally collected all Amada Raichu stickers' a new one pops up somewhere. Not necessarily a bad thing, though, as some of these have rather nice artwork (for example this one).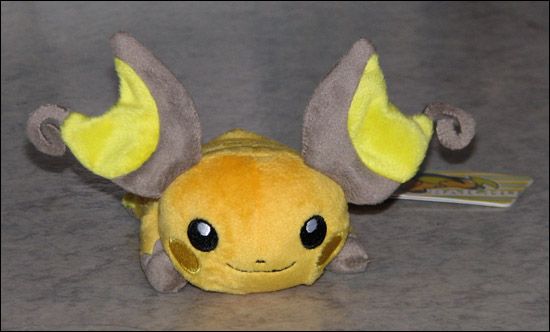 The new Kuttari 'awake version' plush from eBay. I was almost going to get the sleeping version as well, but I had to save money for Christmas gifts. Maybe later, then. These Kuttari plushies are really cute and all, but I hope there were rather more different characters than just 'eyes shut/open' versions of the same ones.


Oops, quite a long post this time. Well, until next time, guys, and have a happy new year!