Hi hi community, I hope everyone is doing great. I've been away for some time now, but lurking from time to time :P
I'm offering slots for simple things like head charms (pokemon, OCs, humans, anything) and button jointed plushies that I enjoy making a lot :)
Info under the cut!

Prices are in USD & shipping is not included in prices.
Payment via Paypal.
I ship from Buenos Aires, Argentina. I ship worldwide!
Everything comes from a smoke free, cat friendly enviroment (don't purchase if you're allergic to cats, please).
Shipping starts at $3 for flat and $7 tracked and goes up depending on weight.
I personally recommend tracked shipping, im not responsible for lost/damaged mail.
Sales permission granted on 05/08/11 by dakajojo.
Feedback here.

Head Charms are little hand sewn heads made of felt, they are around 5-6cm and have a string and a phonestrap attached.
They're $6+shipping each, I gladly combine shipping :)
The ones in the pic are already made and ready to be shipped.
-Full payment upfront required-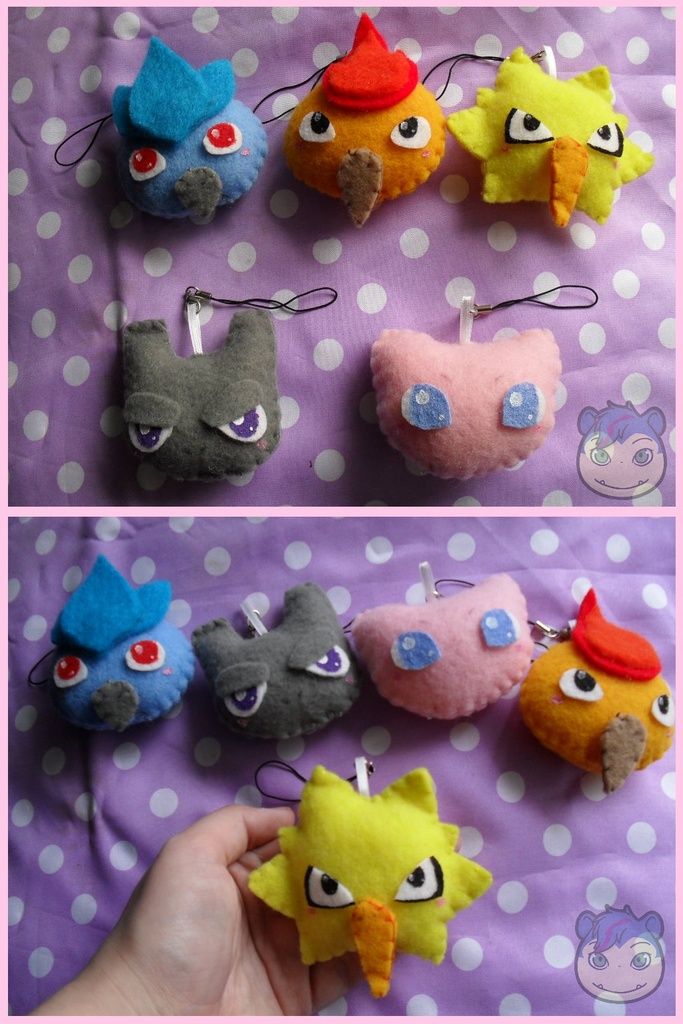 Sold:


Button Jointed Plushies or BJP can be it humanoid or four legged.
They're handsewn, made of felt with plastic button joints and eyes. I can offer black safety eyes if you don't like the button ones.
They're around 15cm/6in.
These will be done by mid/end of february.
Simple designs are $30+shipping
Complicated designs are $40+shipping
I gladly combine shipping!
-Full payment upfront required-
I can do payment plans for large orders!
Here are some samples of BJP plushies I made:
As always you can follow me on DeviantArt or FurAffinity!


Slots


linameerun: Zigzagoon Head Charm (Paid)


lone_enigma: Male Meowstic BJP (Paid)


Open


Open


Open