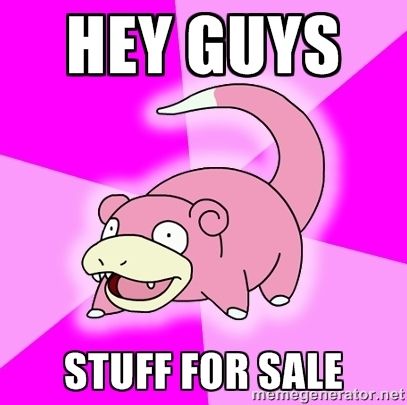 Hi all! First sales post, so please be gentle >.< !


My sales permission was granted by areica96 on December 17, 2015.
My feedback can be found here: http://feedback.pkmncollectors.net/feedback/view/umbreyena/
All pkmncollectors rules apply. The rules can be read here: http://pkmncollectors.livejournal.com/1135914.html
I will only sell to members of PKMNCollectors. I will not sell to banned members, and reserve the right to refuse to sell to members who are aggressive/abusive, flout the community rules or who I deem to have too much negative feedback.
I have three cats! I try to keep them away from my Pokemon items but there are no guarantees. If you are severely allergic to cats I would urge you not to buy from my sales posts, sorry!

Payment, Fees and Shipping:
PRICES: The prices shown do not include Paypal fees or shipping. These will be added on when you ask for a quote or commit. I have researched my prices by looking at either recent sales on the pkmncollectors community, or typical current prices on Pokemon goods websites. Prices are stated in USD.
PAYMENT: Payment will be through Paypal.
SHIPPING: Shipping will be from the UK. Please be aware of higher shipping charges if you are outside the UK. A summary of expected start shipping charges can be found below:

Country Shipping estimate for a small parcel (plushes)
UK $7
Europe $8
Everywhere Else $8

Shipping estimate for large letter (Pokemon cards)
UK $3
Europe $6
Everywhere else $6

TRACKING: I don't provide tracking or insurance as standard. You may ask for tracking and/or insurance but please be aware of the extra cost. Please clearly state that you would like it if you want me to add it to your quote :)
Once I have sent the item, I'm afraid it's out of my hands. I am not responsible for lost packages or customs fees.

Buying an Item
HOLDS: I will only hold an item that you are committed to for 48 hours.
COMMITTING: In my sales posts, commitments take priority over quotes. Stating "I will take *item* to *location*" or "I am committed to *item* to *location*" is counted as a commitment. After I reply with your total, payment needs to be made within 48 hours. If you back out of a commitment, I will have no choice but to leave negative feedback :( so please make sure you have the funds before committing!
QUOTES: If you would like a quote for item(s), please write something along the lines of "How much would *item* be shipped to *location*?"
FEEDBACK: I will always endeavour to leave you feedback after you have received your item :) just reply to our previous discussion with a link to your feedback.
RECEIVING: Please be aware that once I have posted your item, it is beyond my control. I'll always do my best to help you out in the event of a lost parcel, but if this worries you, please ask for tracking and/or insurance.
When claiming or asking questions, please reply to your previous comments rather than edit comments. Thank you!


And now the items!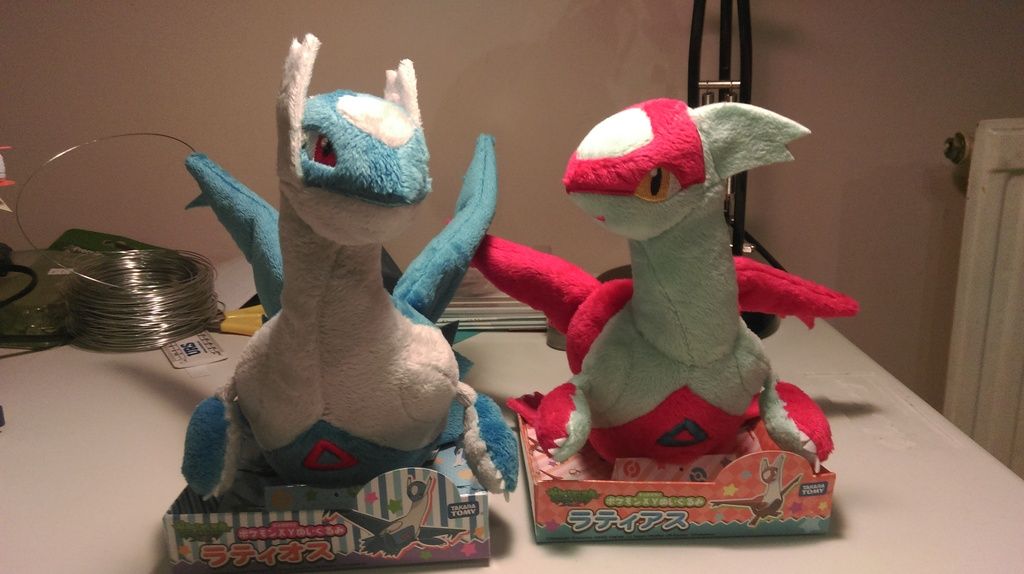 Takara Tomy Latias 2015 mint in packaging $40
Takara Tomy Latios 2015 mint in packaging $40
Or take both for $70 (they DO love each other...)

Lovely plush which I just don't have room for. They have been stored in a glass cabinet since purchase, which was directly from Asakura Japan.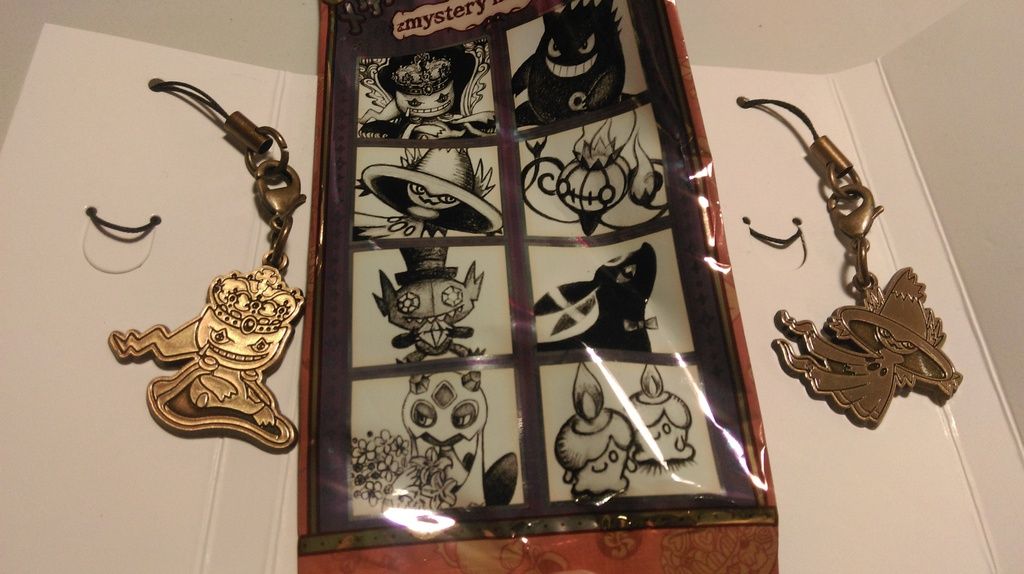 Mismagius charm from 2015 Halloween promotion $10
Banette charm from 2015 Halloween promotion $10
I'll include the packaging with these charms. These were blind bags which were bought directly from Sunyshore.


That's all for now, I'll add more in time! Thanks very much for looking! ^^