Hello, everyone! I'm a new member and it's really great to be a part of this group!

My name is Sweetie, but feel free to give me a nickname if you want. I've been a big fan of Pokemon ever since it was first released in the US. In fact, Red Version was my very first video game! As the years went, I collected things here and there, but never had something akin to a collection until about 2 years or so ago. After X and Y were released, I finally found my favorite Pokemon of all time: Sylveon!

Once I found my favorite, I knew I had to have every piece of merch I could possibly get my hands on. And that's when I started collecting! I do have things with other Pokemon on it, but the biggest part of my non-card collection by far is Sylveon-related. A few things are (unfortunately) bootleg, but the majority is either official merchandise or fanmade merch. Here's a picture!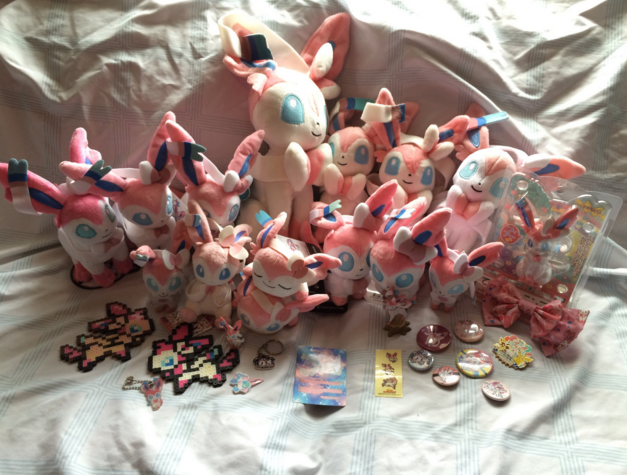 It's a little small, but I'm trying! Soon I will have a Sylveon plush purchased from Yahoo Japan. It's currently in the mail, but I'd be happy to update everyone when I get it! It's the super cute lottery prize one with the baby Eevee. I can't wait to see it in person!!

Anyway, the largest part of my collection number-wise and price-wise is my Pokemon card collection. I own over 1,200 unique cards as of writing this post. I've got cards ranging from Base Set to Generations and have been collecting the cards for what feels like eternity. I'm afraid I won't be posting pictures of it soon though. I just got about 50 new cards that haven't been organized yet and there are more to come. Once it's done, I could post about them then! c:

Can't think of anything else to write, so thanks for reading! I hope I can get to know some of you in time!