Just in time for Spring Break and while there's still time for the Secret Swap, here I am with things that need new homes. 3/7 is my next planned shipping date. After that, I plan to ship on 3/15, so please let me know in a PM if you need something shipped out ASAP for the swap! Here's a preview of just a few of the items:




I was granted sales permission by
entirelycliched on January 9, 2013
My feedback can be found here: http://feedback.pkmncollectors.net/feedback/view/razeasha/

All other details are under the cut.




I ship from Virginia, USA. Currently, I only ship within the US.


Items will be shipped within five business days of receiving payment.


After items are shipped, USPS is responsible for them. I do my very best to pack things well, so any damages would most likely be freak accidents. First Class items are neither not insured, but I buy tracking for everything (This isn't factored into the shipping price, since I do it for my own peace of mind.). Please ask if you want insurance or another form of shipping.


Items come from a smoke-free, pet-free home.


There were two dogs and a cat in my last home, but none came into contact with my items. (One dog sometimes walked into my room, but my collection was too high for her to even get near.) There are no pets in my current home.


I recycle packaging. If you want new packaging, just let me know. It'll add $2 and take me a little longer to ship, but I'm happy to do it! :)


All hangtags will be protected.


I am open to trades. :) My wants are here, but I'm open to other things and collect non-pokemon cute plush too.


I am open to offers, but please don't be offended if I decline your offer or counter offer.


I'm willing to hold an item if you are 110% committed. (The max I'd do is probably 5 days though.)


Backing out of sales or holds that you committed to will result in a warning. If you make a habit of it, I will not sell to you.


I reserve the right to refuse a sale if I don't feel comfortable selling to you. (This is unlikely though.)


Feel free to ask questions and to ask for more pictures if you need them!


All items in this sales post have Shipped prices. The price you see is the price you send. It covers the item, shipping cost, materials cost, and any other fees. Combining items definitely gets you a discount, so please ask if interested!

Since many shipping prices are there for you, the first person to commit to the full price gets the item, unless I have already agreed to someone's offer. Note that some items do NOT have shipped prices, Shipping for those starts at $2.50 or is free when combined with any "shipped" items.



Follylolly Vulpix Beanie - $49 Shipped SOLD
Bought from her web store which charges $68 shipped domestically. You save $19!
Fennekin JP Petit Plush - $13 Shipped
NWT
Delphod JP Pokedoll - $28 shipped
NWT
Luxray Small UFO - $78 Shipped



$9 Shipped each
SOLD: Vulpix, Jirachi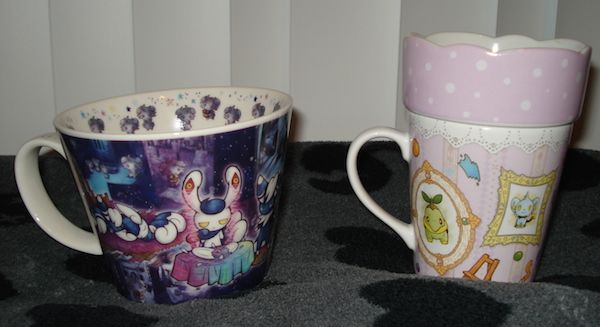 Sinnoh Pokemon Canvas Mug - $37 Shipped (It's heavy!)
Other Side: http://i82.photobucket.com/albums/j270/Razeasha/PKMN%20Trades%20and%20Sales/DSC00177_zpssper7lbb.jpg
Adorable Boxes: http://i82.photobucket.com/albums/j270/Razeasha/PKMN%20Trades%20and%20Sales/DSC00176_zpsn3ozply6.jpg
The mug has only been displayed and never used.
The box has minor wear on the edges, but mugs are in like new condition.
Espurr Wanted Soup Mug has sold.



Pathtag $4 SOLD
Everything else $1
Shipping is not included for any of these items.
SOLD: Lilligant


Furfrou JP Charm Set - $15 Shipped

Freebies!
Free with Purchase. May increase shipping.
Gone: Leafeon

Thanks for looking!
Please check out my Non-Pokemon Sales for other anime and cute goods.