I was waiting on a payment before putting this up but it seems like that could be a while~

So here's the Skymins I'm selling from my collection!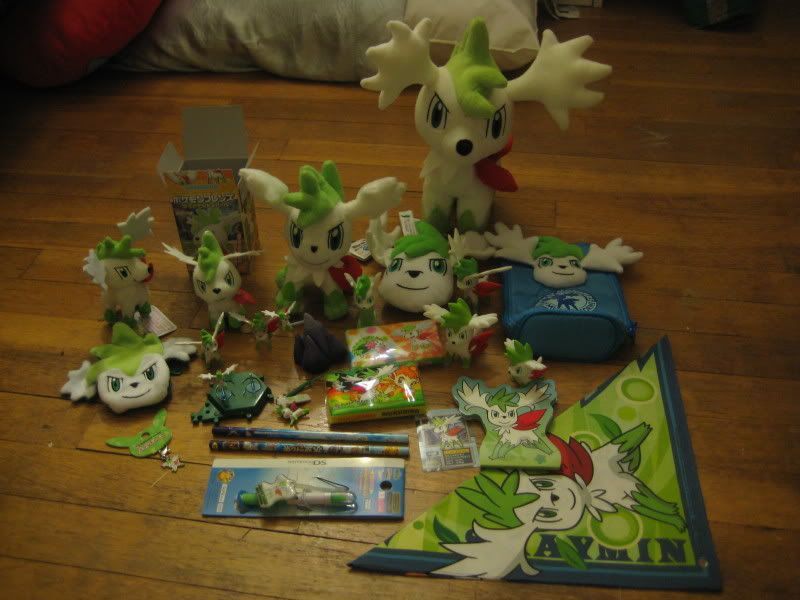 TOMY plush $25 on HOLD
little UFO plush $14
Friends plush $7
tiny pointy-nose plush $5 on HOLD
blue neck purse $12
neck pouch (x2) $10 each
little fuzzy purse $3
bandana $40 OBO
mini PEZ $4 on HOLD
Subarudo figure $15
TOMY figure $9
clear TOMY figure $12.50
Kids figure $6
Kids sticker $1 comes with Kids figure but can be bought separately
DX Kids figure $11
teeny weeny Pokemon Center silver keychain $15
mountain playset / figurine $5
dark green playset / figurine $5
tissue packs $3.50 each
little keychain w/ name tablet $4
pencils $1.50
DS stylus $7 on HOLD
notepad $10

PHEW that was a lot. I hope this stuff goes to a good home. Not all of my collection is being sold, though; I kept a few cute things and of course everything
castform gave me.


I think Skymin just isn't the Pokemon for me! I'm more of a Pachirisu girl. here's proof, as of 5 minutes ago!!



As you can see I'm running outta space for these guys. I'm currently thinking of a solution.



(closeup of figures)


And that's all....... for now. I'm getting a lot of snow here in Massachusetts so.. does anyone else go out in the snow and take pictures of their Pokemon plush? or would you be afraid to get them ruined? I bet a lot of people (including me!) take pics with their figures... just wondering!!
Merry XMas!