Hi all~

Posting a reminder about what
ninetails previously posted about mentioning this
Game Bash meetup in San Jose CA, particularly the swap meet from 2:30pm-5:30pm on Sunday April 10! Info on swap meet on the FB group. There will also be a Pokken and Smash Wii U tournament! schedule here

I'll be bringing a bunch of chocoball chocolate for sharing!!! I seriously have so much lol. Come see me XDDDD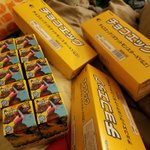 My 30 Chocoball figures arrived and I ended up with a bunch of extra Mega Lucario, Gengar, Diglett, Wobbuffet and an extra Espeon/Ash Greninja as well~ They're still listed on my Claims page for now but anything left will be moved over to the main sales sometime after the weekend.



Also have just one claim left on the Lucario Banpresto Pokken DXF Figure , also on the Claims page!

Click here or the image below to go to my sales page!


( Splash's PokeSales post! )
May be a bit slow on the sales this weekend because of the things going on, but I'm still around as usual :)