Today, I woke up to a big box in front of my bedroom.

I was doozy so I couldn't remember what exactly in in that big box. But it did woke my brain up so I gleefully open the box...
...And found myself staring face-to-face at a hello kitty plush.

...

Oh, right. All of the contents weren't exactly mine -- my belongings were actually only about half of the box.
Not that it bummed me out at all, because I've been wanting that "half of box" for a loong time, with some of the items I never thought I'd have it in my hands.
First off, some Oshawott gets!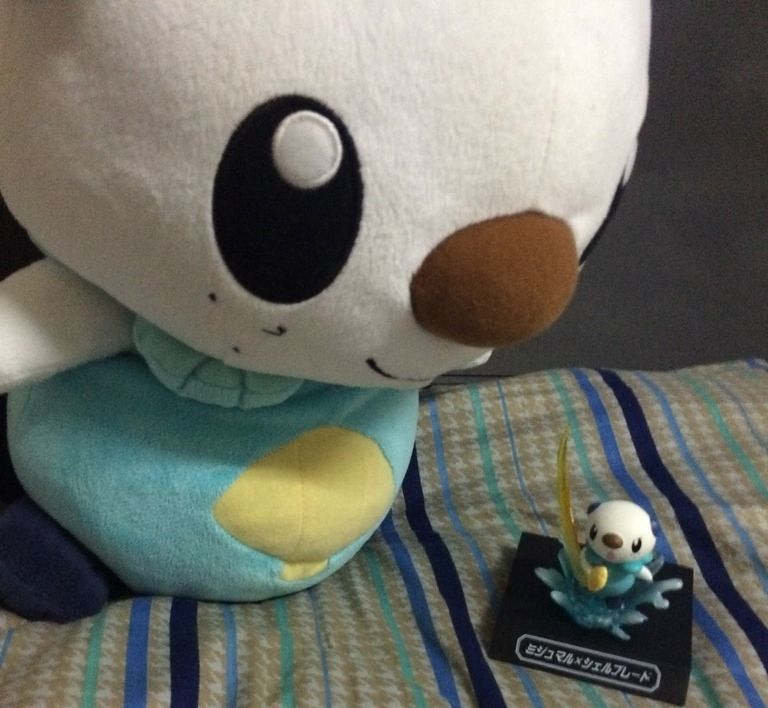 Its the Oshawott Waza Museum figure! Its one of the best Oshawott figure I've ever seen. I love that splash of water but most importantly : I can ditch the stand altogether! XD
Yeah. It's a big deal. Unless its a diorama or something, stands and bases can go hang for me. One of these days I'm making/commisioning a mini diorama for my osha zukan.
I also got this gotochi Oshawott figure strap for a steal <3 been looking for this particular one for awhile.
BW2 set of gym badges! I've known of its existence for quite some time. But as I looked for it in Amazon JP and Y!J, they had it listed for like 20000yen, which jumped thrice on my budget. I gave up and forgot about it until they announced that they're making a Kanto set of gym badges. I thought "huh, maybe I'll search around for a bit..."

Then I finally found one in used condition, for about 4000yen. I'm sold!
(For those looking for one, I just searched Y!J and found another used set for 5000yen XD)
Aand, next is...
<333333
I've been dreaming of having a Reshiram Pokedoll for years! At first, I wanted it MWT, but I keep missing those auctions or I didn't have enough money at hand or the bid went out of my monetary range. Even after I gave up looking one mint with tag, they still eluded me to the point that I stopped looking for months (in which I probably missed more of them, whatever). About one-two months ago, I found t
his cutie listed TTO with an "affordable" BIN price, and I've never hit FJ bid button as fast as I did back then.

I don't know if Reshiram is normally that color (it looks kind of dirty to me), but I don't really care right now. It's so soft, and its arms are floppy and I don't even have word to describe its tail. Also, look at that big blue eyes! All I need to do is to print a tag for 'im!
It looks kinda grumpy, but still cute as a button <3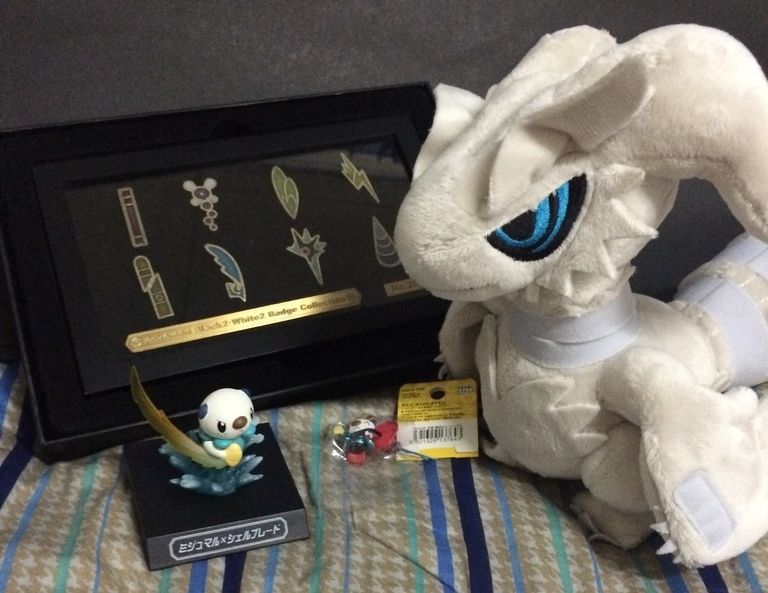 Group photo!
Oh, and I also bought a bunch of flats from the comm. The big gen5 group sticker is just precious!

I've been looking all over the place for that Oshawott pin as well. Also, I bought Audino's sticker sheet on a whim and now I'm in love with it. I'll be looking for more pokedoll sticker sheets from now on!

There's also a bunch of TCG cards but I'm too lazy to snap a proper picture of them XD sorry.


Thanks, keshipoke and hantsukihaunter, for the basket of adorable goodies!

Also, thank you if you've read this far! XD I hope I'm not too rambly.

Before I close, I have some questions :
Are setteis (reference pictures for anime, I think? CMIIW) one of a kind? I found a pic of Oshawott's settei and I'm kinda jelly right now.

Can you shop at rakuten jp with a foreign credit card?
I recall there was someone doing commision of custom pokedoll tag here at the comm? I can't find the post.