1) A display box I put together (I have access to a cnc router)
2) poke gets
3) art I drew
4) small feedback request
5) I'm looking for the old Snorlax dex charm. Black backing card, doesn't come with munchlax



1) I collect Dex charms. I remove the lobster clasp and wear most of them as necklaces. Silcoon, Whirlipede, Regice, and Lunatone are some of my favorites because they're kind of stealth. Mega Tyranitar also gets a lot of wear.

I decided to spruce up a cigar box to hold them, finished product here:




Fun fact: most cigar shops have empty boxes they'll sell or give way for free (especially if you're buying something - kids don't be like me). They might smell, but you can air it out.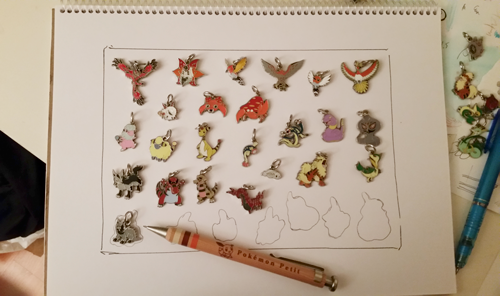 I'm not tracing my pokemon, I'm using them as reference material
/jk




I coloured them in, then used "trace bitmap" in inkscape (it's free software and great btw) to make a vector file for the cnc machine. The black material is 3mil sintra, a semi soft plastic.


I put a piece of felt under it, and I might add some fabric-covered foam under the lid later. I put those pokemon in the box because they're my favorites. I'd like to eventually store all of them like that, but I have 285 charms at the moment, that's a lot of work.

2) These are my new gets:




3) here's some art I made for two different art trades:
http://ugmotaur.tumblr.com/post/140002255891/lots-of-video-game-characters

4) I just need ONE MORE feedback for trade status, some sellers have not left me feed back and I'm sad and stuck. I need help. Please do an art trade with me. I buy charms in big lots, I have a few doubles.

5) I'm looking for the old Snorelax. I can't even find a picture of it, but he looks lazy. The new dex charm has him looking too happy, man, that isn't why I love Snorelax.