Hi! I am happy to announce that I now only need two more plated Arceus tomy figures before my set is complete! I need ghost and flame plates. PM or comment if you have them + willing to sell!
I've decided to weed out a good chunk of my collection. I'm currently totally revamping my collection site (which explains the tons and tons of blank images) and saw that my side collections got no love. I'm putting up my entire Shaymin collection, my entire Darkrai collection (with the exception of three items), and other various things that have been sitting in a box. I also added more Giratina items.


I bought this lot just for Giratina. I have no clue what it is, but he's now part of my collection. The other two will be going into my sales once they arrive to me.


I got this cute little pokedoll charm for $2! I will be looking for the origin form counterpart.


As mentioned earlier, I bought a whole lot of Arceus tomys. There are a few doubles tho since I ordered the singles before I got the lot. These and a massive FJ order should be arriving to me tomorrow or Thursday!


Also got this guy.


I got these two from two community members! I know the Arceus keyholder has a metallic version. I'll be on the lookout for that one. Funny story with that, I found it in a lot with a Palkia and a Dialga keyholder on a Japanese flea market site. I was going to buy it, but it was $22 so I decided not to right away. When I received this guy in the mail from the comm member, it was a nice surprise to see it was the one I wanted from that site, and I got it for significantly less bc no middleman fees :3c


Rules and stuff over on post. Click banner or link to be transported!

http://giratina.livejournal.com/3599.html

-Arceus Lanyard (preferably figure only)


-Clear Arceus strap (photo by agui_chan)


Arceus Phone strap (image by splash)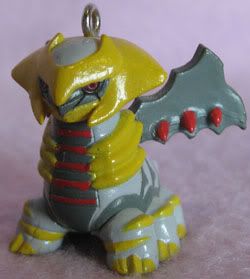 Giratina Origin and Altered chibi UFO charms (high priority)


Dark plate Arceus zukan (and honestly any others I need but this takes top)
I found one in a lot, but the lot was $2.5K ;__;