I finally have a moment to make this post. Not too long ago I received something amazing in the mail!! Behold...
The Pokemon Center Giant Latios!!! Complete with Soul Dew! My untimate Holy Grail, I can die a happy man.



So back in February I noticed
chain was selling his giant PC Latios. It was a good time for me so I managed to get it :>
However after shipping we ran into some problems D: the package seemed to go missing! Lost! You could say it was a LostLatios... It was missing for quite some time but then it reappeared in the postal system! (Canada Post is rubbish). I can't help but laugh now considering my username x'D Huge shoutout to Chain for not only letting me buy his Latios but for being awesome when the parcel went missing and doing everything he could to find it! Now then, lets move on to the pics! You can click to enlarge them but it's also VERY IMAGE HEAVY.

These are the first pics I snapped when he was fresh out of the box. I had to leave shortly after he arrived since I was going out of town for the weekend.



And here I am with it. As you can see he's almost as big as me.







Here he is from all angles and close ups of his tag (though it is damaged).
He measures a whopping 81cm long!



Latios was released alongside Latias as a set way back in 2002 to coincide with the 5th movie. Unlike the other Pokemon Center Giants these two weren't released overseas in America making them really hard to find.
I couldn't be happier to have added this guy to my collection. Truely one of the incredible gems of the Pokemon Collecting scene.

I also have a few other gets from over the last little while so I thought I'd just share them here as well.

Pokemon Center Volcanion:
I could not pass this guy up. He is absulutely adorable! I really wish he got a bigger part in the games but I'm excited to see him in the new movie with Magearna.



Pokemon Center Eevee:
Yet another PC Eevee but I just can't pass up the little fox! He's still one of my main collections after all.



Pokemon Center Growlithe:
Since he came out at the same time as Eevee I decided to grab him as well. It's nice to have him to go along with the PC Arcanine!



Ditto Transformation Eevee + Mascot Version:
The Pokemon Center knows how to break my bank. More Eevees of course! And I got the mascot keychain too ;u; but omg the tags! They're adorable xD



Ditto Transformation Jolteon:
And I got the Jolteon too...



Round Eevee Plush:
An adorable gift from a friend :>



Hanging Eevee Keychain:
Oh look another Eevee x'D Got this guy from
ku_bek's sales.



Tomy Noibat Figure:
Picked this guy up locally. Was a lucky find!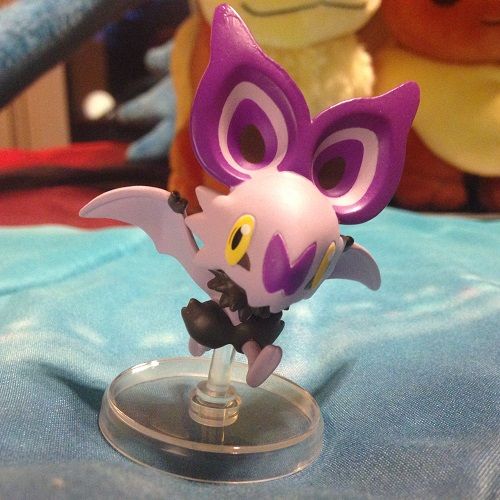 And lastly cards! I actually got these guys by trading for like the first time in 10 years.



Here's the whole lot together



I have more images of these guys on my website as well as images of the rest of my collection :)