Hello again!
I ran across some things while cleaning so here's a mini sales post! :)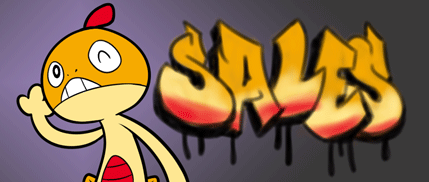 Sales Rules/Info
-All pkmncollectors rules apply
-Granted sales permission by
skdarkdragon
on
July 8th, 2015
-Feedback here
http://feedback.pkmncollectors.net/feedback/leave/?user=scragster
-Prices are in USD and do not include shipping or Paypal fees
-Paypal only. Payment due within 24 hrs of claim
-I will not do holds
-Please specify if you are wanting a quote or if you are committed. Item will be sold to first commited buyer.
-Haggling is permitted only if item is OBO
-My home is pet-friendly, though they will not come into contact with the items, please take note if you have allergies
-I have no problem providing more pics or answering questions, just let me know!
-I ship from MS in the US
-I ship weekly
-I ship internationally, just please keep in mind those shipping fees are high.
-I ship through USPS First Class or Priority mail. I use recycled materials, please let me know if you want new packaging.
-If you would like tracking or an upgraded shipping method, please let me know so I can provide a proper quote.
-I am open to trades as well (link to my wants list
http://higginstuff.livejournal.com/657.html
)
Banpresto Suicune MWT $12
Banpresto Raikou MWT $12
Raticate charm $3
Rattata charm $3
Snubble charm $3
Granbull charm $3
(keychain attachent available to whoever claims first)
Charizard Pokedoll charm $5
SOLD
Charizard Tomy pokeball figure (missing little info card) $7 OBO
Meinfoo JP pokedoll MWT (tag has bends and creases) $5 OBO
Pokemon Center Treeko MWT- $7 OBO
Pokemon Center Amaura MWT- $7 OBO
Charizard McDonalds toy $1 or Free with purchase
SOLD
Please let me know if you need additional photos or have any questions! :)