Yay, I finally had time to sort photos and write this post, two months late D:
So here are documented my visits in Pokemon Center. Well, Pokemon Centers, to be honest.

I took lots of photos and I can't wait to share them with you!

Just keep in mind that the post is really photo heavy and the third cut (Hiroshima Pokemon Center) has a photo of myself in it!


1. Pokemon Center Tokyo Skytree Town.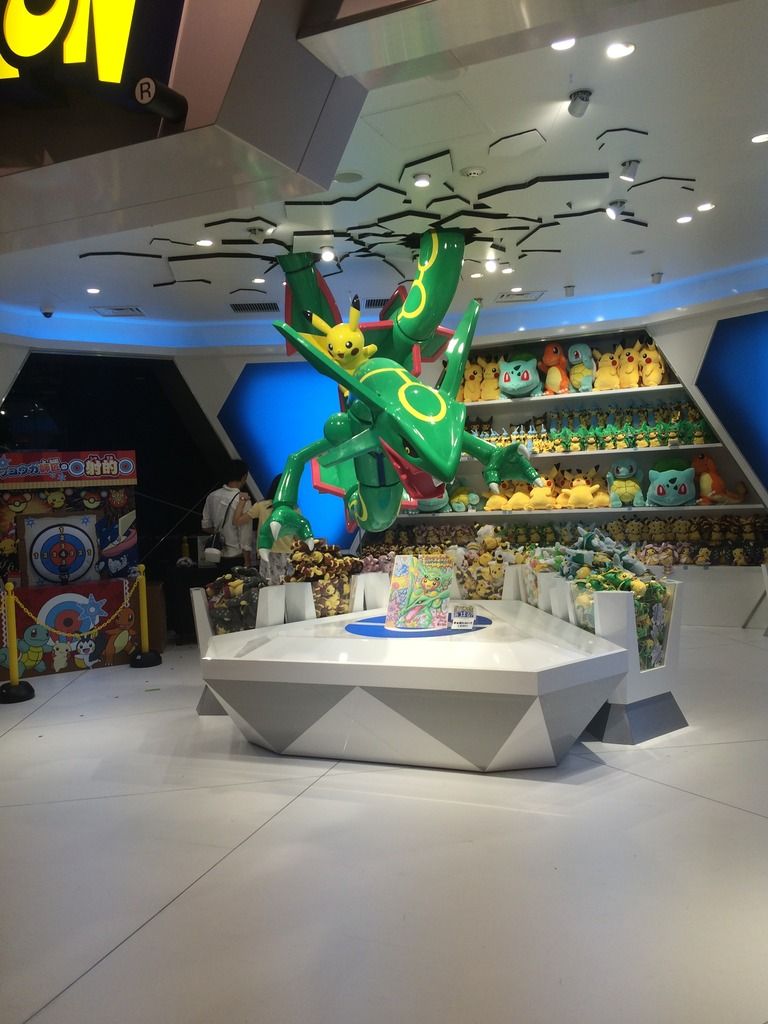 This was my first Pokemon Center ever visited and it deserves its own story. I dreamed of visiting any Pokemon shop since I've heard about it when I was a kid. So when I learned that I'll have a chance of visiting one on my second day in Japan, I was absolutely excited since the day before.
And finally, after a long day of sightseeing, we're going to Skytree. I couldn't be excited more and I'm fighting an urge to cry because of that. And then I learned that we have a less than ten minutes before the Center closes. ;_; This was the fastest run in my lifetime. ;_; Pokecen was located on 5th floor of the Skytree Town; with every floor I passed I was more and more excited. And then I've seen the Pokemon Center logo. I've seen that giant Rayquaza statue. And I cried. I just stopped and cried. I've had to stand for a moment to stop crying before entering. When I entered I was running around the Center, touching everything and laughing or sobbing from happiness, not believing I'm really here and this is all real.
And when I finally finished shopping and was standing with my friends all emotions just hit me again even stronger than before "oh my god I was in a Pokemoncenter" and I cried again.

I know that there are some people who live in Japan, and maybe they'll think it's not a big deal, visiting Pokemon Center. I just need to tell you that here is not a single Pokemon-only shop. Well, to be honest, before Pokemon Go hype there was one shop in Warsaw that was selling only TCG. Being in a place filled with Pokemon items was an amazing experience. I realized my childhood dream.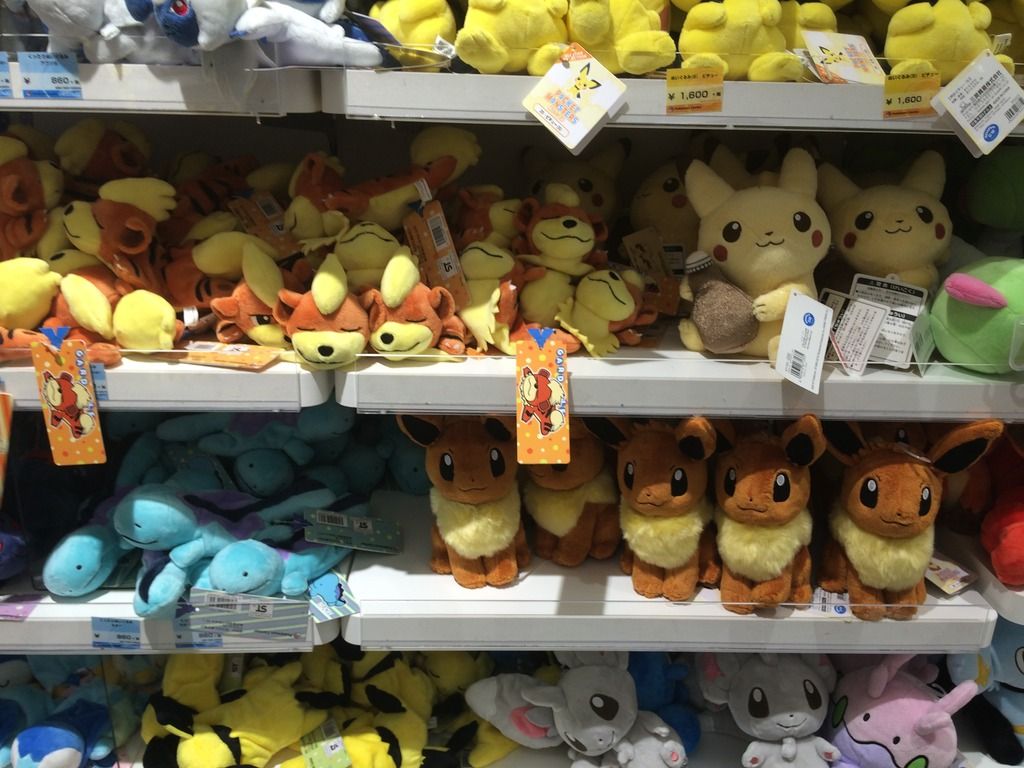 Many shelves packed with Pokemon merchandise. It was better than in my dreams. <3




Giant shiny Mega Rayquaza that looked absolutely awesome *O*




I've never seen so many Pokemon in one place before. I was so happy. :D I took so many photos, but from all the excitement I was feeling my hands were shaking, so most of the photos were blurred D:




And first gets! :D I wanted to buy many things, but I was afraid of spending too much, so I've chosen only a few things.

This day was one of the happiest days in my life, seriously. One of my dreams just come true and I simply can't say how much this means to me. I cannot even describe how I was feeling, there were so many thoughts and emotions. I'll remember this day forever. <3

(Next stop was Gotemba. But I wasn't able to visit Pokemon Store there :( Aaahh, I was so close, but I was so exhausted after climbing Mt. Fuji I wasn't even able to walk, yet alone go shopping ;_; And it was really important to me to get the Pikachu sitting atop of Mt. Fuji plush ;_; Well, it'll be my goal for a next year!)


2. Pokemon Center Kyoto.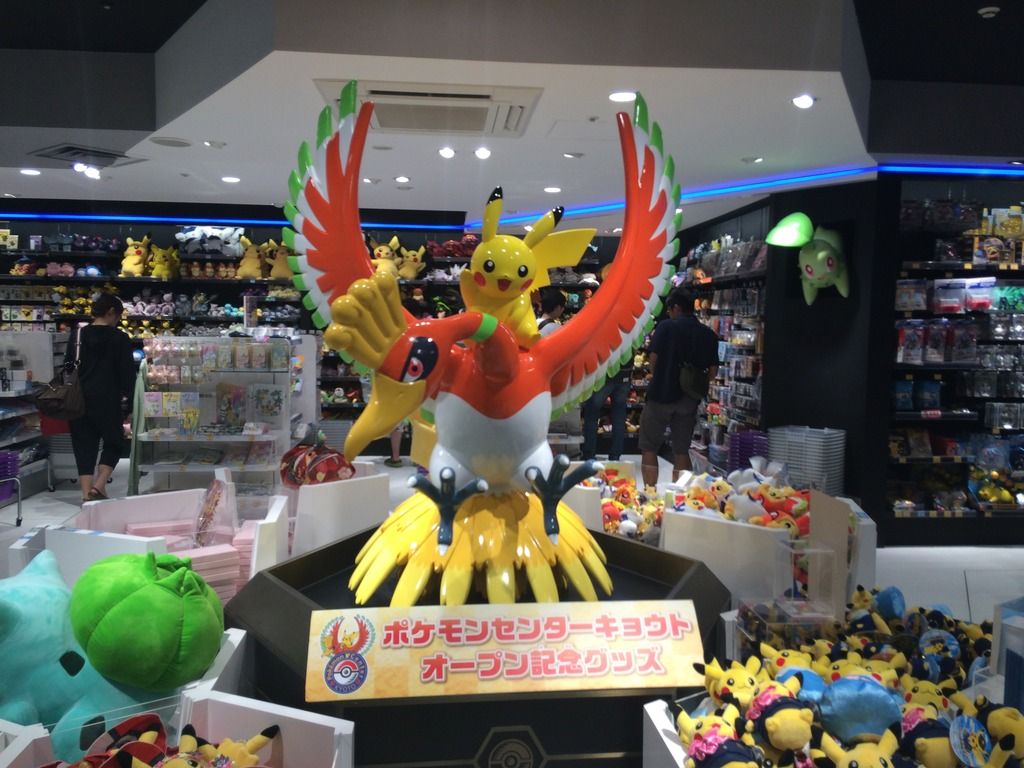 The second Pokemon Center, and the best Pokemon Center. Just. Look aT THAT HUGE HO-OH STATUE! CAN IT BE ANY BETTER?! Unfortunately there was no way for me to snatch that beautiful statue, so I settled with some exclusive Kyoto merch instead.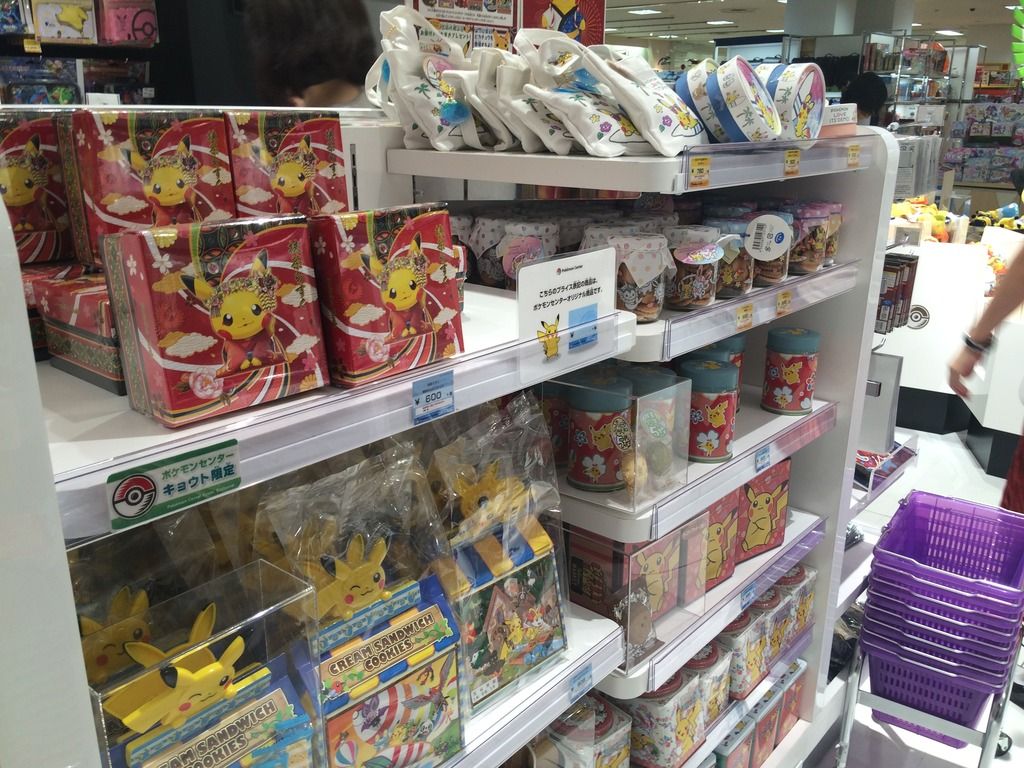 Cookies! I regret not buying that Maiko-Pikachu tin, it's so beautiful *o*




Giant Chikorita jumping out of wall? Yes! :D Kyoto was my favourite Pokemon Center for all the Johto feelings <3




Ho-oh back with autographs!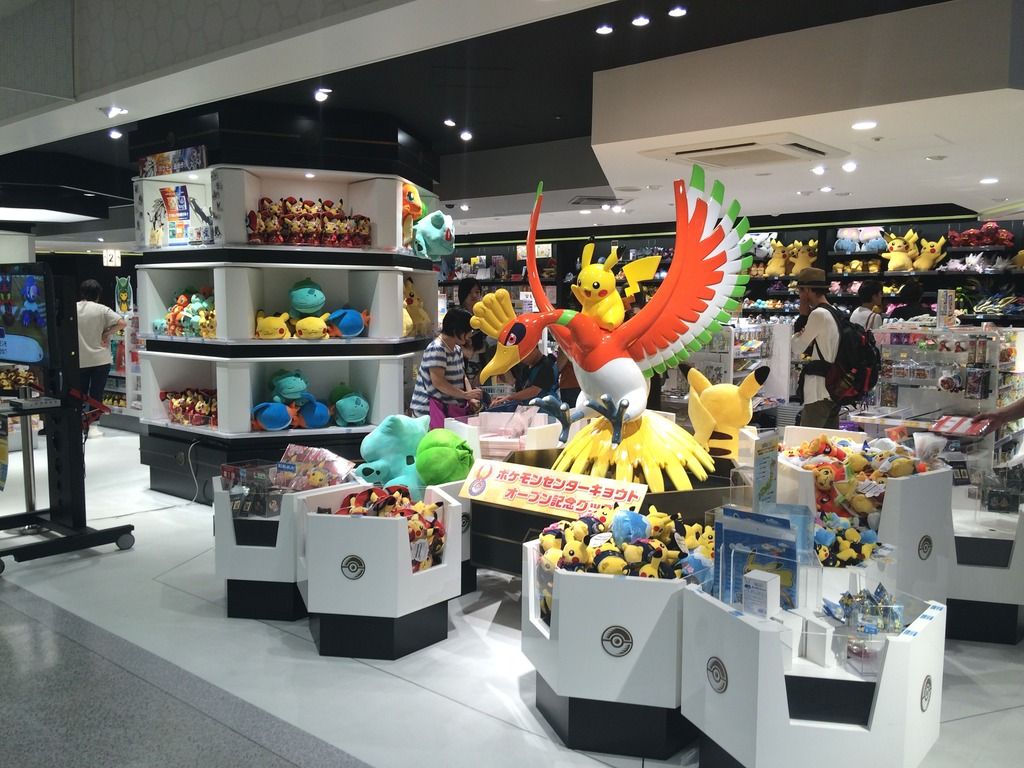 This Center hsd the widest selection of exclusive goods, that I couldn't decide which items I wanted. Cookie tin? Maiko plush? Pins? Mascots? Stickers? I spent way too much there, hehe...


3. Pokemon Center Hiroshima.


Besides that giant shiny Gyarados welcoming you at the entrance, there's a wall with every Pokemon up to 6th gen pictured on it. Of course I ran straight to the Beast Trio: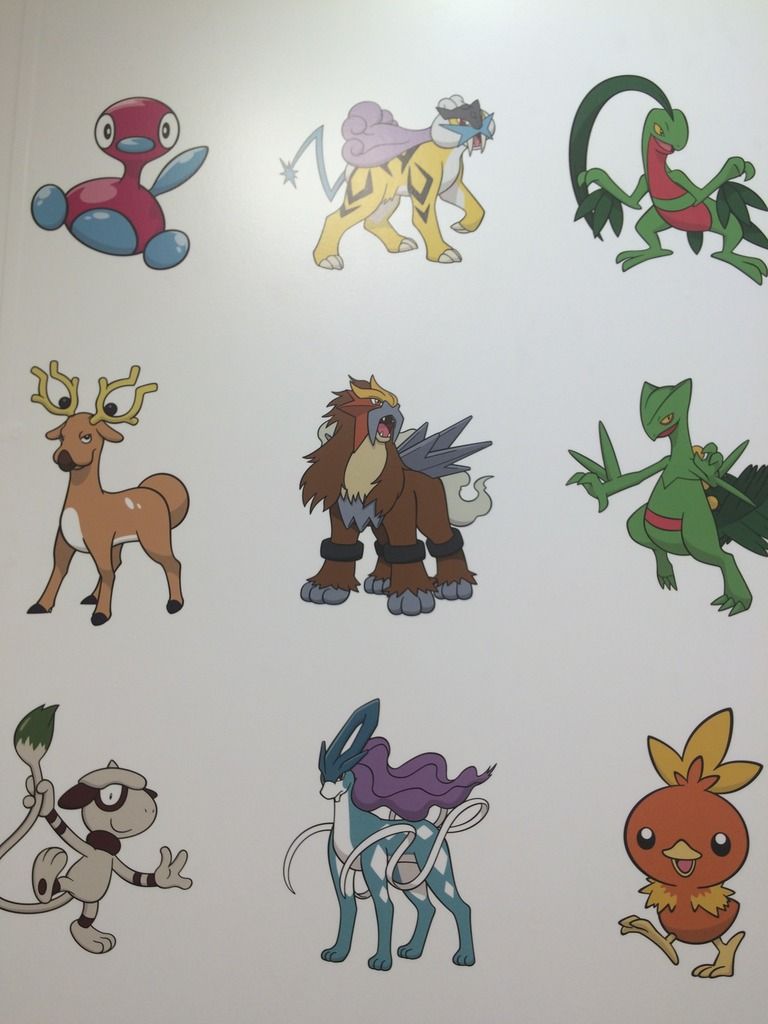 So I was taking photos of the wall, trying not to step on children laying on the floor drawing their favourite Pokemon, when suddendly, the doors on the end of a corridor opened. And...
...
...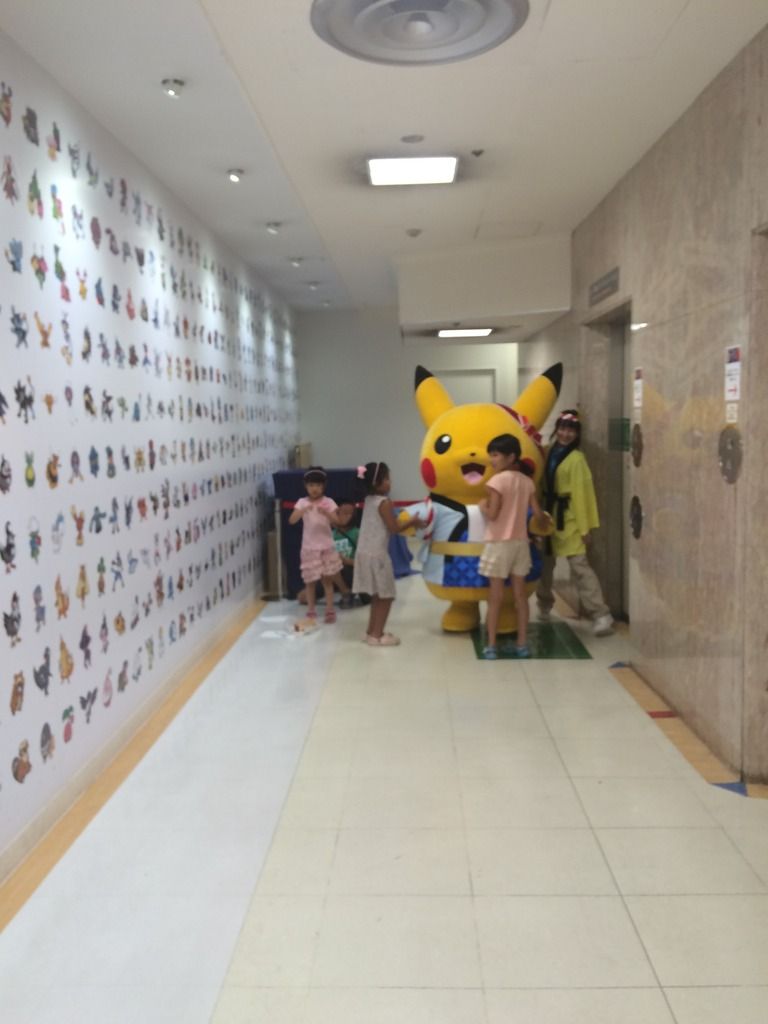 The children screamed. I screamed. The children ran to touch Pika. I also ran to touch Pika. This was... Wow. I've feel like five-years old child, hugging that Pikachu! And it was AWESOME! I would never expect that!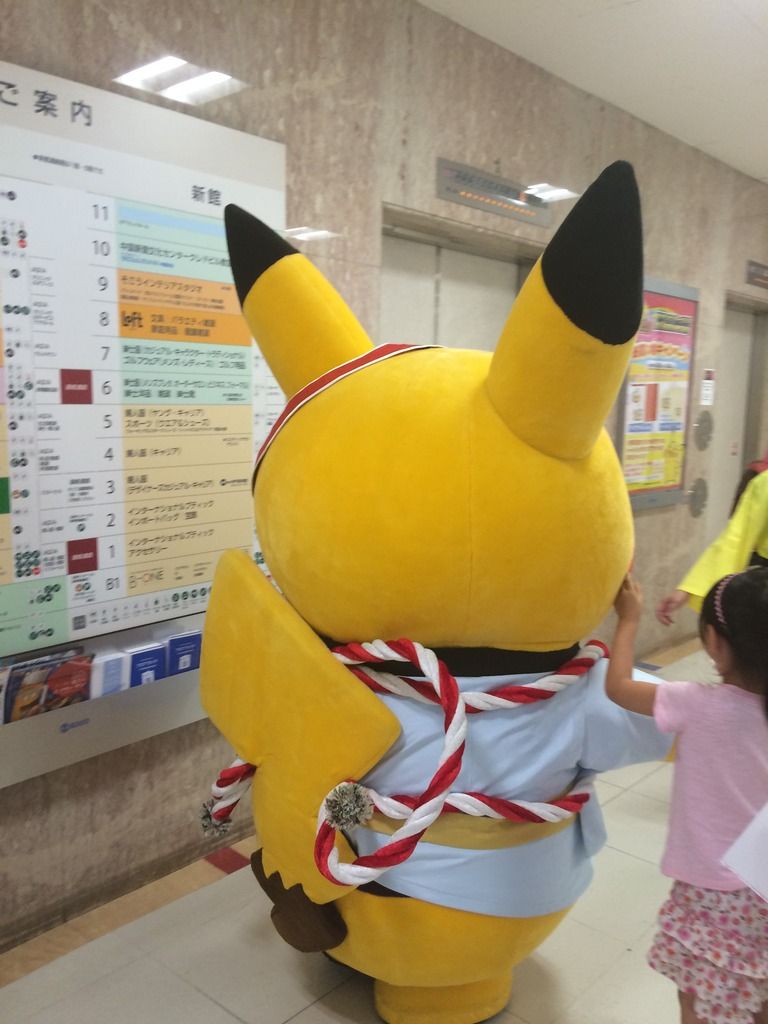 Look at that Pika-tail!




He started dancing and all the children started dancing with him, hugging him, or trying to touch his cheeks (if they were tall enough xD ) I was just standing there, watching all this, completely forgetting about shopping.




And look this is Pika and me, being the happiest person on Earth! :D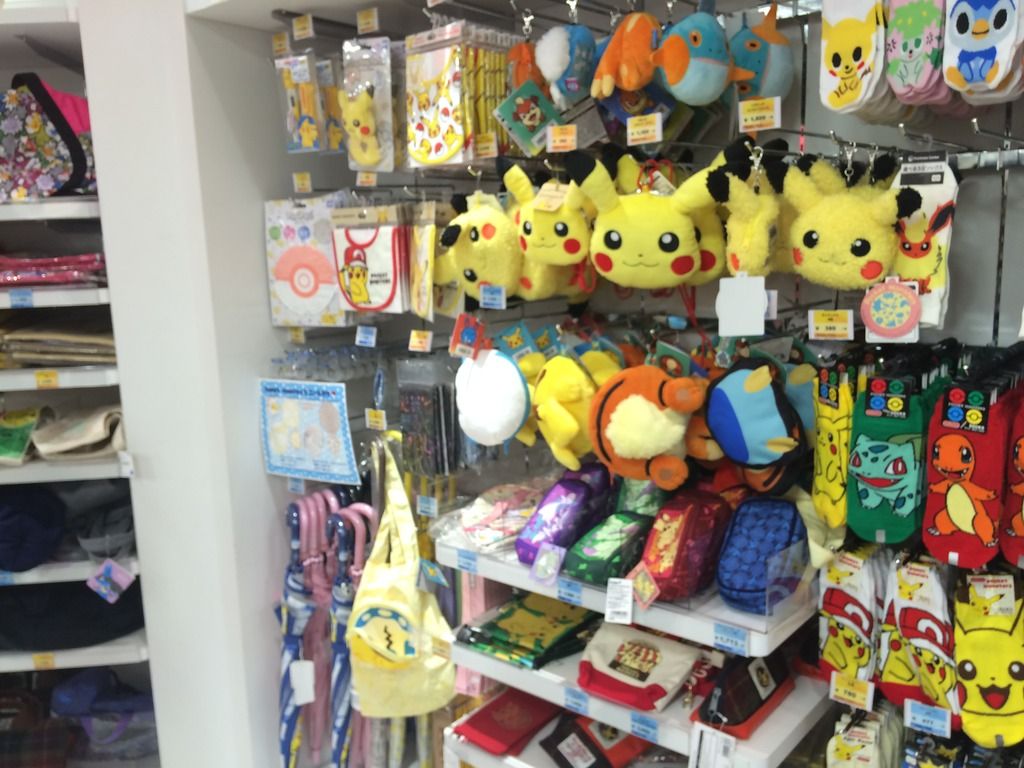 Hiroshima Pokemon Center had a variety of Pokemon pass cases.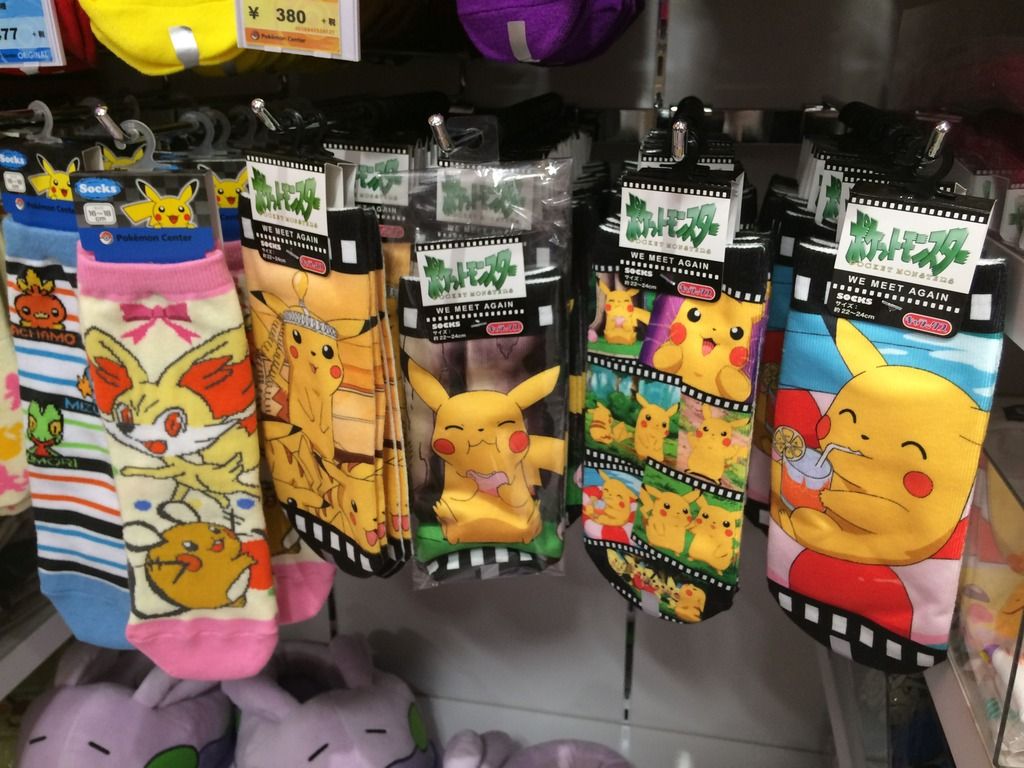 Probably the cutest socks on Earth???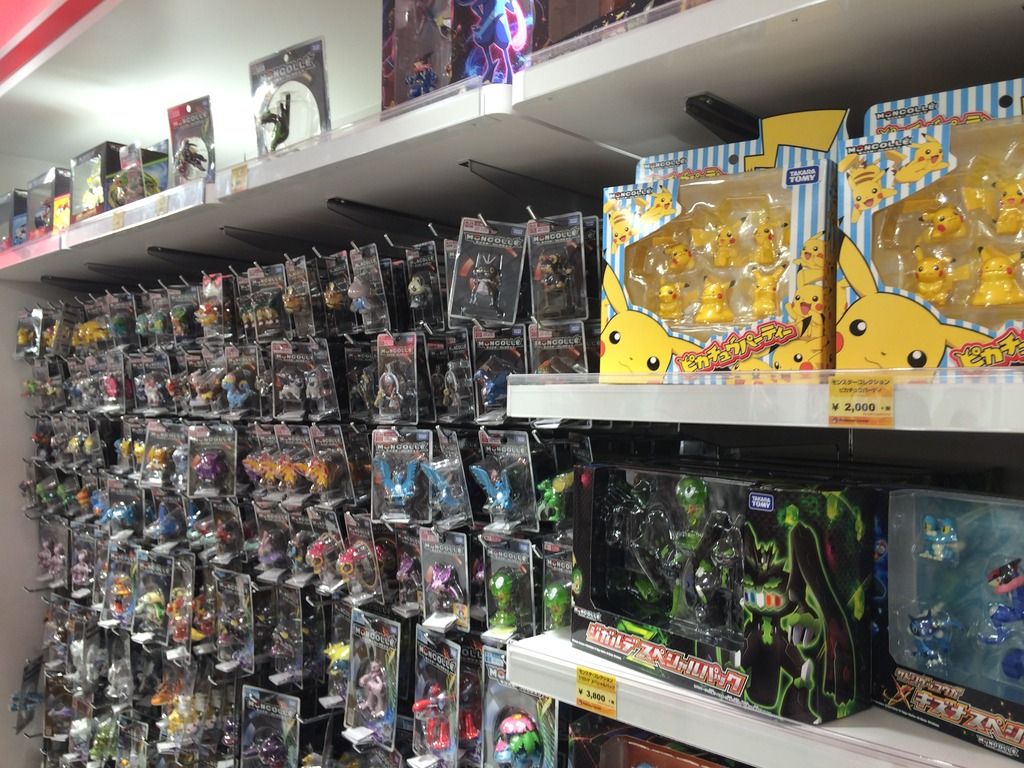 So many figures I couldn't decide which one I wanted D:




Medalief pressed coins. I have one from almost every Pokemon Center I visited.




Poncho-Chus and mascots. So many Pikachu in one place! :D




Dittos!

It was not end of Hiroshima atractions. There was a game where you had to shoot small balls at a target, in which I've won XY handrechief and I was lucky to participate in a lottery held in commemoration of first anniversary of Hiroshima Pokemon Center.
(There was a wheel you had to spin and you were awarded with prizes depending on what colour were the small balls that dropped out of it.)




I've won three postcards! :D





4. Pokemon Center Mega Tokyo.
My Pokecen tour wouldn't be completed without the Mega Tokyo. It is really "Mega" D: It's definitely the biggest and have the widest choice of merchandise. Unfortunately there were a lot of people and most of the items were sold out :(




Giant Mega Charizard Y.




And another at the entrance.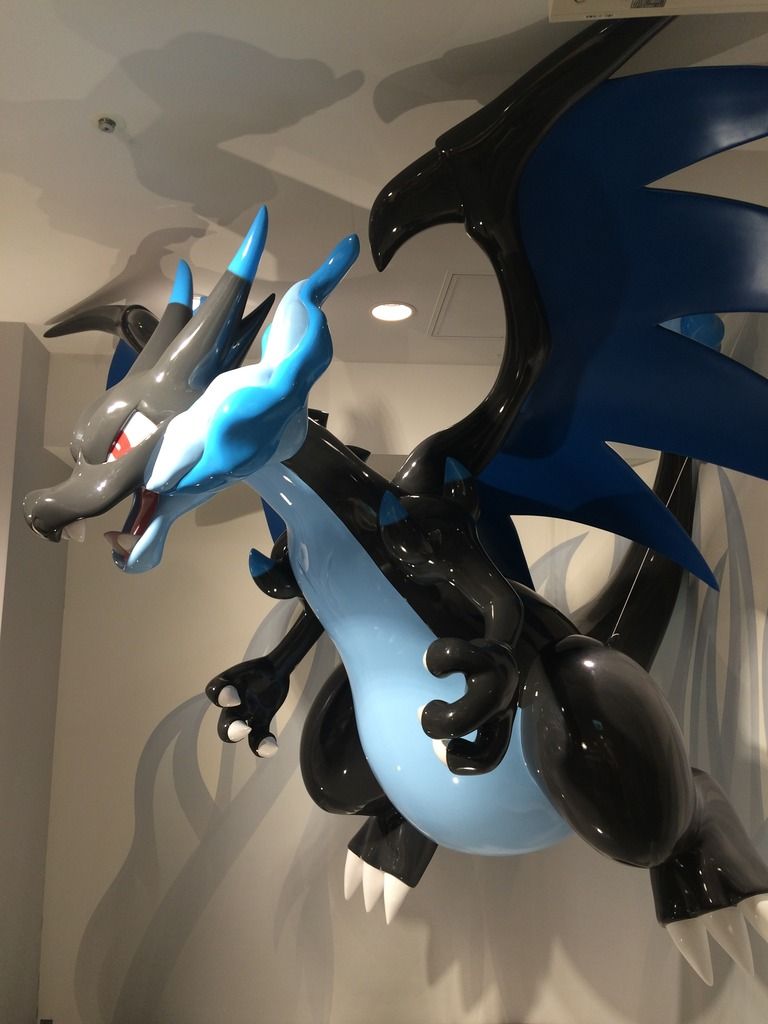 Mega Charizard X was not forgotten!




The statues at Mega Tokyo were my favourite part of this Pokemon Center.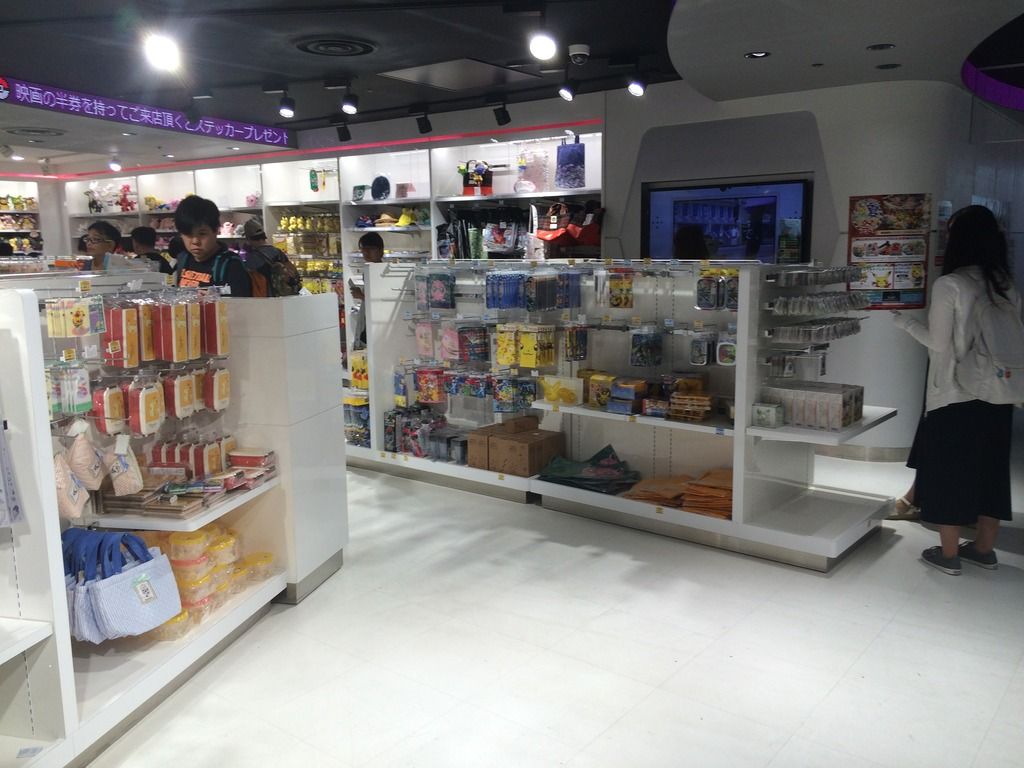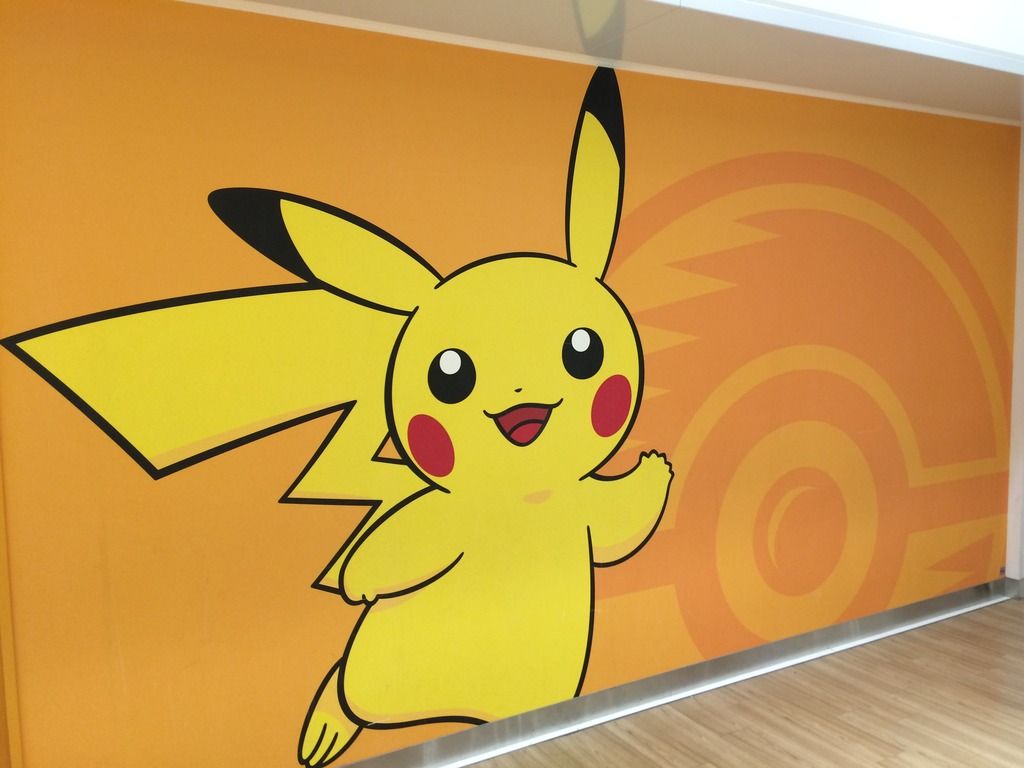 This Pikachu looks like he is waving you goodbye "we hope to see you again!" I CANNOT DISSAPPOINT THIS PIKA I HAVE TO GO BACK THERE



5. Pokemon Center Osaka.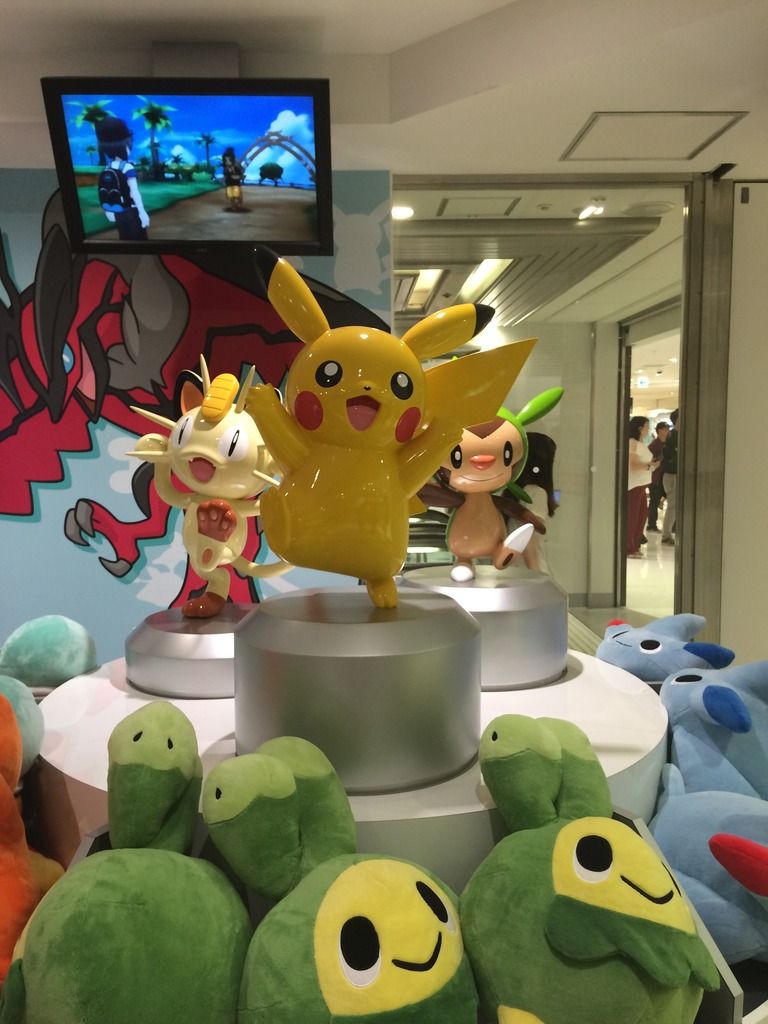 I thought that after visiting many Pokemon Centers, every other visit would be less and less exciting. Oh, how wrong I was! Every Pokemon Center is different and special and have a different feeling. I can't describe it properly, but every visit was like celebration to me.
In Osaka Pokecenter I bought a special gift for my Japanese school - Rakuchu! It's a Pikachu Pokedoll and his name is a pun of Pikachu and RakuGaku (name of my school). It even has its own facebook page xD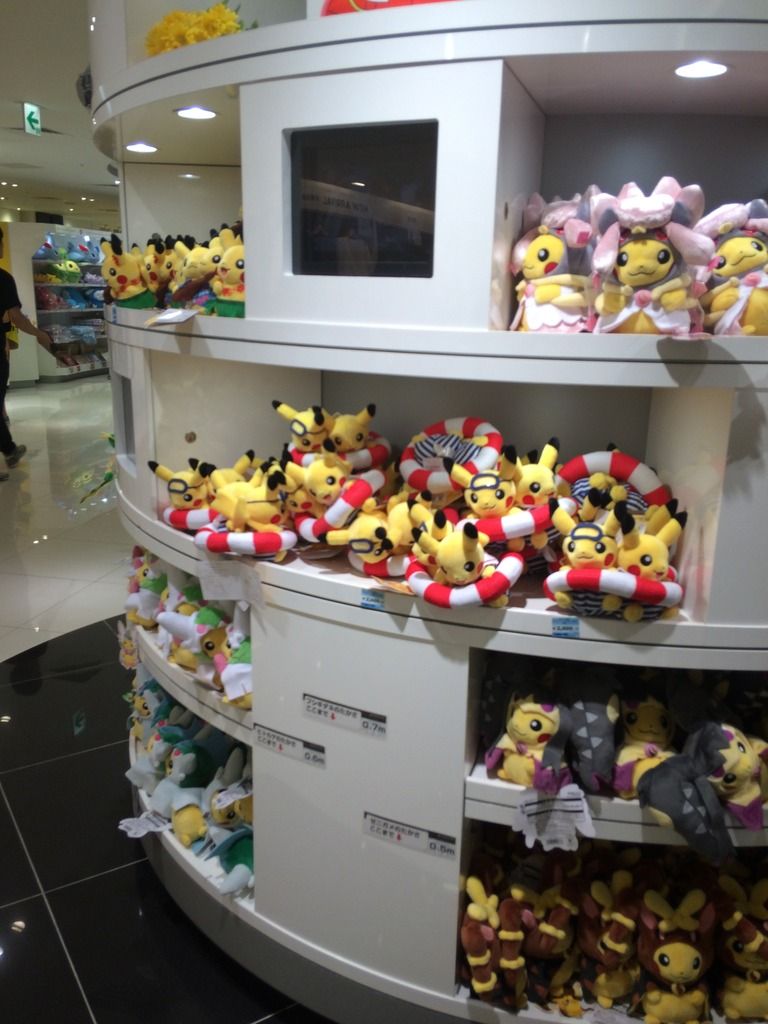 Pikachu pillar! :D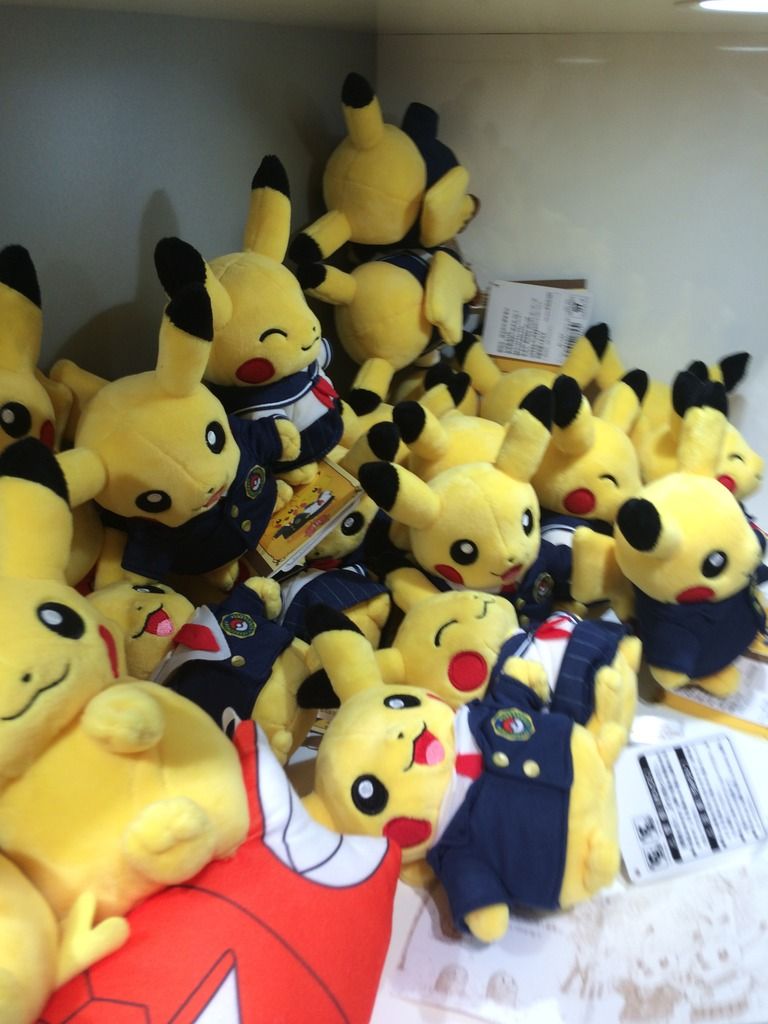 Pikachu Pair in school uniforms and they were so cute <3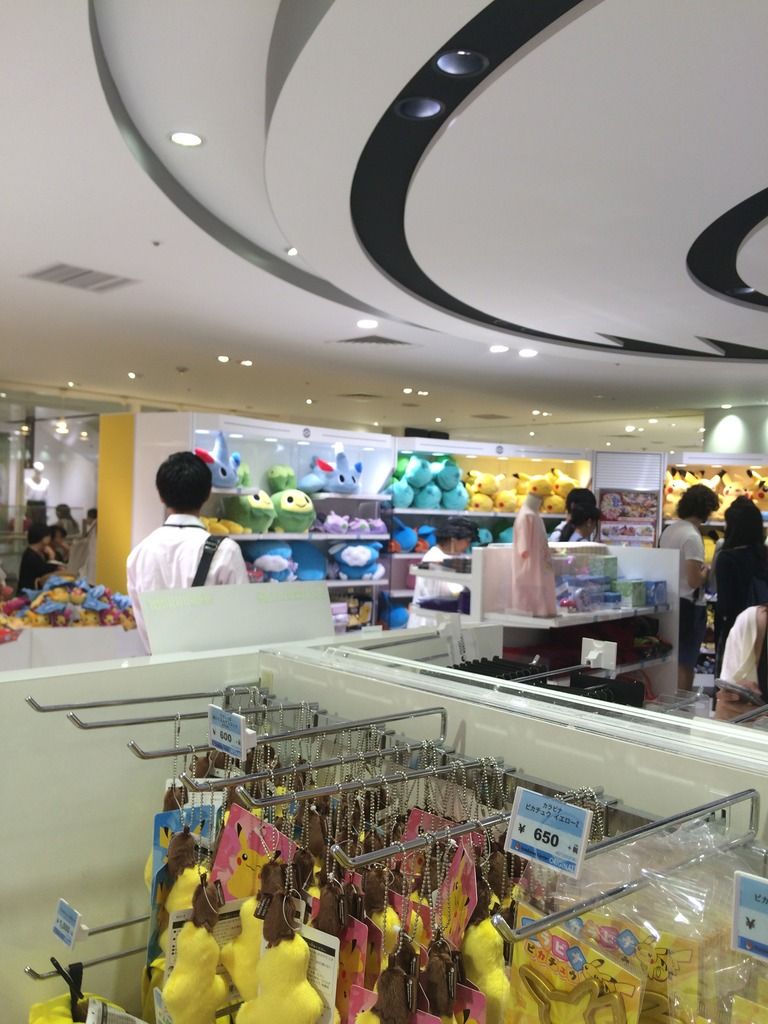 Big plushes and small tails.




Pikachu World Promo. Netherlands Pikachu was the cutest <3


6. Pokemon Center Fukuoka.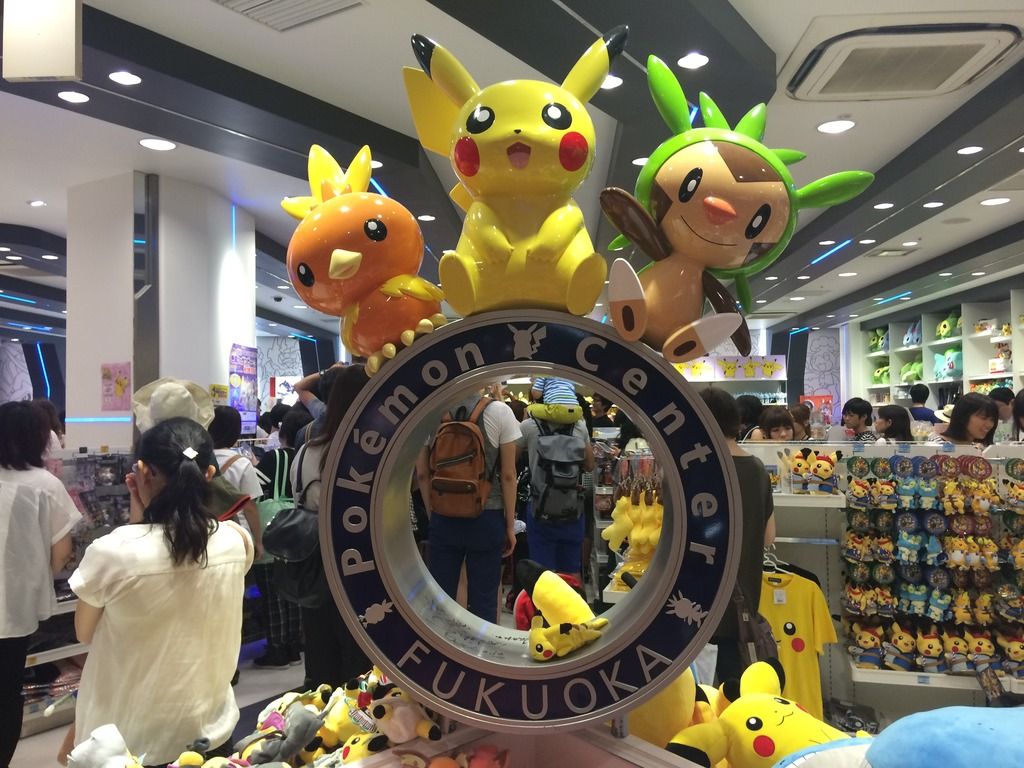 I spent three days in Fukuoka, only to realize that I had a pokemon center next to my house 45 minutes before my train leave. But this didn't stop me from express shopping!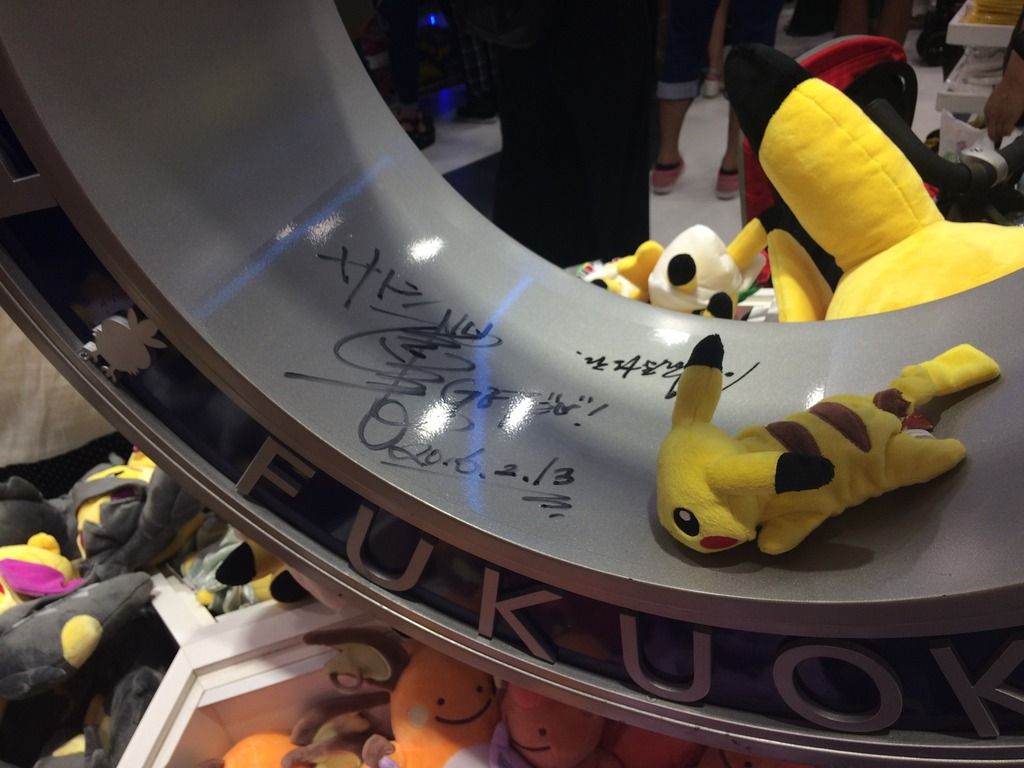 Autograps! This was really fun game in the Pokemon Centers - searching for autograps on these giant statues. :D




Mascots from various promos.
I wish I had more time to shop there...


And this was the last Pokemon Center I visited. Of course it doesn't mean that this was the last merch I've got and last Pokemon I've seen! Pokemon is everywhere in Japan, it's hard to find a shop without even single, small Pikachu.

Misc Pokemon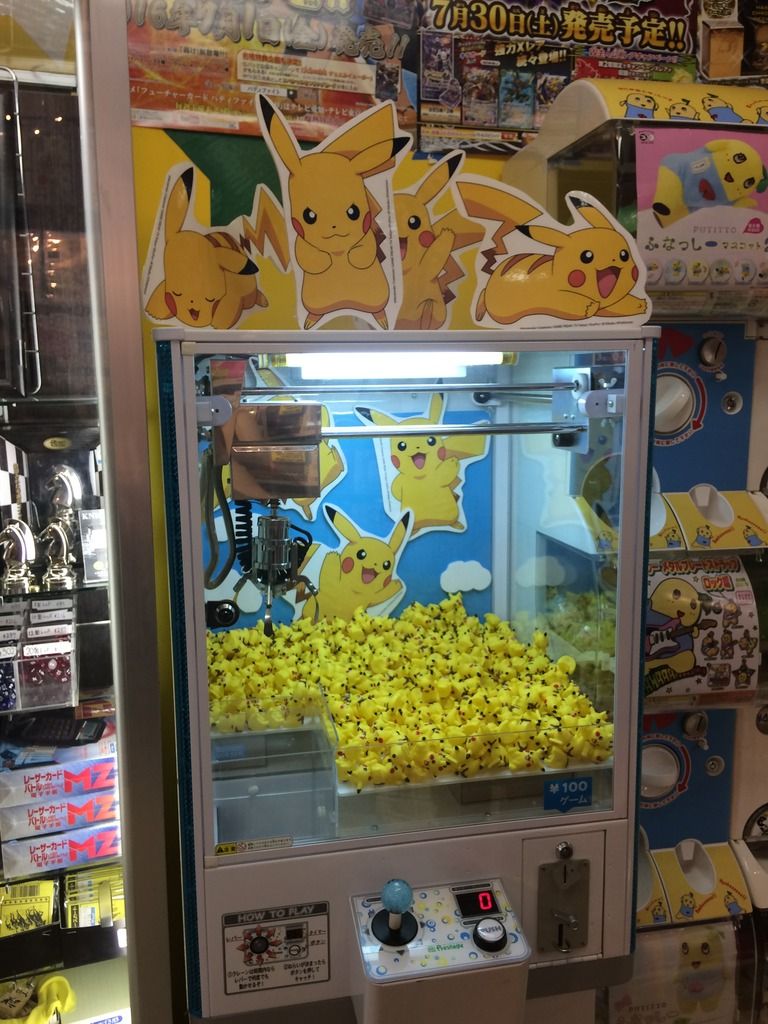 Comic shop in Ueno that had a wide range of Pokemon merch. Pictured here is Pokemon Kana promo and Pikachu UFO machine.




Pokemon sweets. In almost every konbini you can buy Pokemon food items - chocolate eggs, biscuits, lollipops and lots of other things I remember as rainbow-coloured Pokemon sugary-rainbow.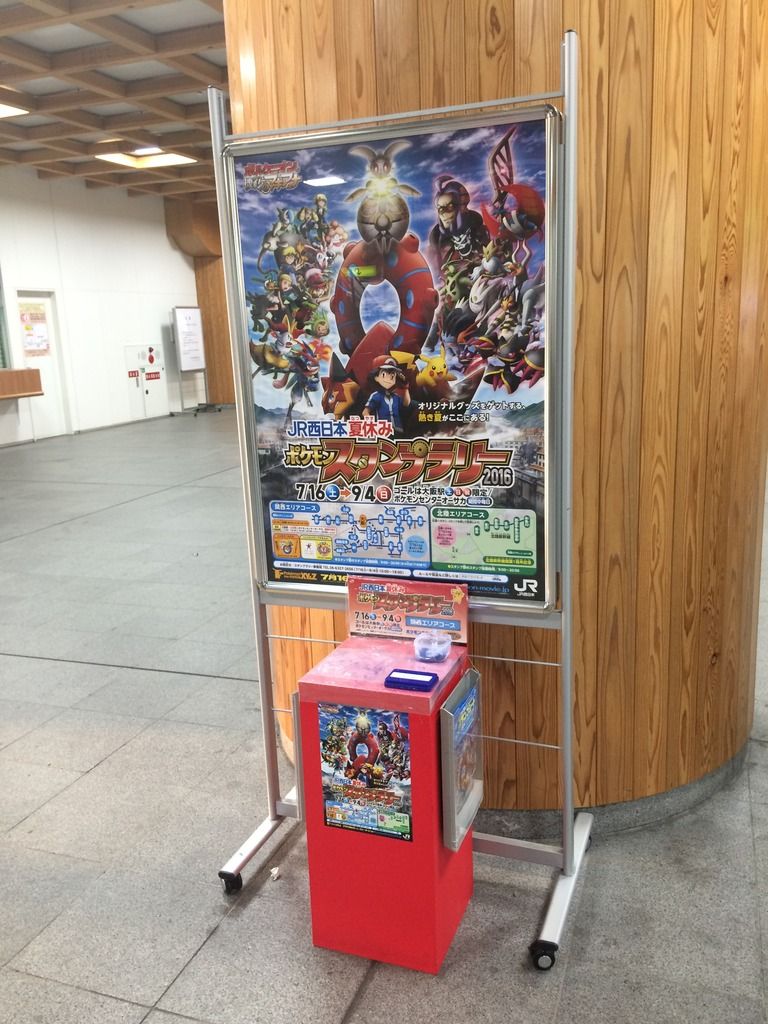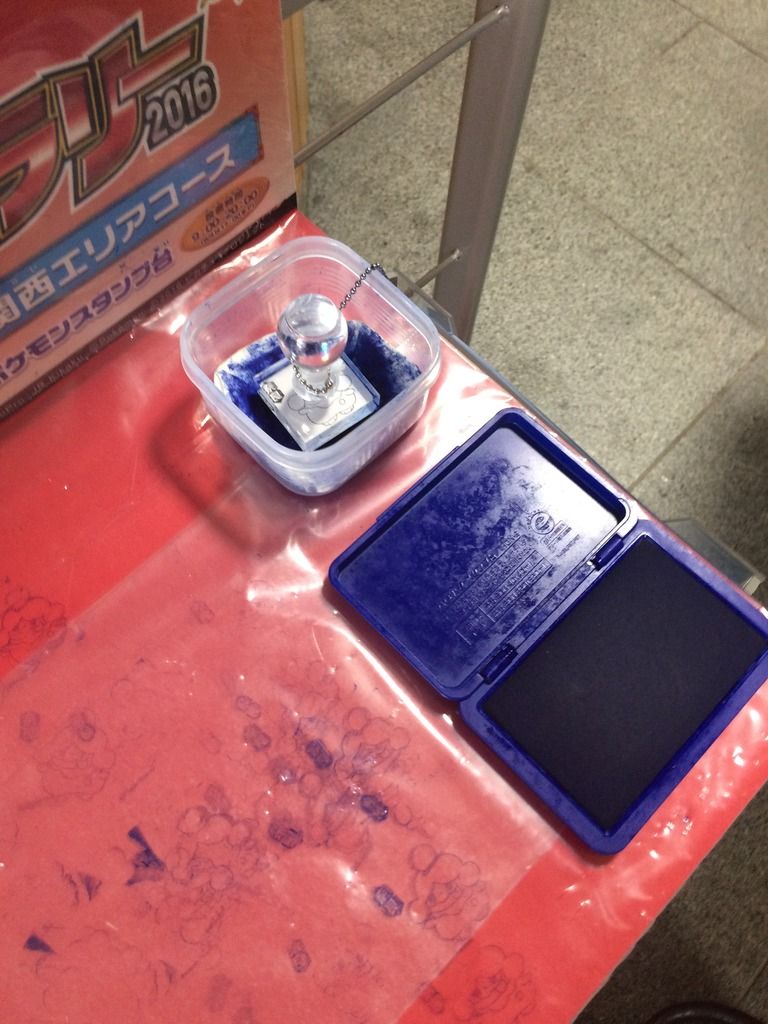 In Kyoto I spotted Pokemon Stamp Rally station!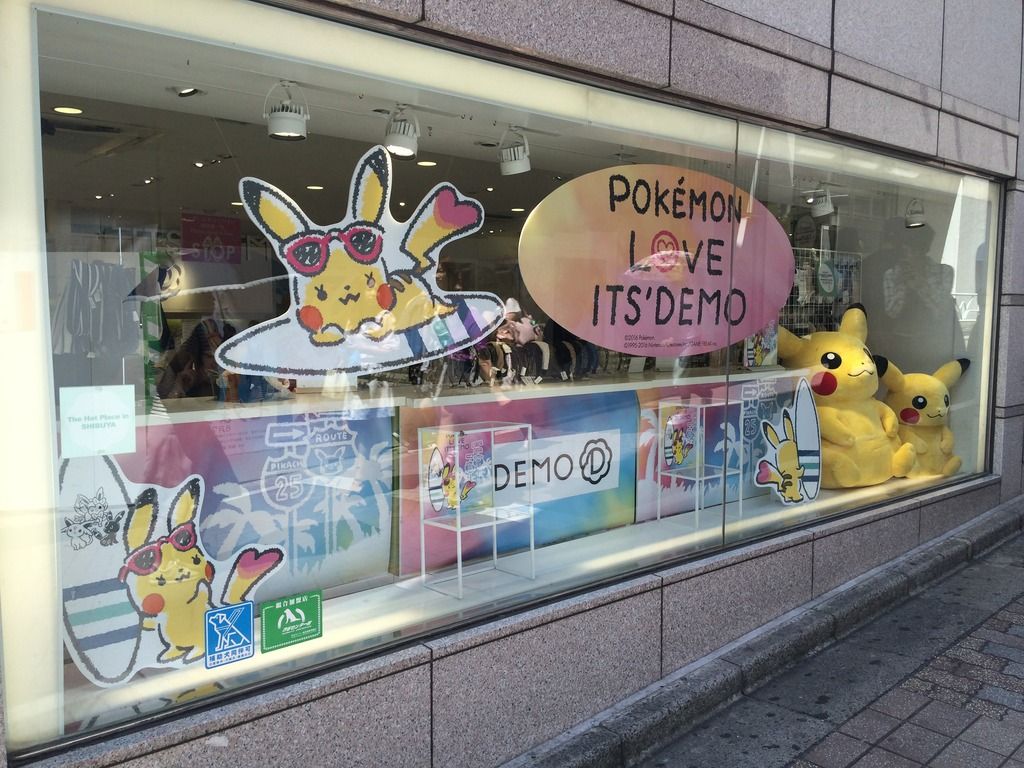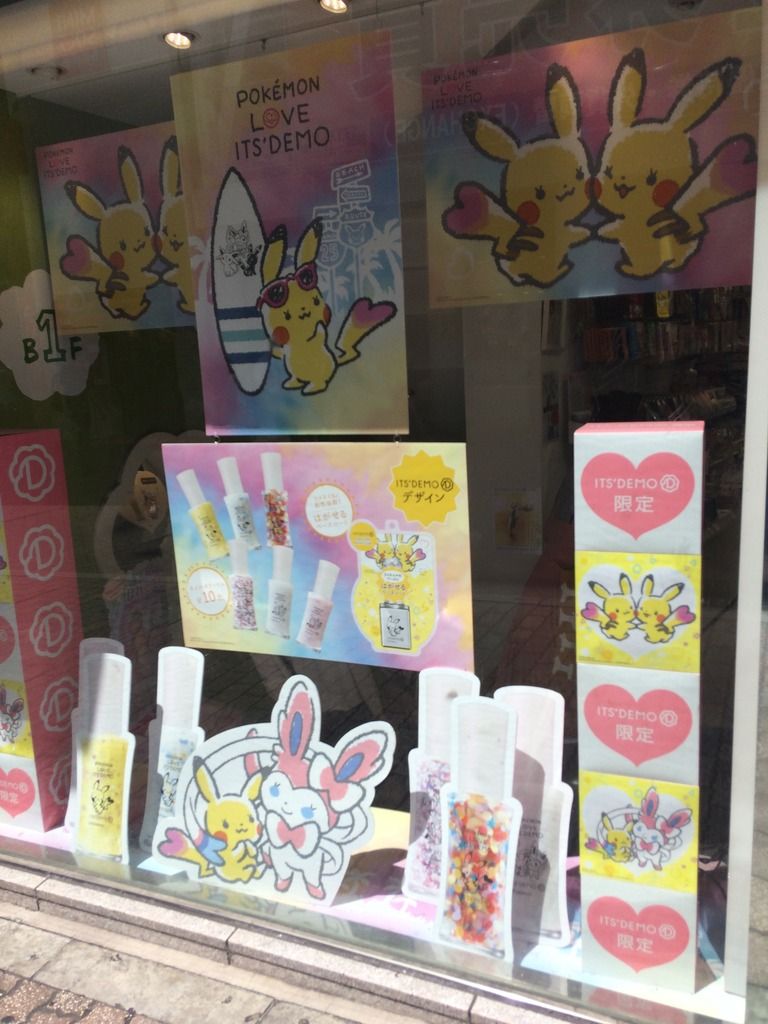 Drugstore in Shibuya, displaying new Pokemon Love it's Demo release.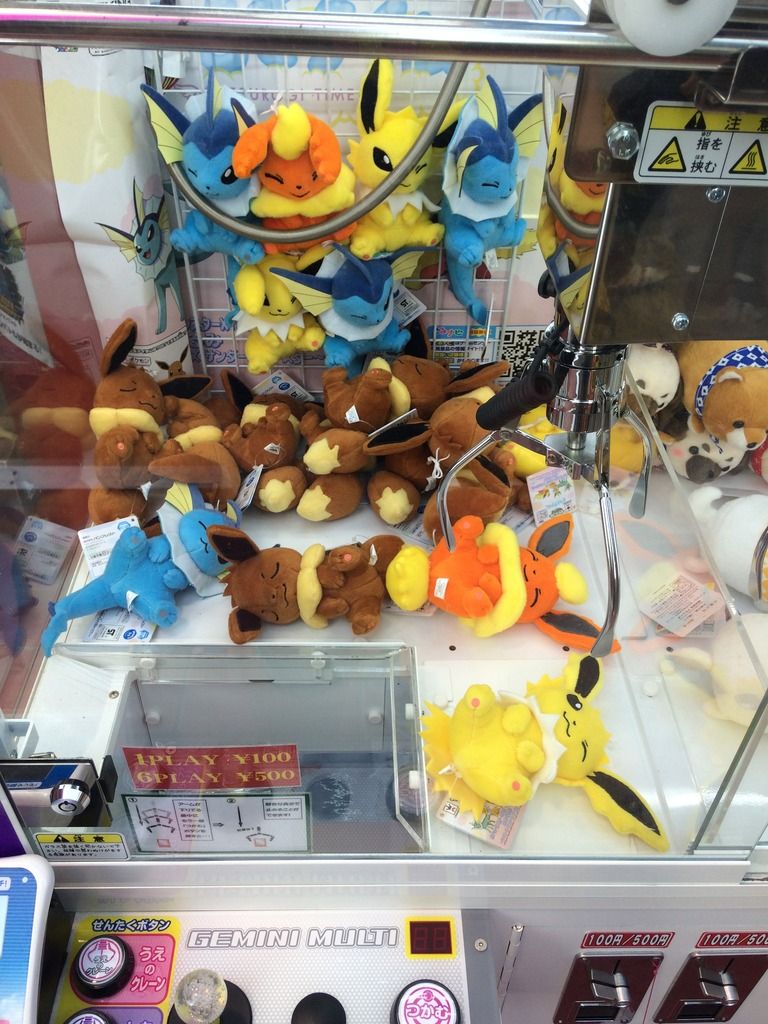 UFO machine in Akihabara. These had the best Pokemon plushies, unfortunately I'm not very good at winning there... I spent a lot of money trying to get a Zygarde puppy in one of these machines, only to find it at second hand toy shop later (and for like 1/10 I spent at the machine...) D:

I have tons of other Pokemon photos, but I feel this post is long enough, so I'll end it by showing my gets!






First - plushies. My favourite is Maiko Pikachu from Kyoto. These details are incredible! Guard-Chu was a gift for my friend. Magikarp pass case was bought when I needed a case for my Suica Card; now I use it for my city card :D (If you are wondering how did I fit all these plushes in my luggage, I'm telling you that I didn't. I had to ship most of them. Lady at the post office was very amused by my two bags of Pokemon merch :D )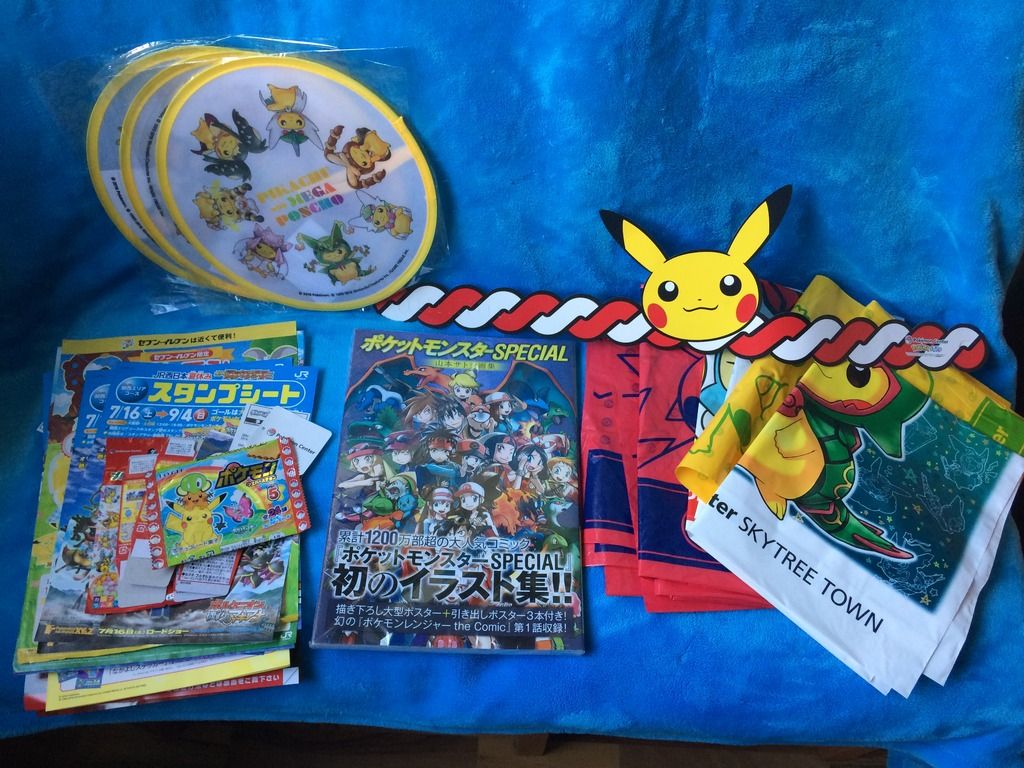 Flyers, bags, promo fans and artbook. I'm so proud of myself that I was able to ship that headband to Poland without bending it! :D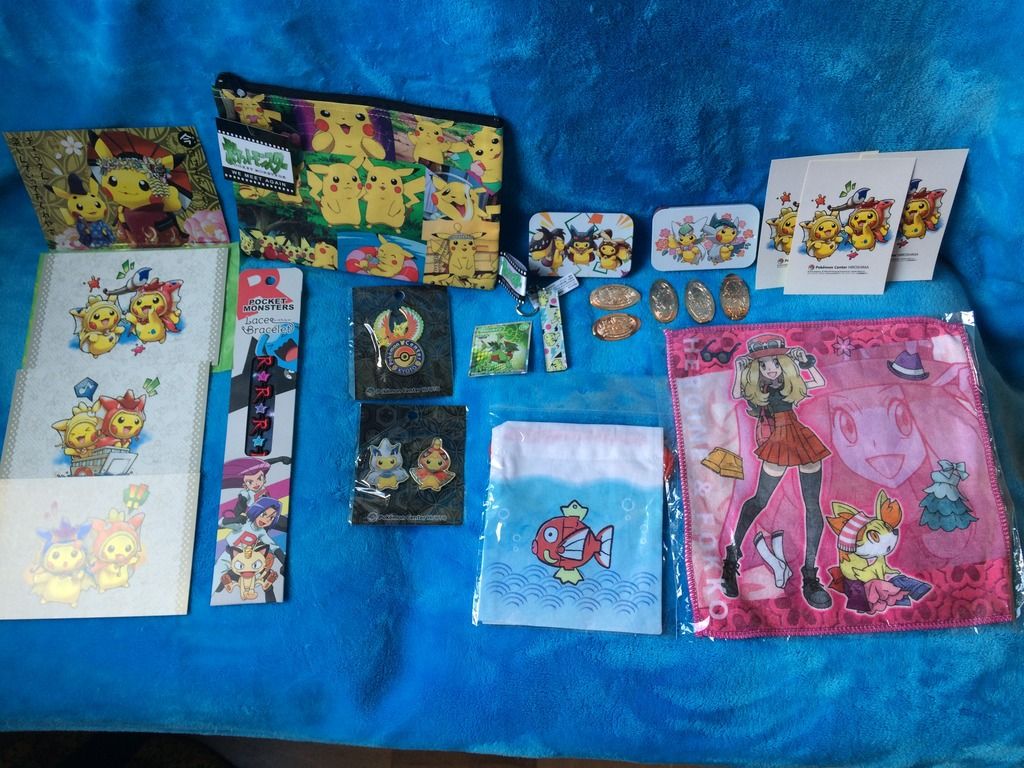 Misc flats. Post cards (and handtowel) I won in Hiroshima, pressed coins (I had a small obession with pressed coins, I got one from almost every place I visited. But I liked Hello Kitty coins the most...)
Kyoto pins, Team Rocket lace brancelet, candy tins, anime pouch (too pretty to use) and Magikarp string pouch.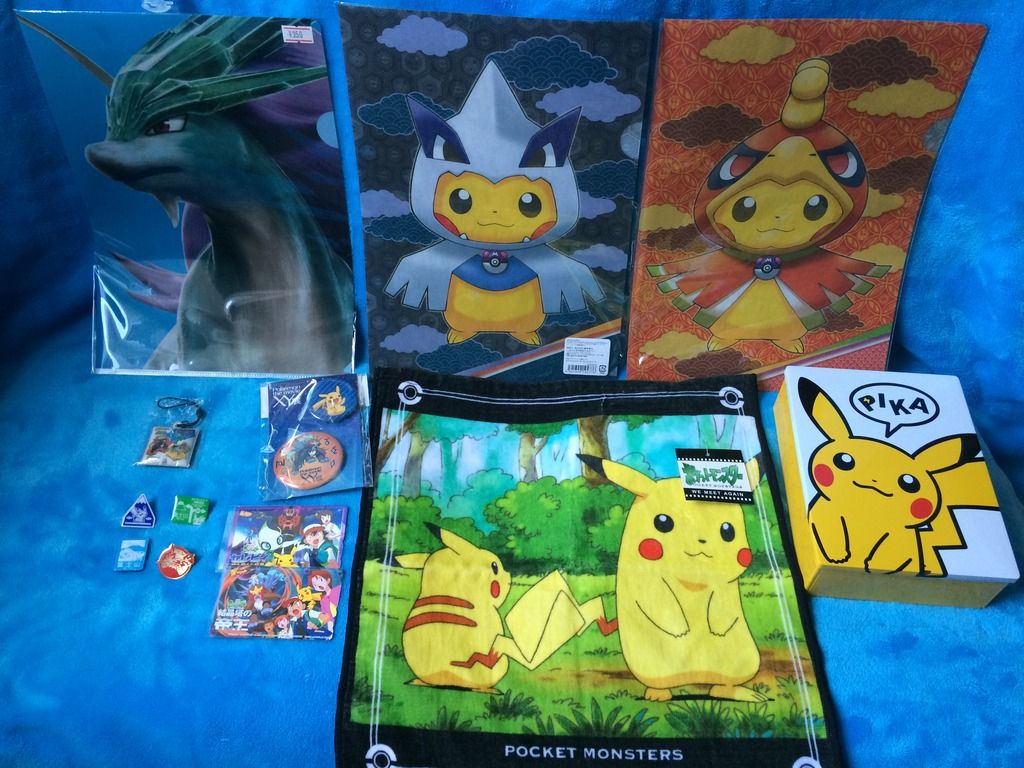 More flats! Pokken Suicune clearfile, Poncho-Chus cearfile, Beast Trio Fan Magazine led strap, Pokemon XY exhibition Entei badge, movie phonecards and almost complete set of Pokemon Gotochi Fuji pins. Also a handkerchief with one of the cutest moments in the anime! And tin with delicious butter cookies.




Lots and lots of figures! That Furuta Egg Puni-chan is very special to me, as it was my first item purchased in Japan! :D Second special item is onsen Pikachu strap. Seriously, visiting onsen was one of my best experiences in Japan <3
In that big sailor-Pika were Pokemon Harbour mini cakes. They tasted weird D: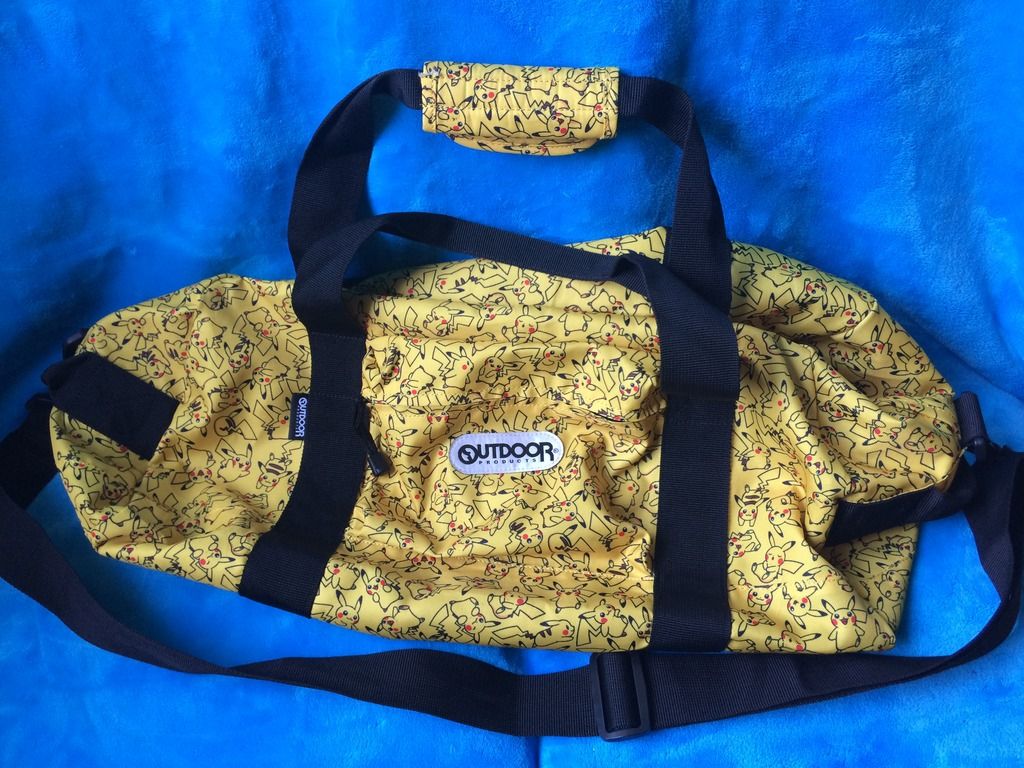 Pikachu bag! I bought it by accident to be honest D: (I was 120% sure I'm buying smaller version. It was in Fukuoka, where I had less than 3 minutes for shopping at the Pokemon Center. I realized it was bigger version later, in a train...)

I am happy the most with my Beast Trio gets :D I would never expect I would find so many of their merchandise :D Every single item I've bought personally has a special place in my collection. I hope I'll come to Japan again to pick some other Pokemon merch! :D

That's all! I have bought a lot more things of course (such as sweets and Evillous Chronicles novels and a few memorabilies of Honorable Eternal Stationmaster Tama), but for Pokemon related items, that's everything. :D

And if you have read all of this thank you so much <3 And thank you very much for watching these photos <3 It was hard to pick the best ones (I have almost 300 Pokemon photos). But I hope you enjoyed watching them and I'm happy I could share them with you all <3