Hi! This is my very first post as of joining pkmncollectors. I've read over the rules and even the new member tutorial, so I hope I am doing this correctly. I am not that new to collecting Pokemon plushies but also not as seasoned as veteran collectors. I've had Pokemon plushies since my childhood, but started my first serious collection in 2014 with Fennekin. I am now starting a plush collection with Alolan Vulpix :)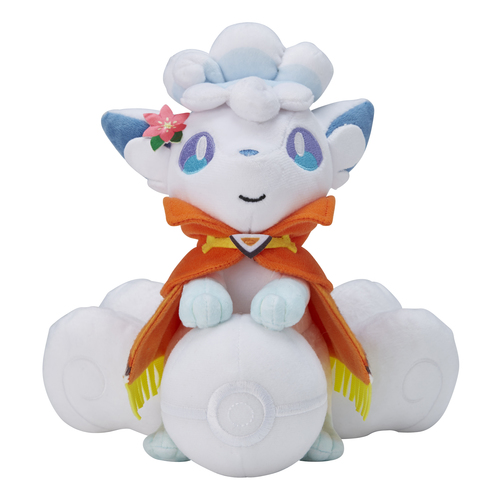 Speaking of which, I am currently looking for the Pokemon Center Sapporo Vulpix Plush (I don't think there are any pre-reqs for buying merch on this community? It says on the tutorial that feedback is not required to buy and I read the Rules for Buyers section of the guidelines page- I don't see any sort of post count/other pre-reqs, but please show me if I missed something). I know I am very late in trying to get one, but I wasn't aware that an actual plush existed until after last winter. A friend gifted me the mascot version and I adore it enough to want the actual plush as part of my collection. I would like to buy this very much (assuming I am not breaking any rules at the moment), preferably MWT from a non-smoking environment. Pet environment is fine just as long as the pet(s) didn't soil the plush. I would also like to request pictures of the plush from all angles (front, sides, bottom, back, tag) before committing to purchase and please tell me your price. For shipping info I am located in the U.S. (CA). If there are any trustworthy sellers on Amazon or eBay that have a legitimate Sapporo Vulpix Plush, please let me know about them as well. I am not really familiar on which of those sellers have legitimate Pokemon merch. Bought my PC Sapporo Vulpix Plush!

Another thing I would like to know about is Sylveon plushies. Sylveon is my favorite Fairy-type, so naturally I wanted to start a Sylveon collection back when X and Y were new. However I was disappointed upon finding that the Tomy Sylveon plush had one floppy ear. Call me picky, but asymmetry bothers me a lot as well as plushies that cannot stand on their own when displayed :( I returned that plush and read reviews on the PC Sylveon Poke Plush and Poke Doll... many reviews said those plushies had floppy ears as well. Are there any Sylveon plushies that do not have floppy ears? Which brands if so? Any info you Sylveon plush experts can give me would be greatly helpful in deciding whether or not I'll go for a Sylveon collection.