Rules:
Sales permission granted August 23rd, 2016 by areica96.
My community feedback: http://feedback.pkmncollectors.net/feedback/view/fdarkly/
All community rules apply.
I'm only selling to members of PKMNCOLLECTORS community and I will not sell to banned or non members.
I only accept Paypal as paying method.
Prices are in USD, prices do not include shipping or Paypal fees.
Payments should be sent within 24 hours, or I'll move on to the next customer.
I may or may not be willing to ship internationally, you're welcome to ask. If I have time to go to the post office I'll be glad to ship international packages.
I have a dog but he's not allowed to touch my items.
Shipping is from CA, starts from $3 for plastic/bubble mailer or $.5 for small flats in an envelope.
When I ship large flats, I use a card board to protect them, which means shipping will start from $3.
I sometimes use recycled packaging, if you don't want me to do this please let me know before you buy.
I don't ship on weekends or holidays. Weekend orders will be shipped on the next Monday.
I'm not responsible for any lost or damaged package after I ship it out. I can send you a picture of your package before I ship it, only on demand. Please let me know if you need it before you buy.
Haggling is generally NOT accepted, except for items marked as OBO (or best offer). Willing to give discounts on large orders.
Please don't back out on your order, or I won't sell to you in the future.
Please clearly say you are committed if you want to buy an item, quotes do NOT have priority over commitments.
I reserve the right to refuse to sell to anyone for any reason.
If you have any questions, feel free to ask, I'll be happy to answer.
All pieces are hand made and due to the nature of resin, any small air bubble / uneven edge / imperfect back side / slightly bended edge / slight overflow and all other possible imperfection are not considered quality problem, returns are not accepted.


Sales:

Keyring/black necklace/silver or golden ball chain/phone strap will be added to every charm, and can be switched out, just let me know what you want.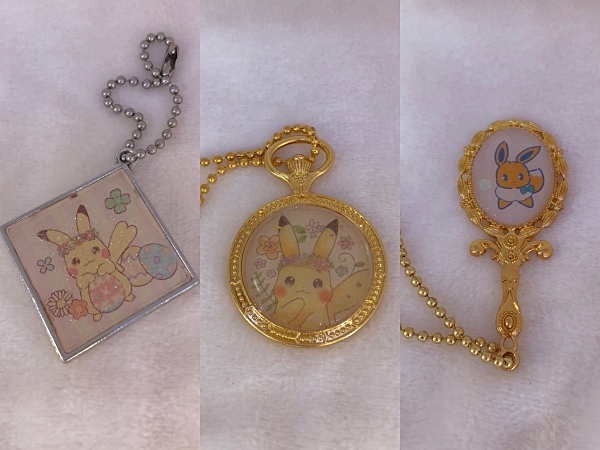 Pikachu square charm: $8
Pikachu pocket watch charm: $8
Eevee mirror charm: $6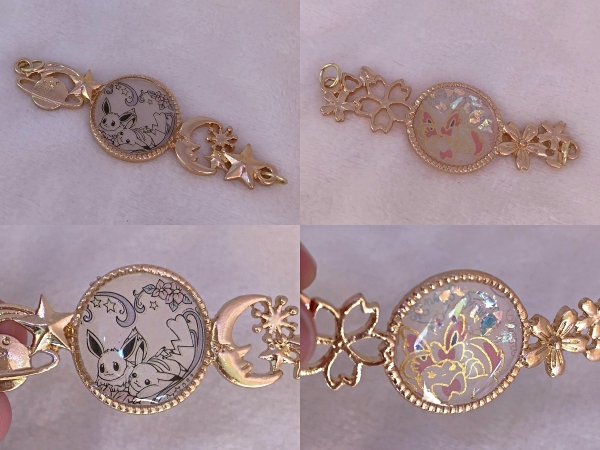 Pikachu and Eevee star and moon charm: $8
Sylveon sakura charm: $8 SOLD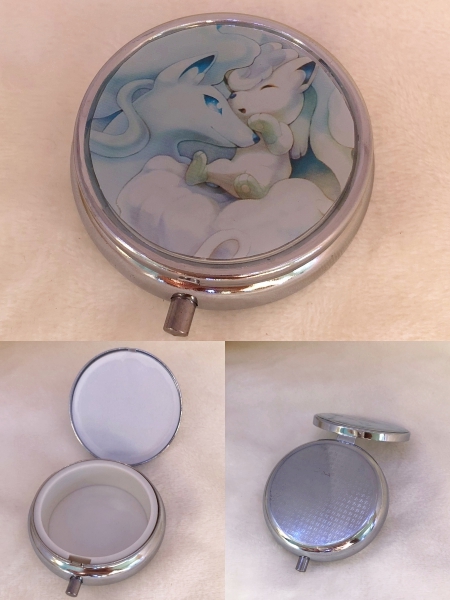 Alolan Vulpix and Ninetales small pill box: $8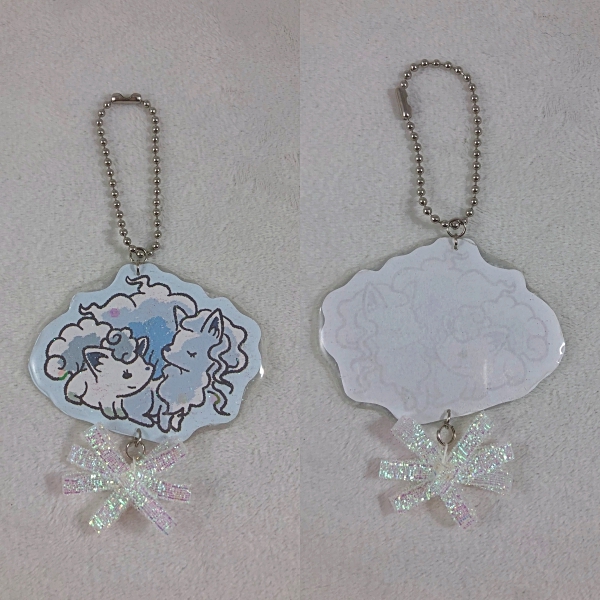 Alolan Vulpix and Ninetales charm w snowflake: $6 SOLD
(this one is made of a piece of paper put between two pieces of resin, not glued together, not water proof)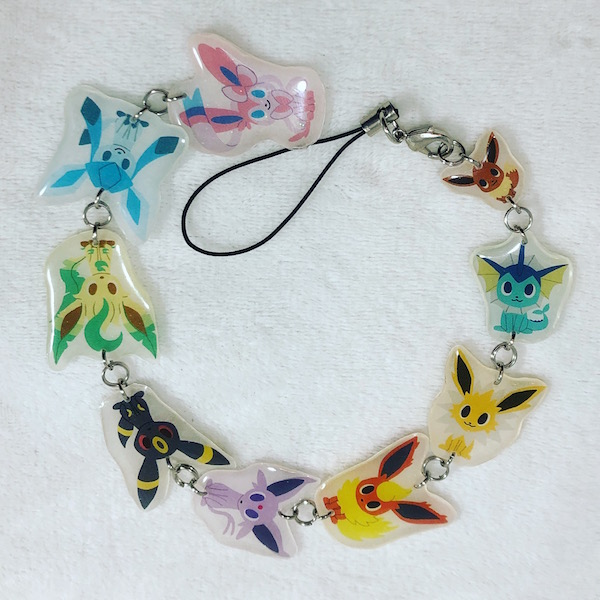 Eeveelution Pokemon Time charm set: $18
SOLD
Alolan Vulpix snow globe charm: $8
SOLD
Sylveon mirror charm: $6
SOLD
Litten pocket watch charm (has visible tape residue): $2 or free with purchase $15 or above
SOLD
Pikachu and Eevee key charm #1: $6 each
SOLD
Shinx and Eevee key charm #2: $6 each
SOLD

Eevee snow globe charm with ribbon: $10



Eeveelution bracelet with small crystal bead: $28
Eeveelution bracelet with large heart crystal bead: $32 (red/pink/blue/green/purple hearts available for substitute)



double sided spin charms: $8 each



Whimsicott charm: $3
Bulbasaur key charm: $6 SOLD
Vulpix and Alolan Vulpix double sided spin charm: $8 SOLD
Espeon Umbreon wooden charm: $5


Arcanine charm: $8
SOLD
Midnight Lycanroc charm (has one slightly bended edge): $6
SOLD

small charms $3 each, Riolu/Lucario pair $5 (multiples available for pre-order)
Lucario on the far right has imperfectly drilled hole, it's free with other purchase



pocket watch charms with black necklace/keyring: $6 each
Available: Lucario, Lapras, Glaceon, Sylveon

Everything can be combined with stuff in my sales post, feel free to check it out:
https://fdarkly.livejournal.com/804.html
And yes I will be making more resin charms, let me know what you want!

Thanks and have a nice day.