The new arrivals (from
denkimouse and
pikachuashnat) are welcomed by some current residents!

(I profess no talent at humor, but it was fun for me to do, so hopefully it'll be fun for you to read!)

WARNING: VERY IMAGE HEAVY!

Pictures by me, text by roflbot!






Aaaand, here are a few random pictures of new arrivals and old favourites:

New Snorlax!!! That one with the blue base is a lamp (didn't put any batteries, sorry), the kind you press down to turn on. I got it (and a Pikachu one) off eBay last AUGUST, and it got lost in the mail, or rather, was marked received but never arrived at my friend's house (he's my contact in the US). However it showed up in NOVEMBER at his new apartment. We have no idea how it got there, but I'm sure happy. (He was less happy when he lost his luggage on the way up and had to use "large pokemon toys" as an identifier to find his stuff! XD XD)



Here's the top shelf of my desk! The plastic Pikachu with the Pikachu kid on its head is the other lamp that came with the Snorlax from the above pic. I love the Snorlax pillow, it's HUGE! So much bigger than I'd expected!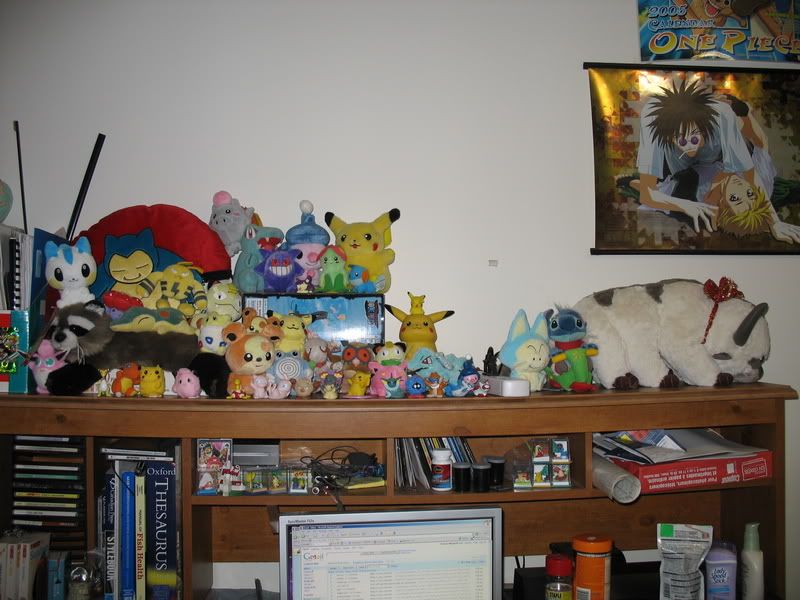 One of my display shelves (I love how my Swampert collection is growing!):



And a free bonus picture, one of my African dwarf frogs!