I promised you an epic update, yes?
HERE IT COMES.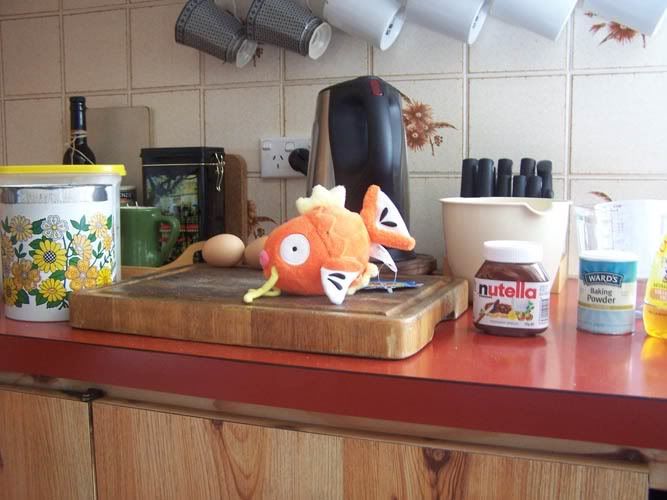 What could these things all possibly have in common? Eccles the karp seems confused.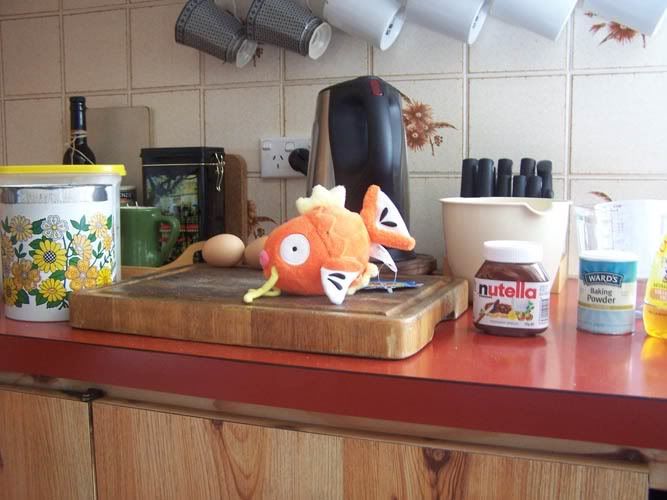 Flour? Sugar? Baking powder? Eggs?
What do these have to do with Magikarp?
Deep-fried battered Karp?
Yeah, I know you know what it is....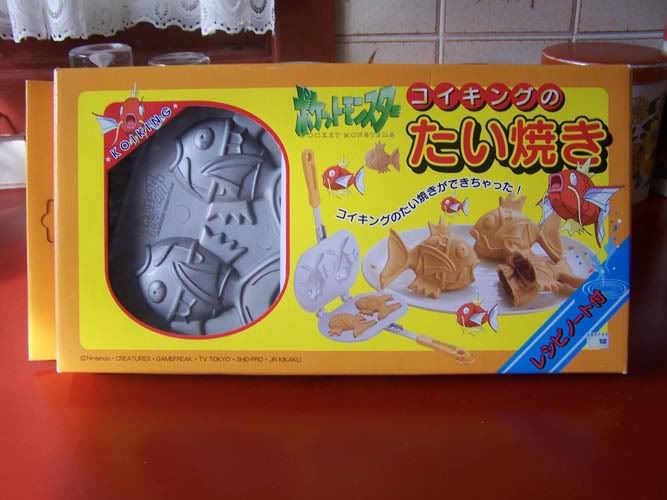 HELL YEA!
KARPCAKES.
Or fishcakes.
Or just damn awesome.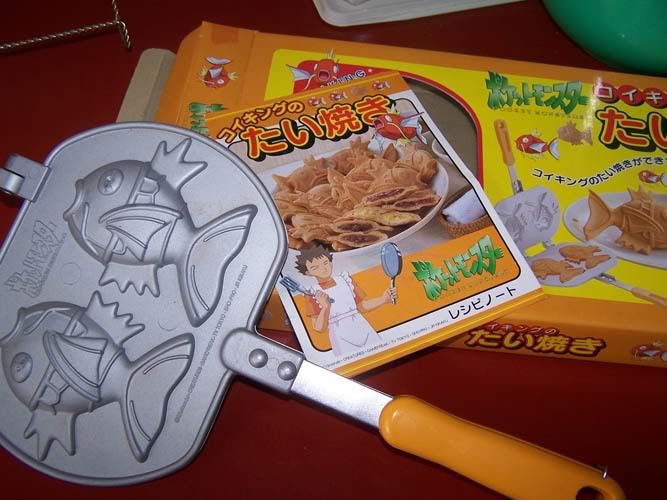 Oh yea, I totally got me a Magikarp Taiyaki-ki!
And it is the most awesome thing ever, even if this one is a little dirty on the outside.
Not that it matters! It still works a charm.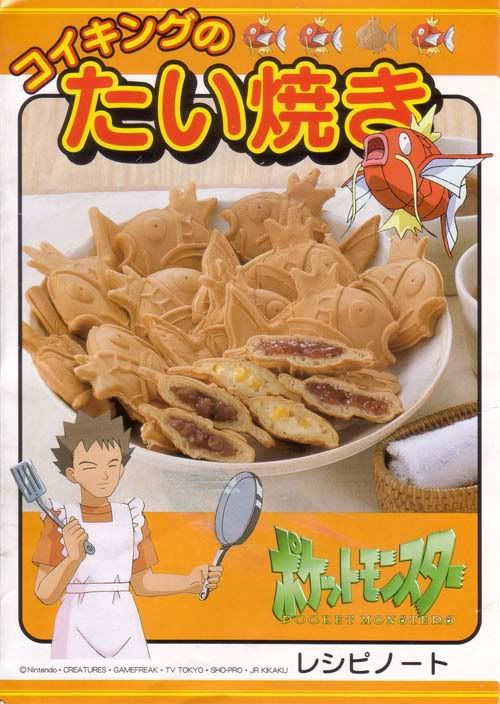 Instructions!
Appropriate image is appropriate.
Batter. Exciting, I know.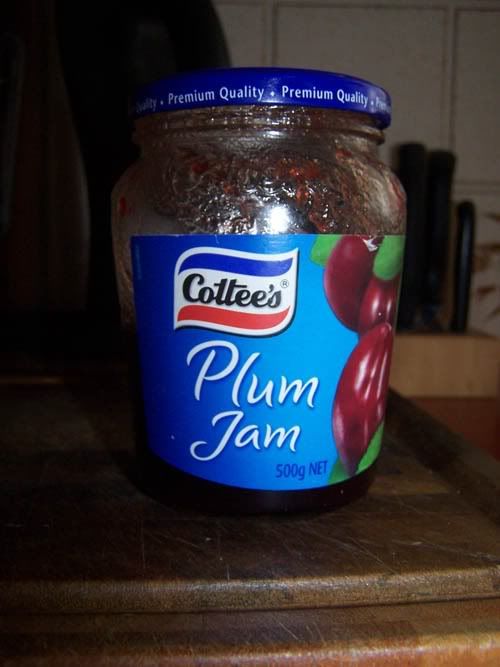 Filling! After getting a better idea of what it tastes like, I found that I preferred Jam
rather than the chocolate I was originally going to use.
Which is saying a lot, since I am a hardcore chocoholic.
The next parts have been censored, for the sake of my dignity!
The best cook I am not, and proceeded to make a big mess and fail numerous times
in my attempts to make me some karp.
I even managed to grab the wrong part of the taiyaki-ki while trying to extract a failed attempt,
and burnt my finger.
IT'S BLISTERING UP QUITE NICELY THANK YOU.
so.....after some carnage:
Gutted.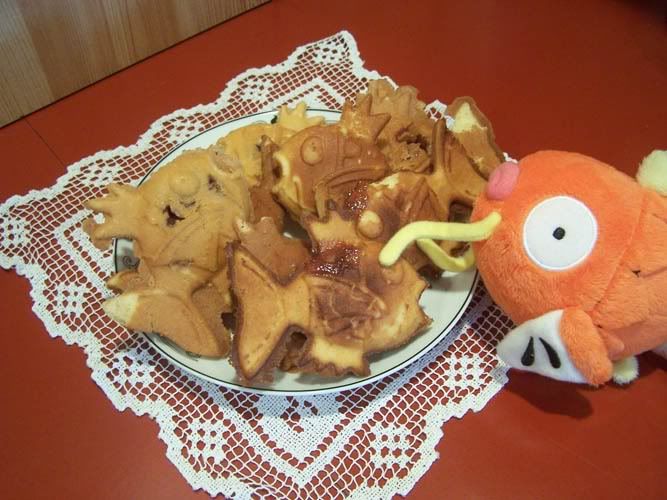 BEHOLD MY FAILKARPS.
A brilliant cook I am not, although I did get better as I went.
Make mine a dark one.
Naw, actually I like them darker, it makes them nice and crispy.
OMNOMNOM.
Eccles the karp approves of the designs....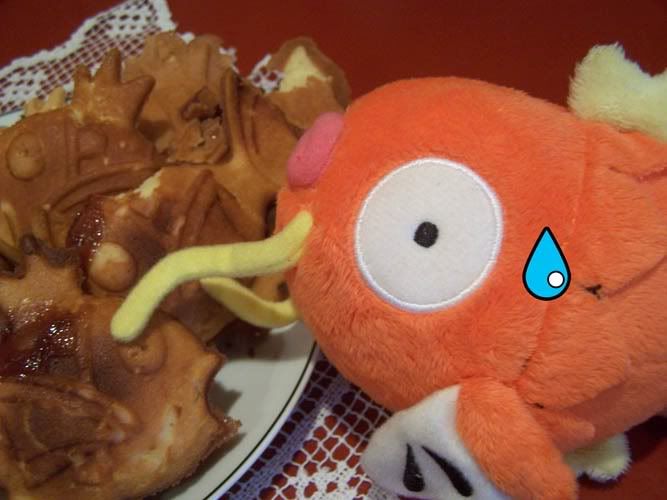 ....although worries this might give me ideas about other 'karps.
Don't worry Eccles, I won't be eating you!!
I don't like fish anyways.
TA-DAH!
FISHTHINGS.
Thanks for looking guys, this was a blast!
I know some of you will be
estatic to see karpcakes.