I've got a quick offers post! Received the Mystery shirt I won in a recent auction only to find it was too big for me and had no pokemon I collect on it :O Soooooooo off to auction!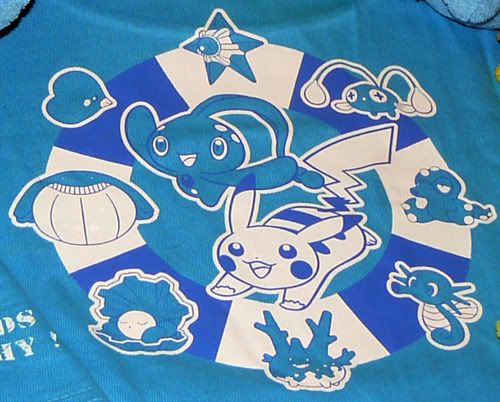 As well I also got a set of the Button up chain pokemon plush with help from
korth and am only keeping one so the rest go to you guys!




Finally I'm auctioning off a couple of old Customs. A

1:1 Larvitar

custom from the incredible
juumou and an Aerodactyl Custom from
scytherwolf :O!




First off for Offers is The Manaphy and friends shirt! The shirt is in brand new condition from the Pokemon Center years back, I only took it out of it's bag to take the picture. It is an Adult large and the Decal is on the back. It also has a small compass at the bottom left of the front of the shirt, and the words "Be Good Friends With Manaphy" on the arm.
Also for offers are the mini Pokemon Button Latch Plush. All are in great condition and All but 1 mudkip are for offer!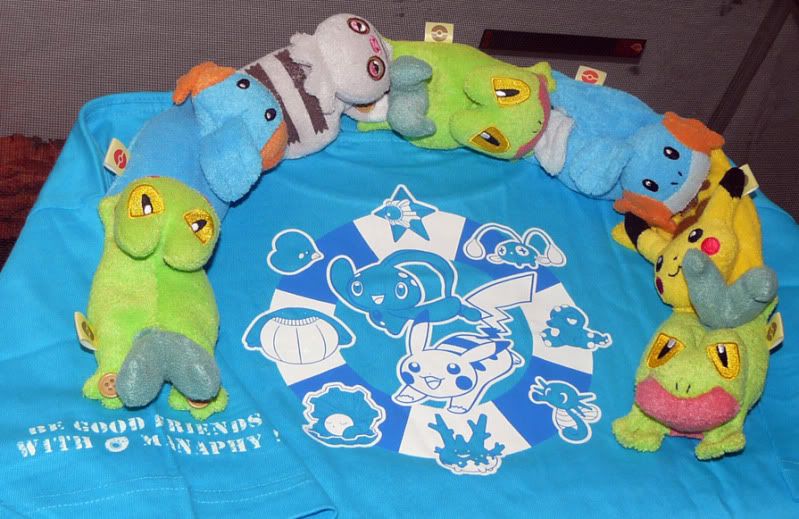 Next up are the Custom Plush! The first plush is a 1:1 Scale Larvitar commissioned from the incredible plush artist
juumou , who no longer takes commissions, a couple years ago. He is to scale and in a laying position, and would make a perfect pillow on top of a one of a kind custom piece. He's in the same condition as he was when I got him years ago, spending most his days either sitting on the end of my bed or next to it. You can see more photos of the plush here, and I'm happy to take more if desired!

Second up is a more recent commission. An Aerodactyl plush made by
scytherwolf Again incredibly soft and huggable and in completely new condition, he's spent his life just sitting around next to my bed and could use a new home! This big plush is a must for all the new 'Dactyl collectors, as I'm sure you've all felt my pain in his lack of plush :(, well here's a quick fix to it in this nearly 2 foot tall plush!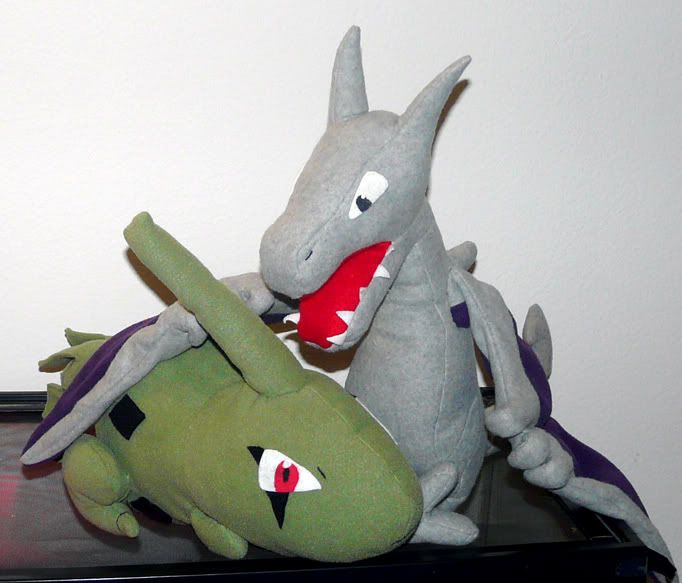 DA RULES
Reply to the last bidder/offerer or your bid will NOT be counted.
I ship from the US and am happy to ship international!
I ONLY accept paypal, please do not bid if you cannot pay with paypal.
This auction will end at 9pm PST on the 13th of November.
If you have questions, ask! I'm happy to answer :]

Please wait until threads are up before posting!