This is my very first sales post so please be gentle :D Behind the cut: Buizel, Piplup, Eevee, the Pichu brothers, and Torchic! Updated with lower prices! :D






Sales permission granted by dakajojo on September 26, 2010!

Policies:
-I will not hold items. I will probably change my stance on this after I am more experienced with sales, but it is first come, first served for now.
-I will ship anywhere in the world, but I am not liable for what happens to the package after it leaves my possession. I recommend insurance and tracking! :D
-Shipping is from Florida, in the United States!
-Since I am new to sales, I may overquote you on shipping but not know until after I actually send the package. If this is the case, I will refund you the difference!
-ALL PRICES ARE OPEN FOR HAGGLING! I am terrible at setting prices right now, but I didn't want to make things "up for offers" as that seems to confuse people. Please, if there is a price that is wildly inaccurate, please let me know!!

KEYCHAINS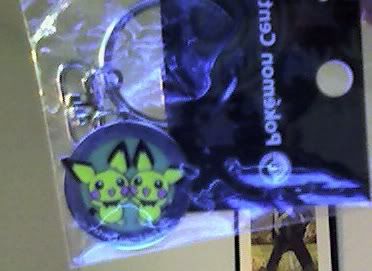 $10 obo - Pichu Brothers/Tufty Pichu keychain, minty fresh in package! It's printed properly, my webcam just displays things backwards :D;;; Price INCLUDES SHIPPING to addresses in the USA!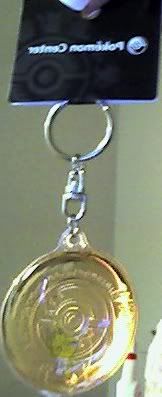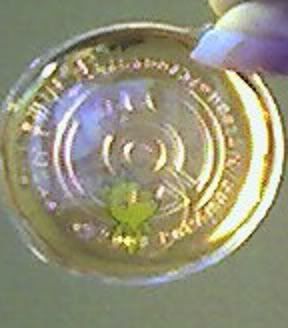 $6 obo - Mysterious floaty Torchic keychain! It smells like soap, so maybe that's what it's filled with. On one side, there is a nice embossed Pokeball. The other side is smooth. There is a little Torchic floating around inside! I have never seen one of these before so I'm not entirely sure what the deal is. This was in the semi-recent keychain group auction as one of the mystery items--nobody knew what it was! Price INCLUDES SHIPPING to addresses in the USA!

PLUSH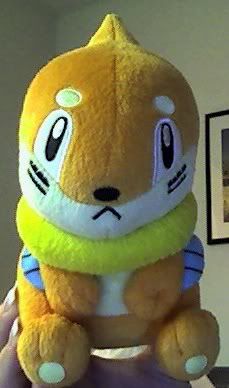 $13 obo - Banpresto Buizel UFO! Tush tag, no hang tag. Slightly loved! So cute :<




$25 OBO - Tomy AG Eevee(?)! - AUTHENTICITY IS DUBIOUS. I originally bought this at an anime convention, but I'm not really an Eevee collector, and it's rather large, so I would like to pass it along to someone else! I suspect that this might be a factory reject--it has no tush tag or hang tag and it has a small gap in the stitching in one leg. It is otherwise quite nice! Since it is potentially a reject, I'm selling it at less than the price I paid for it. It is about 10 inches tall, I think, and is really quite nice!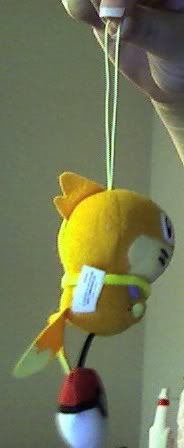 $2 - Buizel hanging mascot plush! PROBABLY BOOTLEG. I am pretty sure that these are booties, since my friend got a package of these and the Piplups below for me while he was visiting his family in China. However, they are really cute! The string is bouncy elastic and they would be cute dangling from a purse, backpack, keyring, or Christmas tree :3 They are small and light and shipping ought to be cheap! I just want to get rid of the extras! FOUR AVAILABLE.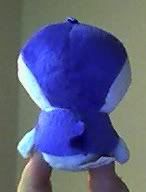 $2 - Little cutie Piplups! PROBABLY BOOTLEG. I am pretty sure that these are booties, since my friend got a package of these and the Buizels above for me while he was visiting his family in China. However, they are really cute! They have a little loop on their heads that you could pull a string through to hang them from something, maybe a rearview mirror or a Christmas tree! :D They are small and light and shipping ought to be cheap! I just want to get rid of the extras! FOUR AVAILABLE.

And here's a preview of my upcoming CRAZY SALES OMG! Featuring tons of mini models, Tomys, and a remote control Psyduck and remote control Ivysaur! Awesoooome :D :D :D