This is a re-introduction post!! :)

I am Fernchu! Nice meet you all, or nice to still see you here!

My main collection is Umbreon But I also collect a few others here and there!

For Gen5 I want to focus on Shikijika and its evolution, Mebukijika. I also want to focus on the ghost lamps, with Rapuraa as the main interest.

I'm sure I will collect more when I actually play the game but for now these guys, along with Tsutarja's line really caught my interest, far as Gen5 goes.


So with that lets see my collections!!

Be warned it is very image heavy, with large photos!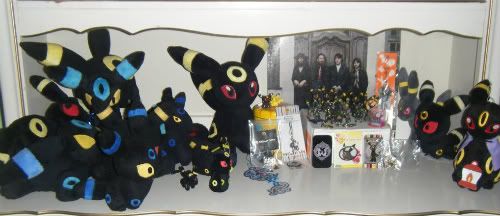 Here is an overlay of my Umbreons! With them I collect everything from flats, to custom one of a kind plush. The only item I do not actively collect is TCG. The TCG cards I have were gifts.

This is a closer look at my figures:




Of these guys some of the charms are not only a few of my favorite items in my entire collection, but also a few of the rarest items!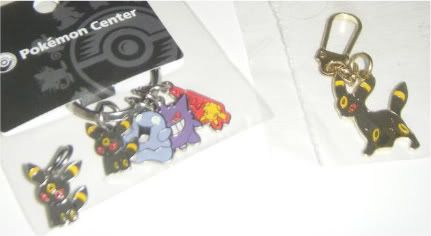 Pokedoll Charms (the loose one I use as an actual necklace piece) metal swing keychain (one of the most expensive items in my collection! )

Umbreon's Official Plush:




Japanese Pokedoll re-release, Canvas Plush, Halloween Banpresto Plush, 2007 USA Pokemon Center Pokedoll

Flats, and items that I can't properly display are stored in a drawer to keep them from getting sun damaged (or lost..)




So Umbreon doesn't have a lot of official plush sadly =/ To make up for this I love to commission and sometimes buy pre made custom Umbreon plushies. I love custom plush! Everyone has a different take or style and it just adds so much variety to my collection.




Even custom pokedoll figure <3




But wait, you don't like Umbreon? GTFO LOL JK. maybe.

I collect other things as well :D




oops espeon pokedoll is missing from the photo. Anyway I love eevee plushies! I am kinda picky on them though, but seriously Eevee plushies are so cute for the most part! :D I also SOMEWHAT collect the other 'veelutions. I've become very picky with what I get anymore.

Above that we have my mushrooms!




Seriously I love shroomish and breloom so much! I am just sad that they don't have more merchandise :( I got lucky recently and scored a shroomish attack settie from suikune :D I love angry shrooms XD;; The walky custom plush is semi recent as well :D

Beside them are my Hell Puppies.




I really don't activily collect these guys anymore. If I see a new merchandise, or a custom that strikes my interest I may bite (but it is rare) The houndoom custom is the newest, and it came from cwingit. I adore her plush :D You also may see my special luxray living with them. It is the only luxray item I have kept from when I collected them. You can see she is missing her yellow ear decal on one side. I got her from a community member who actually won it on YJ and it has tags and is legit. She's just special XD; Because of this she's one of my favorite items.

This space is a WIP. It's a place holder for Deers and ghost lamps!




Next we have Garchomp!




Garchomp is a pokemon that I had on my team. And I started out with one simple teensy tiny figure (the garchomp coming out of the rocks) But that little figure sparked a fire. I love to collect Garchomp, and it has a lot of fun merchandise!! No official plush...yet ;; But I do have a custom one in the works ;D Garchomp is just so bad ass and its merch is just amazing. One of my favorites to collect.

Lastly we have Suicune!




She is very hard to collect so I am very very picky with what I buy from her because her merchandise is generally very expensive. I picked up some of her shiny merchandise (the pokedoll is a few pictures above) and most recently I got this:




The shiny Tomy MC+ figure. I forget how many were made, but it wasn't a lot. It was a lottery prize I think. I found her on YJ for a BIN. I am glad I got it because I loved the original MC+ figure so much. This one I doubt I will remove from the packaging though.

Now we have odds n ends!




This is quiet possibly the coolest plush ever! Shiny Gyarados is not only really long but is completely bendy and poseable as well. I just love this plush so much!

Some time ago I got the tomy as well! I think it came in a lot.




I have a few charizard items:




Pokemon Center plush, few figures, and a NYC statue!

Whats left of my absols




I had to cut back because it got to expensive ;; So this is what I decided to keep.




I love bell keychains. They are just so awesome ;;




Super cool mechanical pencil that was a gift from pheonixxfoxx. And I accidentally broke its tail again >.< But I will super glue it back. I actually use this a lot when I draw XD;


Well thank you so much for looking!! :D I hope you guys enjoyed the update!!