* CALLING ALL PARTICIPANTS OF THE BELOW GA! *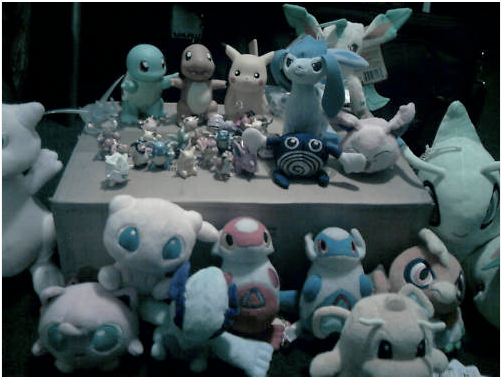 THE LAST OF ALL THE PACKAGES HAVE BEEN SHIPPED AS OF 11/8/2010. ALL PACKAGES HAVE BEEN MAILED.

~ \ - * - *- * - * - * - * - * - * - * - * - * - * - / ~


"Umm, that's great and dandy, but why are you posting this? (Off-topic much?)"
- Please, please PLEASE let me know when you receive(d) your package, or if it has yet to come! I have gotten PMs saying "thanks it came today" as well as "hey um, did you ship it yet", starting from the first few days after initial mailing, up to today. I have not heard from most, however, and I'm a little concerned (especially considering the "shipped yet?" PMs).



-- I WILL NEED TO KNOW WHO HAS YET TO GET THEIR PACKAGES, SO I CAN PROPERLY GO HOLLER AT THE POST OFFICE & TRY TO SORT THIS OUT/FIX THIS --


If you *HAVE* gotten your package (and even if you haven't yet; *ESPECIALLY* if you haven't! ), please comment below. If you want me to leave you feedback, let me know in your comment, and I will do so & I can link you mine if you so wish (** for references' sake, anybody can click here to check my feedback ratings, though I'm missing a couple from folk I haven't seen around comm lately/ need to track down; sorry!). If you have any questions, comments or complaints, do not hold back.

**Just a note to Canada/international folk, US/Canadian Customs may be taking their time with your package after the whole "Yemeni printer=bomb" shipping scare the other week. By all means let me know if it got there yet; if not, I would ask waiting just another week, in the event USPS and/or US/Canadain Customs is going all "omg POKEMANZ?!" **

- I also wanted to apologize to everyone who was involved with this GA in some way or another. I never wanted to drag it out, have any sort of delay trouble or issue, and I never intended for it to turn into such a mess. Sorry I let you guys down. :( It will not happen again, and I will do everything within my power to make this right for everyone.


If this post is in violation of the rules/modposts, let me know and I will take it down. Sorry, everyone.